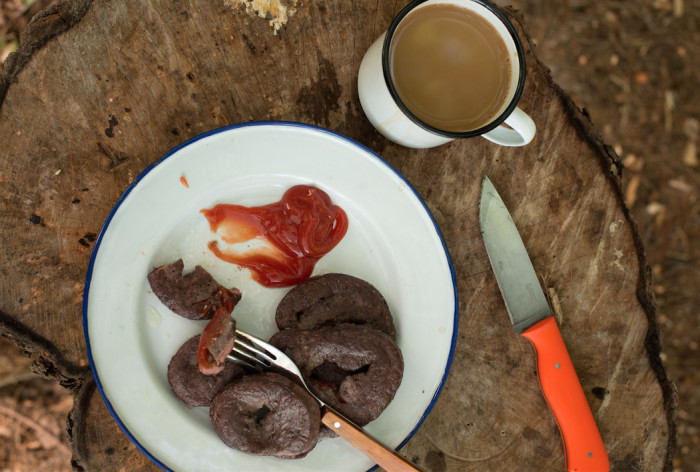 Hunter, author, outdoorsman and preparer of delicious wild game Steven Rinella is the host of Meat Eater, which airs on the Sportsman Channel. Out today is the first volume of his most recent book: The Complete Guide to Hunting, Butchering and Cooking Wild Game. This installment tackles big game — really big game. Elk, moose and buffalo big. Once you've tracked, hunted and butchered these titans, you'll need to know what to do with hundreds of pounds of meat. Chicken it ain't. Fried heart with a smudge of ketchup and some strong coffee, it is. 
Deer heart takes to a marinade quite nicely. I like to marinate it and grill the slices. Here's a simple recipe you might want to try.
When I was growing up, we always ate the heart of a deer soon after killing it. My mom cooked it very simply: sliced thin, dredged in seasoned flour, and then fried in a skillet. My dad always complained if we put ketchup on venison loin, but he didn't mind if we dipped our slices of heart in it. Since then I've had wild game hearts cooked in dozens of ways, but this is still my favorite. It's easy, it's deeply Midwestern, it tastes perfect, and it's a great way to introduce otherwise squeamish eaters to a somewhat adventurous food item. Try it, and this recipe is likely to become a ritual of your own.
Reprinted with permission from The Complete Guide to Hunting, Butchering, and Cooking Wild Game
Ingredients
1

game heart, with upper valves and cartilage removed, sliced into 1/3-inch discs (see butchering note on page 317)

kosher salt

freshly ground pepper

Flour for dredging

2

tablespoons

vegetable oil
Directions
For the marinating heart
Slice the deer heart ½ inch thick. Combine in a resealable bag 1 cup extra-virgin olive oil, 2 tablespoons steak seasoning, and 1 ⁄3 cup white vinegar. Add the heart, turn to coat well, and seal the bag. Marinate for 1 hour in the fridge.

Remove the heart from the marinade and let it come to room temperature.

Grill over high heat, about 3 minutes per side. Char is good, but don't overcook it, as it cooks fast! The smoky char combined with the vinegary marinade and the buttery heart—it's like paradise on a grill!
For the hearts
Another option: Season the heart slices with salt and pepper. Dredge in flour, then shake off the excess. Heat a cast-iron frying pan or other heavy skillet over medium-high heat. Add the oil. When the oil shimmers, add the heart pieces. Brown them on both sides. This will go quickly.

Serve hot with ketchup on the side. There's nothing better in the world.