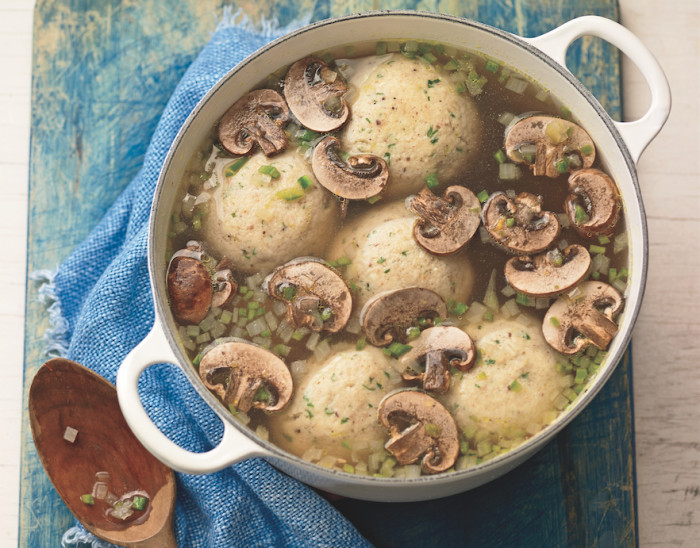 Pati Jinich has been whipping up Mexican favorites on PBS for half a decade, so when it comes to a go-to cookbook for your favorite South-of-the-border fare, look no further than her new collection, Mexican Today. Whether you're cooking for the family on a weeknight or bringing down the house for the holidays (whatever they may be), there's a recipe or two in this book to pump you up. 

This is a Mexican rendition of matzo ball soup, with jalapeños sweat­ed along with mushrooms, adding subtle heat to the broth. The mush­room base is easy to make. It's a wonderful way to dress up chicken soup for the holidays or for entertaining. My maternal grandmother used to season her matzo balls with nutmeg and a bit of parsley. I add a splash of toasted sesame oil, too. Her secret ingredient for making them fluffy was a dash of sparkling water. She used mushrooms of all sorts in the soup, but she was moderate in her use of chilis. In honor of my late grandfather, who was obsessed with chilies, I add a lot more to this soup than she would have.
Ingredients
1

cup

matzo ball mix (or two 2-ounce packages)

2

tablespoons

finely chopped flat-leaf parsley

1/4

teaspoon

freshly grated nutmeg

kosher or sea salt

4

large eggs

8

tablespoons

canola or safflower oil

2

tablespoons

toasted sesame oil

2

tablespoons

sparkling water

1/2

cup

finely chopped white onion

1

garlic clove, finely chopped

2

jalapeño chilies, finely chopped (seeded if desired), or to taste

1

cup

white and/or baby bella (cremini) mushrooms, trimmed, cleaned and thinly sliced

8

cups

chicken broth, homemade or store-bought
Directions
For the matzo ball soup
In a large bowl, combine the matzo ball mix, parsley, nutmeg, and ¾ teaspoon salt. In another small bowl, lightly beat the eggs with 6 ta­blespoons of the canola oil and the sesame oil. Fold the beaten eggs into the matzo ball mixture with a rubber spatula. Add the sparkling water and mix until well combined. Cover and refrigerate for at least 30 minutes.

Heat the remaining 2 tablespoons oil in a large pot over medium heat. Add the onion, garlic, and chilies and cook, stirring, for 4 to 5 minutes, until they have softened a bit. Stir in the mushrooms and ¾ teaspoon salt, cover, and steam the mushrooms for 6 to 8 minutes. Remove the lid and cook uncovered until the liquid in the pot evaporates. Add the chick­en broth and bring to a simmer. Taste and adjust the seasonings.

Meanwhile, when ready to cook the matzo balls, bring about 3 quarts salted water to a rolling boil in a large pot over high heat. Reduce the heat to medium and keep at a steady simmer. With wet hands, shape the matzo ball mix into 1- to 1½-inch balls and gently drop them into the water. Reduce the heat to low, cover, and simmer for 25 to 30 minutes, until the matzo balls are completely cooked and have puffed up. Remove with a slotted spoon and transfer to the soup. Serve.