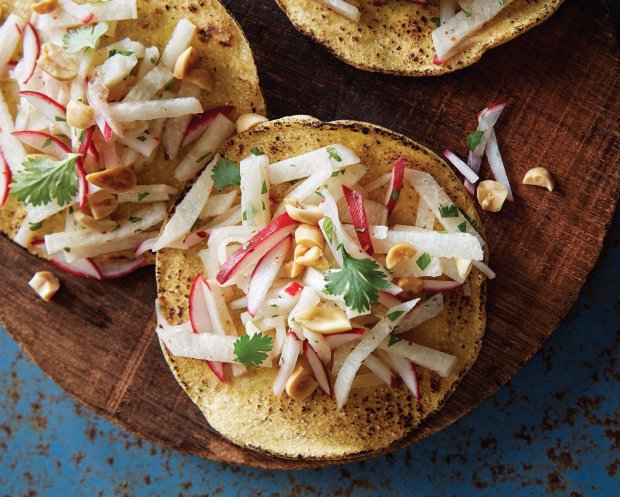 Award-winning chef Deborah Schneider's Mexican cookbooks are essential for any kitchen worth its chili-lime salt. Pick up a copy of her newest guide to Mexican condiments and sauces, Salsas and Moles, and bring back taco night in a huge way. 
This combination is sometimes called pico de gallo because of the chile con limón sprinkled over the top. Jicama is a crunchy, juicy root vegetable with white flesh and an affinity for both citrus juice and chiles. For more heat you can substitute ground chile pequín or chile de arbolfor the chile con limón. Radishes are another much-loved vegetable in Mexico, and they bring both color and another kind of zip to this salsa.
Ingredients
1

cup

prepared jicama, diced into 1/4-inch pieces or cut into matchstick

2

radishes, diced or cut like the jicama

1

tablespoon

fresh-squeezed orange juice

2

tablespoons

fresh-squeezed lime juice

1/8

teaspoon

salt

1/4

teaspoon

chile con limon

1/4

cup

roasted salted peanut halves, (optional)

2

sprigs

cilantro, stemmed and roughly chopped (optional)
Directions
For the salsa
Combine the jicama, radishes, juices, and salt in a bowl and mix well.

Place on a small plate and sprinkle with the chile con limón.

Sprinkle with the peanuts and cilantro.

Serve alone, with tostadas and on pork carnitas.

*Chile con limón is a mixture of dried lime juice, ground chiles, and sometimes salt. It is sold in shakers at all Mexican markets.