Mexican Meatball Soup Recipe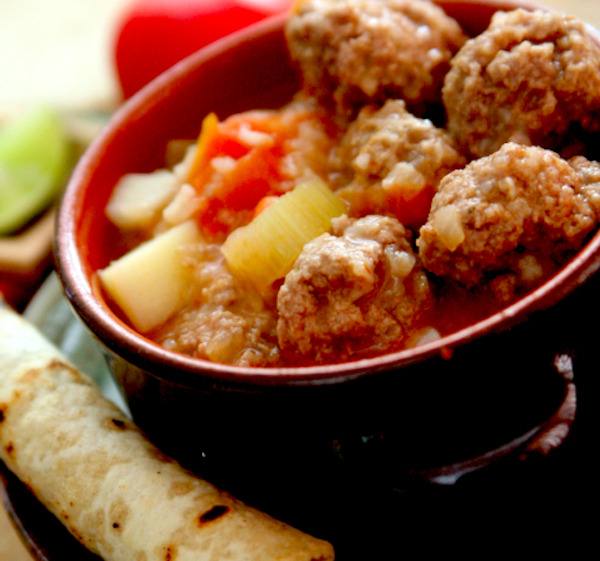 Photo: Jeanine Thurston
Albondigas is a very traditional Mexican meatball soup. With the carefully crafted meatballs, bountiful vegetables and rice you will be more than satisfied. I fondly remember my grandmother rolling out each little meatball. I always wondered how she managed to make every miniature meatball the exact same size. Next time you want the perfect cold weather meal, try a hefty serving of albondiga soup, a tall pile of freshly made corn tortillas, and a little salsa casera. Aye que bueno.
Mexican Meatball Soup Recipe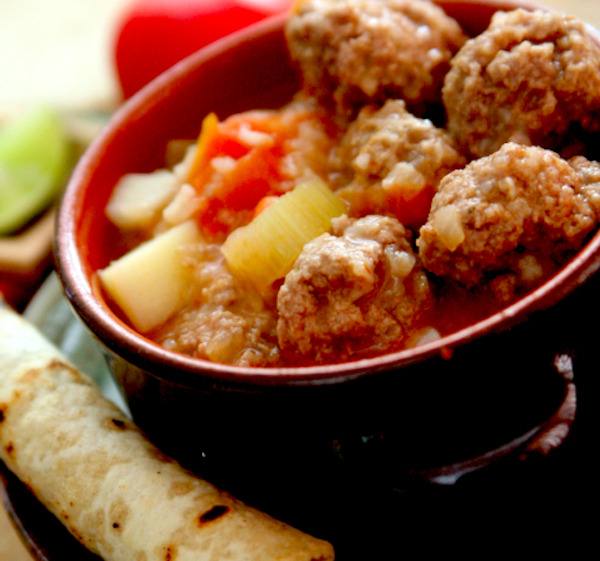 Ingredients
1 pound lean ground beef
1 teaspoon garlic powder
1 teaspoon salt
1 teaspoon freshly ground black pepper
1/2 cup yellow onion
1/4 cup long grain rice
11 cups water
1 tablespoon salt
1 tablespoon olive oil
1/4 cup long grain rice
2 large tomatoes
4 cloves garlic
2-3 potatoes cubed
1 large carrot
2 celery stalks
1/4 cup tomato sauce
1/4 teaspoon crushed coriander seeds
4 tablespoons chopped cilantro
cilantro springs and lemon wedge
Directions
In a large mixing bowl combine ground beef with garlic powder, salt, black pepper, onions, and rice.
Mix all ingredients together and roll out about 36 to 40 1-inch meatballs.
In a large pot, bring water to a boil with 1 tablespoon salt. Lower heat to medium and carefully drop meatballs into water. Cook meatballs for about 10 to 15 minutes or until meatballs float to the surface, then lower heat to simmer.
In skillet, over medium heat, add oil. Add rice and cook for about 2 minutes.
Add onions and sauté until translucent, about 2 minutes.
Add tomatoes and garlic to skillet and continue to cook for another 3 minutes.
Add entire skillet contents to meatball pot.
Add potatoes, carrots, and celery to meatball pot. Simmer over medium heat until vegetables are cooked, about 20 minutes.
Add tomato sauce, coriander, and cilantro and allow to come to a boil so all the flavors come together, about 10 minutes.
Ladle soup with about 5 meatballs per bowl.
Garnish with cilantro sprigs and lime wedges, and serve with warm corn tortillas.