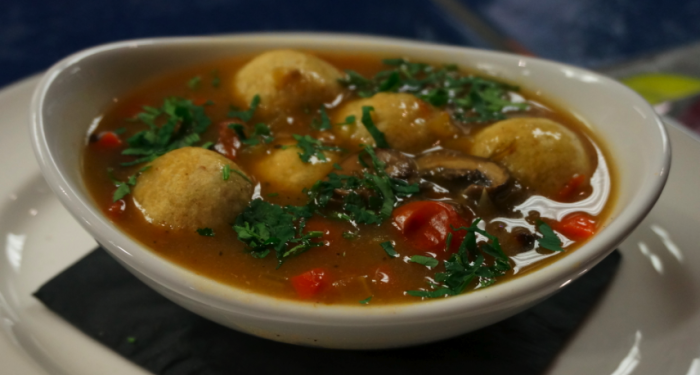 We're big proponents of not fixing that which ain't broke, especially when it comes to cooking for the Jewish holidays. Grandmas and aunts can get a little wild if you tweak a classic recipe the wrong way. Thankfully, Chef Ivy Stark of Dos Caminos modified matzo ball soup, the Passover staple, in a way that's so, so right.
Using subtle Mexican flavors, Stark infuses the broth with chile, garlic and epazote (a sweet, mild Mexican herb) and adds mushrooms to the matzo balls. Ready to start your own Passover tradition?
Ingredients
Broth
4

quarts

good chicken stock or broth

3

cascabel chiles, toasted

4

cloves

garlic, roasted

1

piece

epazote, stem and leaves
Mushroom matzo balls
1/2

cup

crimini mushrooms, chopped fine

1/2

cup

Shitake mushrooms, chopped fine

1/2

cup

portobello mushrooms, chopped fine

1/2

teaspoon

minced garlic

1

teaspoon

minced shallot

1

tablespoon

epazote, chiffonaded

1

cup

matzo meal

4

eggs

1/4

cup

Blended oil

1/4

cup

seltzer water

1

teaspoon

kosher salt

pinch of

ground black pepper
Directions
For the broth:
Bring all ingredients to a simmer in a pot for 45 minutes. Season to taste with salt and ground black pepper and strain.
For the mushroom matzo balls:
Heat the oil to a high heat in a large sauté pan.
Add in the mushrooms and sauté.
Add in the garlic and the shallots and cook until the mixture is dry.
Season with salt and pepper, stir in the epazote and remove from the heat to cool.
Place the matzo meal in a mixing bowl, add in the eggs and oil and stir in the mushroom mixture. Add in the seltzer and salt. Set aside for 10 minutes.
Bring water or stock to a boil in a large saucepan.
Using wet hands, roll the mixture into 1 1/2 ounce balls and drop into the boiling liquid one by one.
Cover the pot and reduce heat to a simmer. Cook undisturbed for 30 minutes.
Remove the cooked balls from the liquid and cool, then return to the soup and serve hot.
More recipes for Passover on Food Republic: