Merguez Dogs With Pickled Carrots And Cumin Aioli Recipe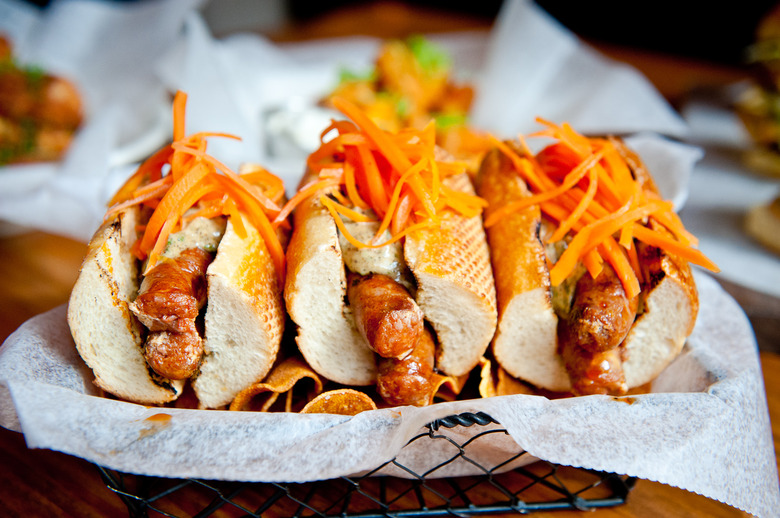 Do they surf in Morocco, home of spicy merguez lamb sausage? If they're hanging out with chef/owner Marc Murphy of Ditch Plains, probably. Unless they're cooking amazing tailgating food. Do they have football in Morocco? Ohhh, different kind of football.
These attractive hot dogs are served European-style on a baguette, but that doesn't mean they're not perfect for a pigskin nosh. They're just not beef franks, and we're okay with that. The cumin in the aioli plays nice with the cumin in the sausage. Good sportsmanship all around.
Merguez Dogs With Pickled Carrots And Cumin Aioli Recipe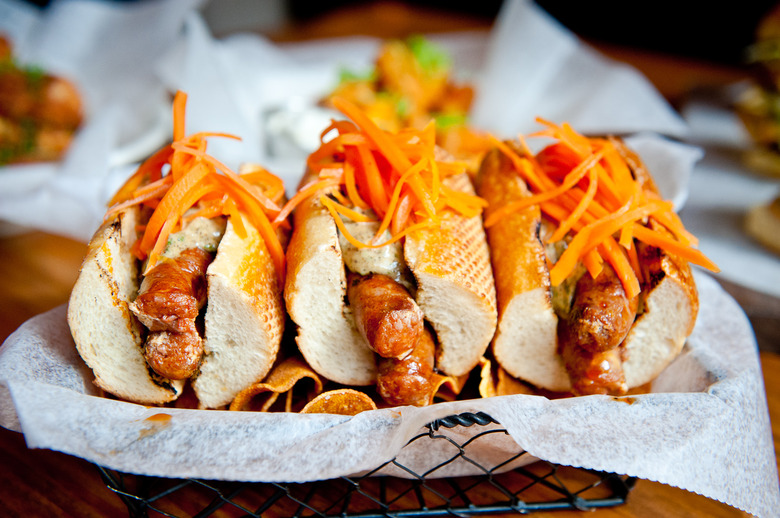 Ingredients
1 pound merguez sausage
1 baguette
1 large carrot
1 cup water
1 cup white vinegar
1/2 cup sugar
1/2 cup salt
1/4 cup ginger
1/2 cup aioli
2 tablespoons ground cumin
1 tablespoon butter
Directions
Julienne the carrots and place in a bowl.
Add vinegar, water, sugar, salt and ginger to a pan and place on stove. Bring to a boil and pour over the carrots.
Cover with plastic wrap and let sit for 20 minutes.
Cut the merguez into 4-inch pieces, season with salt and pepper and place on grill.
Cook for about 6 minutes, turning the sausage occasionally.
Take off grill and reserve.
Cut the baguette into 3 inch pieces and place on grill until toasted, brush with melted butter.
Place merguez inside baguette and then top with aioli and pickled carrots and serve.