Mediterranean Lamb Meatballs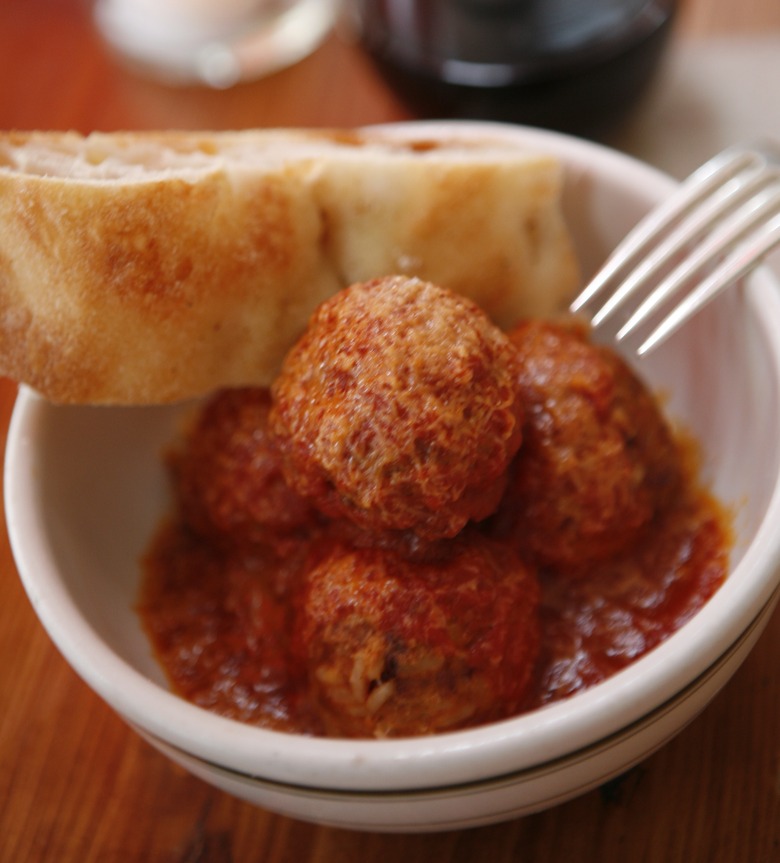 The Meatball Shop in NYC's Lower East Side, is a hip and cozy little restaurant which serves nothing but meatballs. And ice cream sandwiches. Strange but true. This is a version of their lamb meatballs that you can make it home. They'll make a nice surprise Easter side dish.
Mediterranean Lamb Meatballs
Servings
24
golf ball size meatballs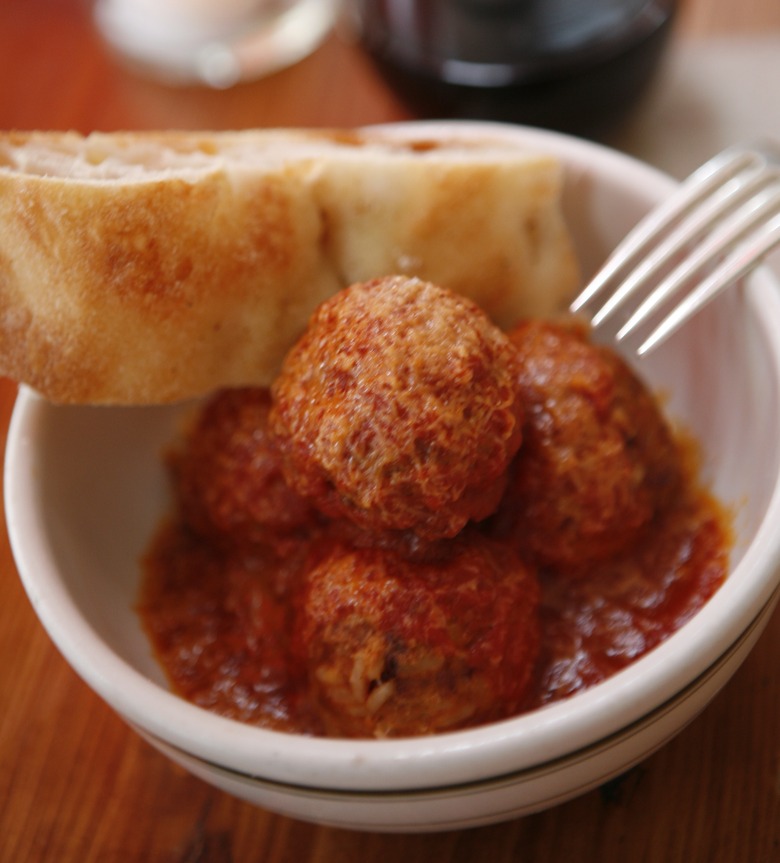 Ingredients
2 pounds American lamb
1 cup raisins
1/2 cup walnut pieces
1 teaspoon
1/2 cup parsley
1/2 cup mint leaf
1/2 cup bread crumbs
3 eggs
2 teaspoons salt
2 tablespoons olive oil
1 yellow onion
1 bay leaf
1 sprig fresh oregano
2 cloves garlic
1 tablespoons tomato paste
1/4 cup olive oil
2 teaspoons salt
2 [28 ounce] cans canned tomatoes
Directions
Preheat the oven to 450 degrees F. 
Combine all of the ingredients except for the olive oil in a large mixing bowl and mix by hand until thoroughly incorporated.
Drizzle the olive oil into a large baking dish (9x12) making sure to evenly coat the entire surface (use your hand to help spread the oil).
Roll the mixture into round, golf ball sized meatballs making sure to pack the meat firmly.  
Place the balls into the oiled baking dish such that all of the meatballs are lined up evenly in rows and are touching each of their four neighbors in a grid.
Roast until firm and cooked through (about 20 minutes).
Allow the meatballs to cool for five minutes before removing from the tray.Serve with Classic Tomato Sauce (recipe below).
Cook the onions with the olive oil, oregano, bay, garlic and salt in a large pot (12 qt) over medium heat, stirring constantly until soft and translucent (about 15 minutes). 
Add the tomato paste and continue cooking for five minutes. Add the canned tomatoes and stir constantly until the sauce begins to boil. Continue cooking for 1 hour, stirring ever four or five minutes to keep the sauce from burning. Season with salt to taste.