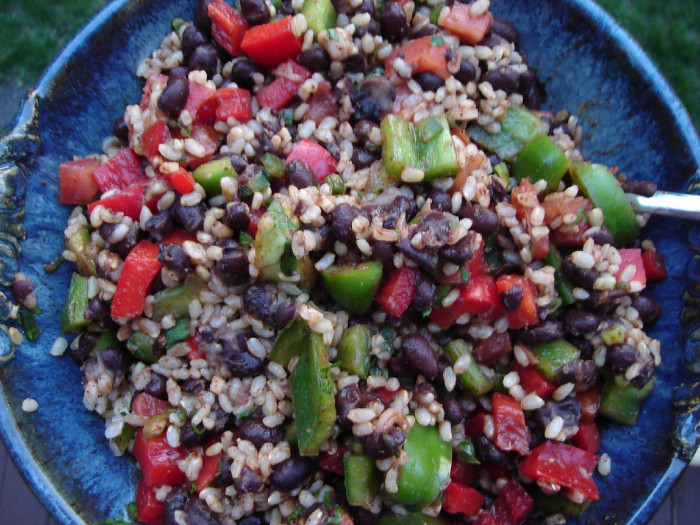 Looking to replace potato salad with a healthier side? Brown rice salad is great for large gatherings and it's good for you. While mayo-laden salads often grace the buffet table, they aren't always ideal when it comes to sitting out for hours at a time. This dish delivers tons of fresh vibrant flavors, not to mention looking great in a spread. We made this with brown rice but feel free to substitute your grain of choice.
Ingredients
1

cup

brown rice, rinsed

1/3

cup

olive oil

3

cloves

garlic, crushed and peeled

2

tablespoons

pine nuts

2

cups

baby spinach

1

lemon, zested and juiced

2

tomatoes, chopped

1

cup

scallions, chopped, white and light green parts

1

cup

Feta cheese, crumbled

1

cup

cucumber, finely diced

1

small

red onion, small diced

3

tablespoons

red wine vinegar

1/2

cup

Kalamata olives, pitted and chopped

3

tablespoons

mint, chopped
Directions
In a large pot, bring 4 cups of water to a boil. Add the rice and simmer for 30 minutes or until tender, strain and place back in the pot and cover, off the heat for 10 minutes to steam.
Heat 2 tablespoons of the olive oil in a large saute pan over medium heat. Add the garlic and pine nuts and cook until fragrant, about 3 minutes. Add the spinach and lemon zest and cook until the spinach has wilted, 3 to 4 minutes.
Combine the remaining olive oil, brown rice, spinach mixture, tomatoes, scallions, lemon juice, feta, cucumber, vinegar, olives, and mint in a large bowl. Season with salt and pepper.
Other great mayo-free side dishes from Food Republic: