Meatless Monday: Marrow Beans With Swiss Chard And Zesty Lemon Recipe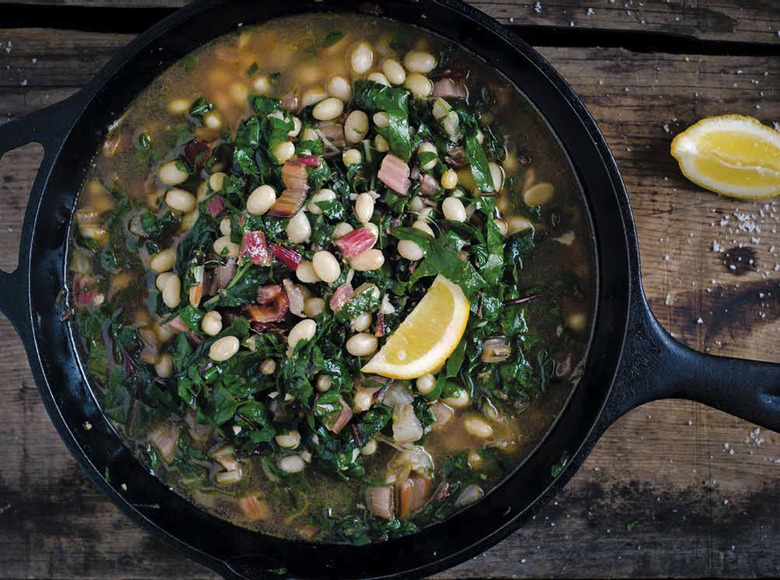 A hearty, meatless meal that will stick to your bones. (Photo: Jennifer McGruther.
We may receive a commission on purchases made from links.
Award-winning food educator and cookbook author Jennifer McGruther's The Nourished Kitchen not only teaches how to prepare wholesome, nourishing foods, but also encourages a mindful approach cooking and a celebration of old-world culinary traditions. Brighten up hearty beans and greens with a squeeze of lemon for a satisfying side dish.
I treasure the salty and faintly metallic flavor of Swiss chard, and both the plant's leaves and stems can bring a different flavor and a different texture to cooking. I like to use them separately, sautéing the tough stems in olive oil, as you might do with celery or onion. The stems soften a bit, losing their tough texture. The leaves, by contrast, grow dull with extended cooking, so I prefer to add them at the very end so they wilt in the heat of the warm beans and chicken broth but maintain their bright color. A bit of lemon helps to brighten the otherwise earthy flavors of beans and greens.
Meatless Monday: Marrow Beans With Swiss Chard And Zesty Lemon Recipe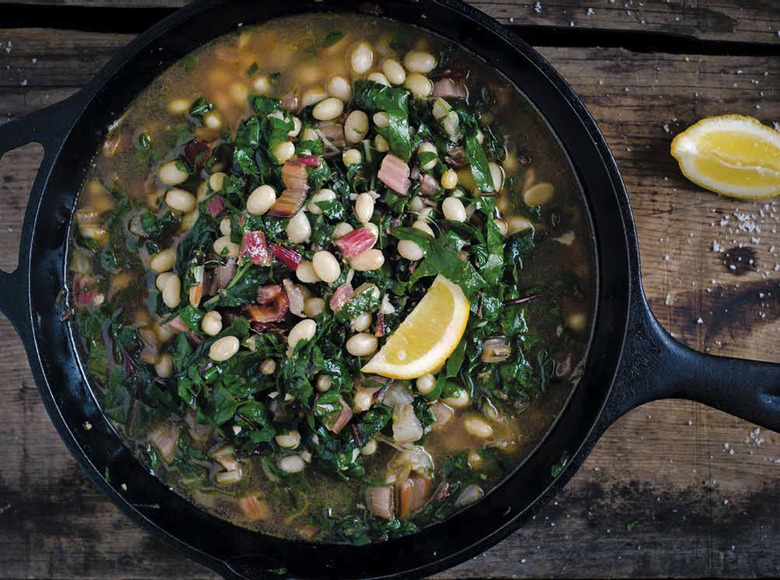 Ingredients
1 1/2 cups marrow beans
1/4 teaspoon baking soda
1 large bunch Swiss chard (about 12 ounces)
1 tablespoon extra virgin olive oil
2 cloves garlic
1/4 teaspoon crushed red pepper flakes
finely grated zest and juice of 1 lemon
1 1/2 cups chicken or vegetable broth
unrefined sea salt
Directions
Pour the beans into a large mixing bowl, cover with hot water by 2 inches and stir in the baking soda.
Cover the bowl with a kitchen towel and allow it to sit on the kitchen counter for at least 18 and up to 24 hours.
Drain the beans and rinse them well.
Put the soaked beans in a large stockpot and pour in enough water to cover the beans by 2 inches.
Bring them to a boil over medium‑high heat, cover and simmer until tender, about 1 1/2 hours. Drain the beans and set aside.
Using a sharp paring knife, separate the chard stems from the greens.
Finely chop the stems and set them in a small bowl.
Stack the leaves on top of one another, roll them into a cigar, and slice crosswise into strips 1/4 to 1/2 inch wide.
Warm the olive oil in a large skillet over medium heat.
Toss in the garlic and chopped chard stems and sauté until the garlic softens and the color of the chard stems turns ever so slightly more vibrant, about 2 minutes.
Stir in the red pepper flakes and lemon zest and cook for a minute or two, then add the beans to the skillet.
Sauté the beans for 3 to 5 minutes, until they acquire the flavor of the garlic and lemon.
Grab chard leaves by the handful and drop them into the hot pan.
Stir once or twice to mix them with the beans, then add the broth.
Cover and simmer until the chard leaves wilt, about 3 minutes.
Remove from the heat, stir in the lemon juice and season with salt. Serve hot.
Stir-Fried Greens With Fermented Black Beans Recipe
Easy Beer Beans Recipe
Rustic Tuscan Bean And Sausage Soup Recipe