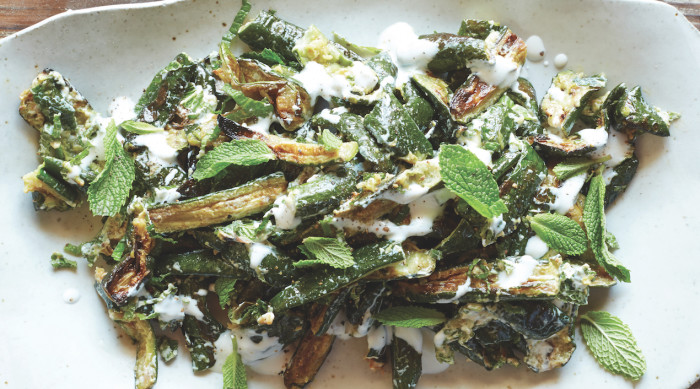 Award-winning food writer and cookbook author Anna Thomas's new collection of recipes is a celebration of vegan meals for hungry omnivores. These plant-based dishes were designed for mixed-group entertaining, from brunch with friends to formal holiday feasts. Leave the meat where it is tonight and pick up some produce!

Zucchini mysteriously transforms into something smoky and seductive as it chars over coals or under a broiler, loses moisture, cooks down. This can be a cool, lemony zucchini salad or a warm vegetable dish. It begins with well-charred zucchini spears and lemon, but you can vary it — add a dab of thick Greek-style yogurt or a pinch of oregano.
Ingredients
4

pounds

small or medium zucchini

3

tablespoons

extra-virgin olive oil

1

teaspoon

sea salt, plus more to taste

3-4

tablespoons

fresh lemon juice

2

tablespoons

finely chopped fresh mint leaves

freshly ground black pepper

Optional: 1/2 cup Greek-style yogurt
Directions
For the zucchini
Wash and trim the zucchini and cut them lengthwise in quarters to make spears, then cut the spears into 3-inch lengths. Toss the zucchini with 1 1/2 tablespoons olive oil and the salt and spread it out on a large baking sheet or two smaller ones.

Grill the zucchini over coals or roast it in a 400° oven or under a hot broiler, turning the spears once or twice, until they are tender and golden brown with charred spots here and there. This can take 30 to 45 minutes, depending on the heat of the coals or broiler.

Let the zucchini cool slightly, then transfer the spears to a large bowl, drizzle with the remaining 1 1/2 tablespoons olive oil and 3 tablespoons lemon juice, add the chopped mint and as much freshly ground black pepper as you'd like, and mix gently. Some of the zucchini might break into smaller pieces, which is fine. Taste and add more salt or lemon as needed.

If you want to add yogurt, stir it in gently at the end, to all or part of this.