Meatless Monday: Beet Wellington With Pinot Noir Sauce Recipe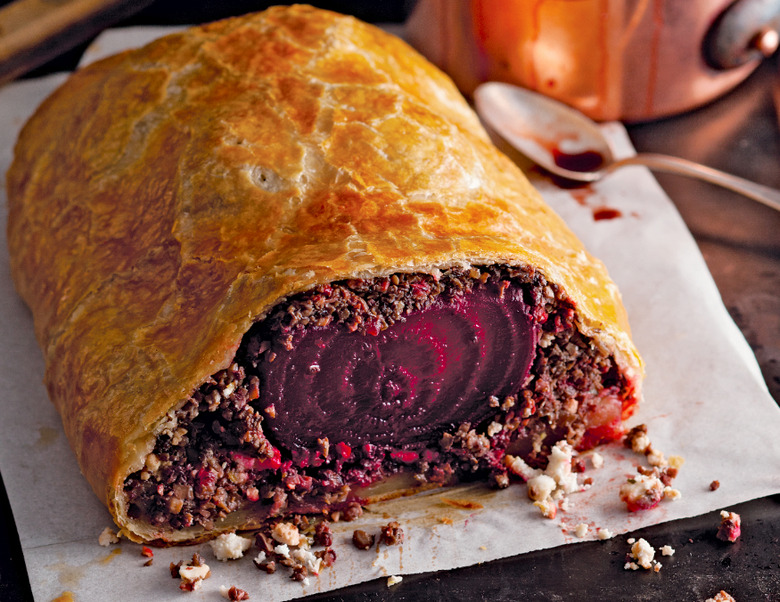 Photo: Kate Sears
We may receive a commission on purchases made from links.
Dina Cheney's Meatless All Day is an undisputable reminder that Meatless Mondays can, and shall, be awesome. Utilizing protein-rich ingredients in innovative ways — and learning to master umami —  all contribute to a supremely satisfying meal. Take this Beet Wellington as an example, which we're going to make so often we might forget it's the vegetarian version of a British classic.
Here's a vegetarian twist on a classic, upscale Continental dish, which normally includes filet mignon, pâté and truffles. This version is inexpensive, easy (if somewhat time-consuming) to prepare, and meat-free. Rich red wine, earthy mushrooms, creamy herb-flecked goat cheese, sweet roasted beets and flaky buttery crust meld in a harmonious, luxurious whole ideal for holidays and even weeknights. A velvety Pinot Noir sauce tops it off (though if you're time-pressed, the dish is delicious without it).
Meatless Monday: Beet Wellington With Pinot Noir Sauce Recipe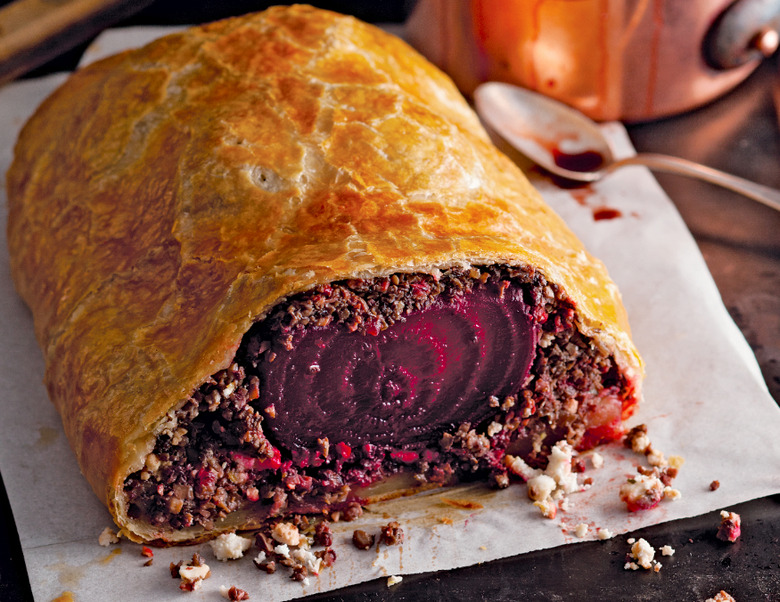 Ingredients
1 pound + 2 ounces beets
2 1/4 teaspoons coarse salt
1/2 scant teaspoon black pepper
8 tablespoons (1 stick) unsalted butter
1/3 cup shallots
2 pounds cremini mushrooms
8 sprigs fresh thyme
2 1/4 cups Pinot Noir or red Burgundy wine
8 ounces fresh goat cheese
1/4 cup fresh chives
1 heaping teaspoon lemon zest
2 tablespoons unbleached all-purpose flour for working with puff pastry dough
14 ounce package of frozen puff pastry dough
1 large egg
1/4 cup dried wild mushrooms
1 tablespoon arrowroot
1 cup reduced-sodium vegetable broth
1 tablespoon granulated sugar or honey
Directions
Heat the oven to 400°F. Wrap the beets in aluminum foil and roast until they're just barely cooked through, about 50 minutes (you should be able to poke a fork in about 1/2 inch with some resistance). Reduce the oven temperature to 375°F.
When the beets are at room temperature, trim off their ends, peel, and slice into 1/2-inch-thick rounds (you should yield about 6 slices).
Lay the slices on a large surface and season both sides evenly with a total of about a scant 1/2 teaspoon salt and a pinch of pepper.
Meanwhile, melt 3 tablespoons of butter in a 12-inch, heavy, nonstick frying pan over medium-high heat.
When melted, add the shallots and sauté until translucent and aromatic, about 3 minutes.
Add the mushrooms, thyme, 1 teaspoon of salt, and a large pinch of pepper, and sauté until the mushrooms are tender and all of the liquid has evaporated, about 13 minutes.
Add 1/4 cup of wine and simmer until all of the liquid has evaporated, about another 7 minutes. Remove and discard the thyme sprigs, and set the mushrooms aside off the heat to cool to room temperature (you can freeze them for about 15 minutes to expedite this process).
Meanwhile, mix the soft goat cheese with the 1/4 cup chives, the zest, 1/4 teaspoon salt, and a large pinch of pepper.
Sprinkle about half of the flour on a large clean work surface. Unfold the puff pastry onto the surface and evenly and lightly flour both sides. Carefully stretch it a bit so it measures 12 1/2 x 12 1/2 inches square.
Working about 5 inches down the center of the dough rectangle (leave about 3 inches each at the top and bottom and roughly 4 inches each at both sides), evenly arrange half of the mushroom mixture, then the beet slices, then the cheese mixture, and then the remaining mushroom mixture.
Fold both ends of the dough over the edges of the vegetables to cover. Then fold both sides of the dough toward the center to enclose the filling completely; shape into an even rectangle.
Carefully transfer the filled pastry to a parchment paper–lined baking sheet with sides. Brush the top and sides of the pastry with the egg wash. Refrigerate for 45 minutes to 2 hours.
Bake in the center of the 375°F oven until the pastry is golden brown, puffed, and completely firm when poked, about 50 minutes. Let sit until you've made the sauce.
Pour the remaining 2 cups wine into a small, heavy saucepan. Place the dried mushroom sack into the wine and cook over high heat until the liquid is reduced by about half, about 16 minutes.
Remove and discard the mushroom sack. Stir in the arrowroot-water mixture, the broth, sugar, the remaining 1/2 teaspoon salt, and the remaining pepper.
Lower the heat to medium and simmer (do not boil) until thickened, about 6 minutes. Whisk in the remaining 5 tablespoons butter. Taste and adjust the seasonings if necessary (you should yield about 2 cups sauce).
Slice the Wellington, carefully transfer to a serving platter and garnish with the remaining chives. Serve the sauce in a gravy boat alongside the pastry or spoon some atop each serving.
Franklin Becker's Little Beet Salad Recipe
Ravioli With Beets, Butter And Poppy Seed Recipe
Beet Tartare Recipe