MC Perkins Cove Lobster Roll Recipe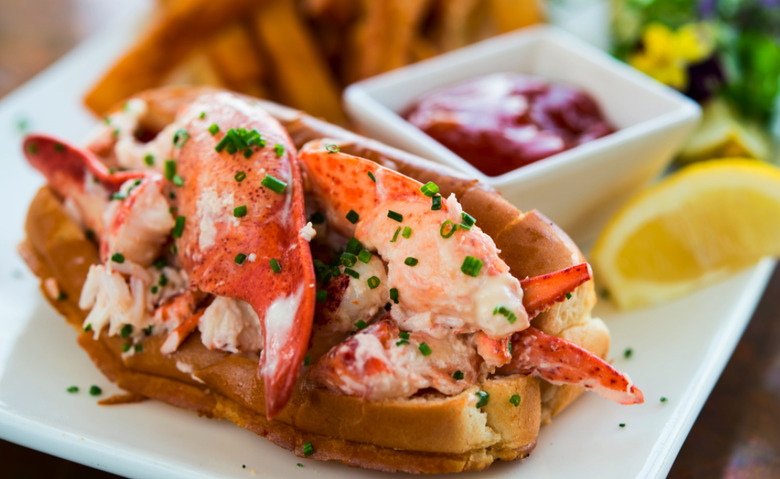 Happy Lobster Roll Week! To celebrate this sweet, briny jewel of the summer sandwich menu, we're running five straight days of recipes, interviews, chefs' expert tips and pairings. If you thought you were craving a buttery bun stuffed with fresh lobster meat before this official celebration, it's about to get critical. Pick up a lobster or four and churn out one of the most important dishes of the summer. This herb-spiked creation hails from MC Perkins Cove in Ogunquit, Maine, developed by two James Beard Award-winning chefs.
Says Chef Frasier of their lobster roll:
"There are a million lobster rolls out there, and not just in Maine anymore. But as we sampled them around our great state we found that although often delicious, lobster rolls in general were a bit rich without anything to cut that richness. Our obvious solution to this culinary dilemma was to add fresh herbs from our garden! With the addition of tasty herbs such as fennel top, Italian parsley, chives or any other "soft" herb, the lobster roll is both rich and balanced.
I had never had a lobster roll until I first visited Maine. I'd had hot lobster before of course and enjoyed it, but it was not top on my list of food favorites. Mark took me to a lobster shack on that visit and introduced me to this amazing Maine "street food" and to this day it is hands-down my favorite way to eat lobster and besides, it's fun!"
MC Perkins Cove Lobster Roll Recipe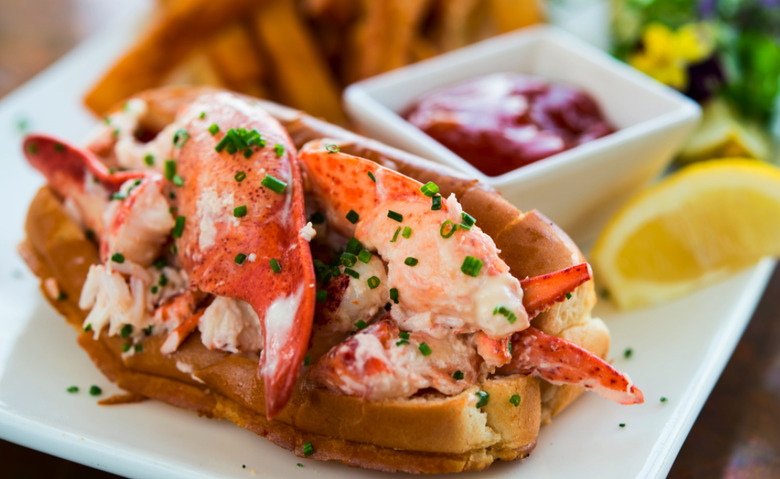 Ingredients
8 cups water
1/4 cup kosher salt
4 live lobsters (about 1 1/4 pounds each)
1 1/2 cups mayonnaise (recipe below)
3 tablespoons lemon juice
6 top-loading hot dog buns
3 tablespoons unsalted butter
1/4 cup finely chopped fresh tarragon
1/4 cup finely chopped fresh parsley
1/4 cup finely chopped fresh chervil
1/4 cup finely chopped fresh chives
5 large egg yolks
juice from 1 lemon
3/4 cup olive oil
1/4 cup extra virgin olive oil
Directions
Combine the egg yolks and lemon juice in the bowl of a food processor fitted with a metal blade. Process the mixture for 20 seconds.
With the machine running, add both of the olive oils, drop by drop, and then slowly increase to a steady stream as the eggs and oil become emulsified. If the mixture gets very thick, thin it with a teaspoon of ice water. The consistency should be a little thinner than store-bought mayonnaise.
Season with salt and pepper to taste. Store in a tightly sealed container in the refrigerator for up to a day.
Fill a large heavy pot or standard clam steamer pot with the water and the kosher salt. Set over high heat and bring to a boil.
Place the lobsters in the pot and cover tightly. Boil for 14 minutes. Remove the pot from the heat and carefully pour the lobsters and the water into a deep sink or colander. Cover with ice for about 10 minutes.
Take the meat out of the shell.
Cut the lobster meat and place in a bowl. Toss with the mayonnaise and lemon juice. Slather the outside of the rolls with the butter and quickly grill on both sides either in a skillet or on an outdoor grill.
Fill the grilled rolls with the lobster salad. Combine the herbs, mix well and sprinkle over the salad. Serve immediately.
Lure Fishbar's Lobster Roll Recipe
Sam Talbot's Butter-Poached Lobster Roll Recipe