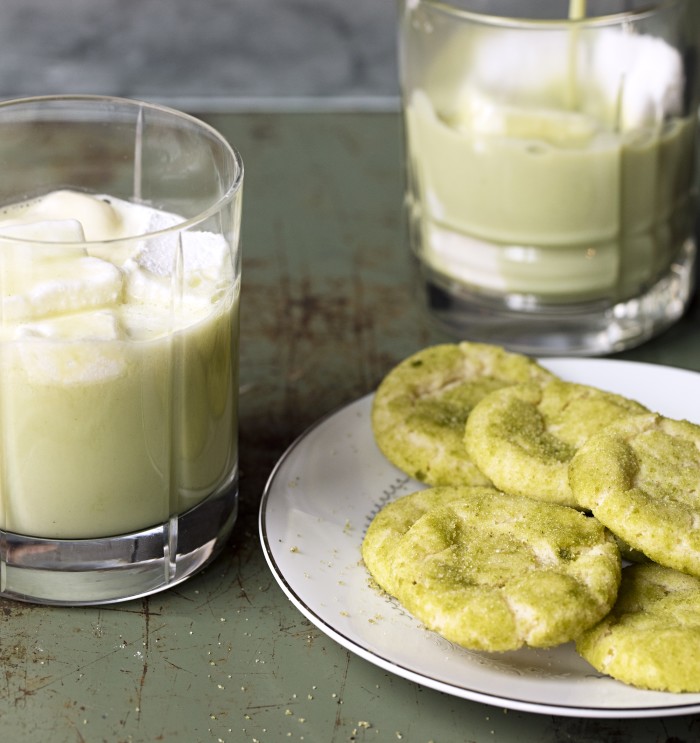 Joe Yonan is the renowned, award-winning dining editor of The Washington Post, and author of a phenomenal new cookbook that asks some of America's most beloved chefs: What do you make at home? The result is a collection of simple, easy-to-make recipes — because who wants to spend hours at the stove on their day off, right? These matcha tea snickerdoodles from Mindy Segal are a quick, simple answer to the question: "What's for dessert?"
Ingredients
1

cup

butter, at room temperature

1 1/2

cups

granulated sugar

2

extra-large eggs, at room temperature

1

teaspoon

vanilla extract

2 3/4

cups

unbleached all-purpose flour

2

teaspoons

cream of tartar, sifted

1

teaspoon

kosher salt

1

teaspoon

sea salt flakes

1

teaspoo

baking soda
Coating
1/2

cup

granulated sugar

2

teaspons

matcha powder
Directions
For the cookies
Preheat the oven to 350°F and line a large baking sheet (13 by 18 inches) with parchment paper. In a bowl of a stand mixer fitted with the paddle attachment, mix the butter on medium speed, 5-10 seconds. Add the sugar and beat until the butter mixture is aerated and pale in color, about 4 minutes. Scrape the bowl with a rubber spatula to bring the batter together. Crack the eggs into a small cup or bowl and add the vanilla. In a separate bowl, whisk together the flour, cream of tartar, salt and baking soda.

With the mixer on medium speed, add the eggs and vanilla to the butter mixture, 1 egg at a time, until the batter resembles cottage cheese, about 5 seconds per egg. Scrape the bowl with a rubber spatula to bring the batter together. Mix on medium speed for 20-30 seconds to make the batter nearly homogeneous. Add the dry ingredients all at once and mix on low speed until the dough comes together but still looks shaggy, about 30 seconds. Do not overmix. Remove the bowl from the stand mixer. With a plastic bench scraper, bring the dough completely together by hand.

For the Coating, mix together the sugar and matcha powder in a bowl. Working in batches of 12 cookies at a time, use a 1½ -tablespoon ice cream scoop to portion the dough into balls. Coat each ball in the matcha-sugar mixture.

Evenly space the balls on the baking sheet and bake for 8 minutes. Rotate the pan 180 degrees and bake until the tops of the cookies are barely set, 2-4 minutes. Let the cookies cool on the baking sheet for 1-2 minutes, then transfer to a wire rack to cool completely. Repeat with the remaining dough.