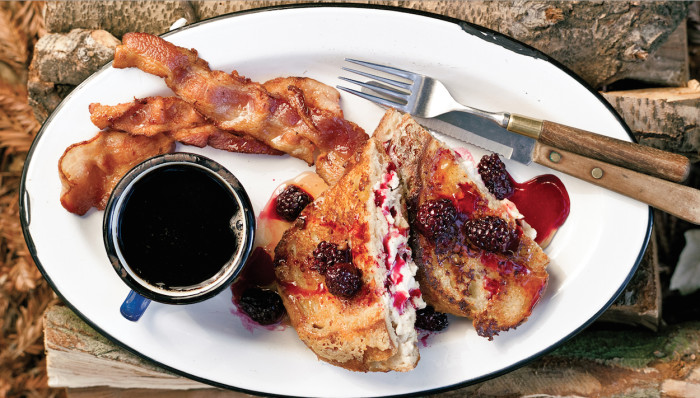 The editors of Sunset Magazine are no strangers to the great outdoors — the western U.S. has some of the best camping in the country, and Camp Sunset is your foolproof guide. Heed their expert tips on staking out your campground, constructing a smart living area, building cooking fires and sleeping under the stars. Oh, and eating like royalty while doing so. Start with this mascarpone French toast.
For guests of Sealegs Kayaking Adventures of Vancouver Island, B.C., the morning often starts with this decadent twist on French toast.
Ingredients
1

large egg

1/2

cup

milk

1/4

cup

sugar

2

teaspoons

cinnamon

1 1/2

teaspoons

vanilla extract, divided

1 1/2

cups

cold mascarpone cheese

2

tablespoons

blackberry liqueur

8

thick (3/4 inch) slices

day-old wide French bread, such as bâtard

1/4

cup

maple syrup

2 1/2

cups

blackberries

2

tablespoons

salted butter

cooked bacon
Directions
For the french toast
Whisk together egg, milk, sugar, cinnamon, and 1/2 teaspoon vanilla in a large bowl.

In another bowl, stir together mascarpone, remaining 1 teaspoon vanilla, and the liqueur. Spread mascarpone mixture over 4 bread slices; top with remaining slices.

Cook maple syrup and berries in a small covered saucepan over medium-high heat on a camp stove until berries start to break down, 5 to 10 minutes. Remove from heat.

Heat a large heavy frying pan or 2 smaller ones over medium-high heat; swirl butter in pan(s). Dip sandwiches in egg mixture, then cook, turning once, until crisp and browned, 4 to 8 minutes total. Serve French toast with syrup and bacon.