Masa Must: How To Make Sopes With Chorizo And Mushrooms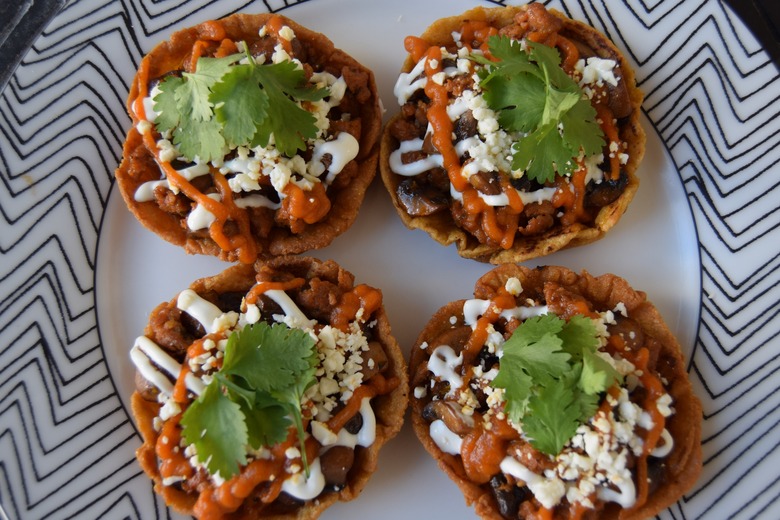 Make sopes, savory corn tarts, for your next party and watch the platter van
Sopes — savory Mexican masa tarts — are kind of like the guy who lives under the bridge by choice, the one you only ever hear about as an urban legend, and you assume he's not real. Then one day you see him pushing a wheel-mounted half-ton sculpture of Republican presidential candidate Donald Trump eating his own head made entirely out of scrapped Motorola Razrs circa 2006 and think, "Wow, why isn't this more of a thing?"
It's probably because sopes are a bit of work. You have to press them like a tortilla, but not too much! And you have to griddle them like a soft tortilla, but not all the way! And then you have to shape them into little cups while they're still warm, but not too cold 'cause then they won't form right! Finally you fry them like a hard taco shell, but not too much — it should still have a soft interior! Then there's the stuffing.
Sounds like a pain, right? Maybe, but it's really not as hard as it sounds, and by your second go-round you'll be a seasoned pro. Also, they're impressive. You walk out with a tray of these, and people are like, "Oooh, what is that?! Gimme!!" And because you're a boss, they shall receive the glory that is the sope.
Masa Must: How To Make Sopes With Chorizo And Mushrooms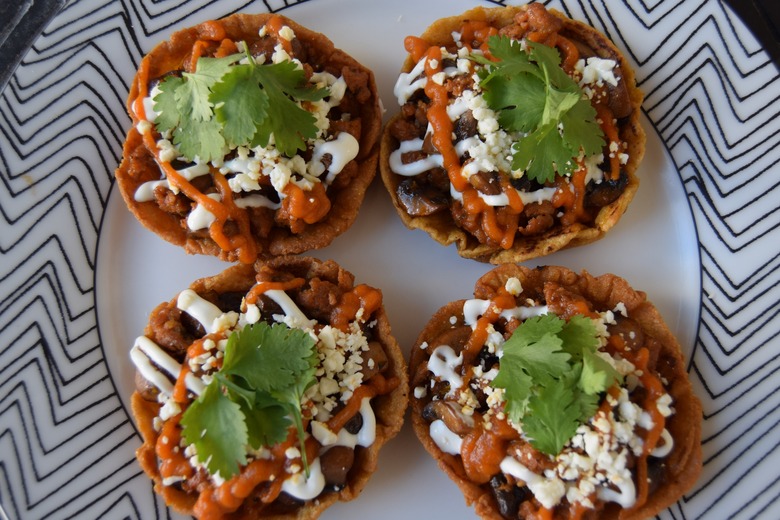 Ingredients
1 tablespoon vegetable oil
2 cups diced carrot
3 cloves garlic
1/4 cup diced yellow onion
1/2 cup diced red bell pepper
5 habaneros
1/4 teaspoon ground white pepper
1 1/2 teaspoons smoked salt
1/2 teaspoon smoked paprika
1/2 teaspoons ground cumin
2 teaspoons turbinado sugar (or cane sugar)
1/4 cup mexican beer (lager or pilsner)
2 cups broth
1/4 cup apple cider vinegar
1 teaspoon lemon juice
1 pound Mexican chorizo
2 tablespoons butter
1 pound portabella mushrooms
2 cloves garlic
3/4 cup diced yellow onion
2 tablespoons fresh oregano
1 teaspoon salt
1/4 teaspoon ground black pepper
1/2 cup mexican beer (lager or pilsner)
1 1/2 cups masa harina
1 1/4 cups broth
2 tablespoons plus 2 cups vegetable oil for searing, then frying
sour cream
cilantro
Pickled onions and/or radishes (optional)
Directions
:::hot sauce:::
Heat saucepan on medium-high heat with oil.
Add garlic, onion, bell pepper, and habaneros.
Cook 5-7 minutes, stirring occasionally, then add white pepper, smoked salt, smoked paprika, cumin and sugar.
Cook an additional 8-10 minutes, or until vegetables are soft and browning on the edges.
Add beer, and let simmer 5 minutes.
Add broth, and let simmer 12-15 minutes.
Remove from heat, and add apple cider vinegar and lemon juice.
Blend until very smooth (immersion blender works very well here).
Return to heat on low for another 20 minutes, stirring occasionally.
Strain; can be saved in fridge for about 2 weeks.
:::chorizo y hongo mix:::
Heat large skillet on medium.
Cook down crumbled chorizo.
Remove chorizo from pan and set aside, then remove excess grease.
Melt butter on medium heat.
Add mushrooms, garlic and onion.
Cook down for 12-15 minutes, stirring occasionally.
Add half the beer and deglaze the bottom of the pan.
Cook an additional 12-15 minutes while stirring occasionally.
Deglaze again with the rest of the beer.
Add cooked chorizo and oregano, then reduce heat to low.
Cook an additional 10-12 minutes, or until liquid is gone.
Set aside to reheat on the stove right before you're ready to assemble the sopes.
:::sope shells:::
Mix broth and masa harina in a large mixing bowl.
If it feels dry, splash in water a teaspoon or two at a time; if it feels wet, do the same but with masa.
Divide into 16 equal portions.
Sandwich balls between two pieces of parchment paper, and flatten to about 4 inches wide with the flat side of a glass baking dish (or you can use a tortilla press, but keep them thicker than a normal tortilla).
Heat 2 tablespoons oil in a cast-iron skillet.
Cook 2 sopes at a time for 30-60 seconds on each side, or until just starting to brown.
While you're searing sopes, once finished ones are cool enough to touch (but still very warm) pinch the edges up to form the final sope shape (like little empty pies).
Once all sopes are seared off and shaped, remove any excess bits that may be left in your skillet.
Preheat oven to 200°F, or whatever your lowest setting is (to keep sopes warm if needed).
Add 2 cups oil, and heat to 375°F.
Fry sopes for 30-60 seconds on each side, and move to a roasting pan with a rack when finished.
Keep the shells in the oven until you're ready to build your sopes (if needed).
:::finish:::
Top your sopes with a single layer of chorizo y hongo mix, then finish with sour cream, habanero-carrot hot sauce, and cilantro (pickled onions or radishes are welcome, too).