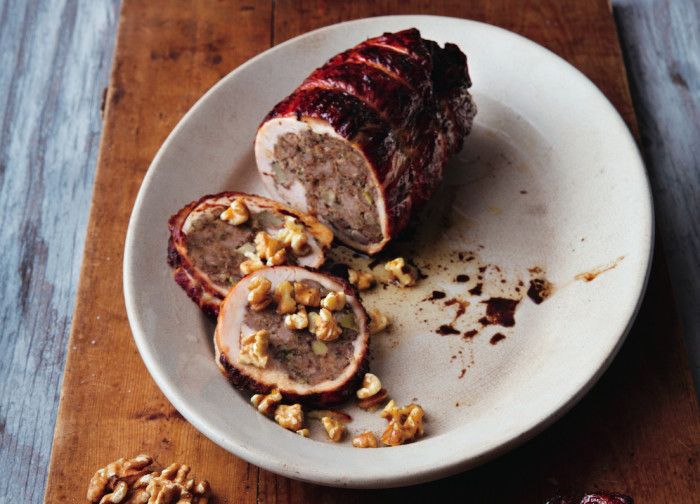 Renowned chef Mario Batali's new cookbook, America — Farm To Table, is a celebration of local farmers around the country. Travel from coast to coast with one of the nation's most beloved culinary faces and see how the master uses local fare to everyone's advantage. Looking for an easier way to serve up moist, delicious turkey this Thanksgiving? Look no further than simple, seasonal stuffed turkey breast.
Ingredients
1

(5-6 pound)

whole turkey breast, boned, halved and butterflied by your butcher

kosher salt

2

tablespoons

freshly ground black pepper, plus more as needed

3

tablespoons plus 1/4 cup

extra virgin olive oil

1

pound

turkey sausage

2

apples, peeled, cored and cut into 1/2-inch dice

1/2

cup

walnut pieces

2

cups

panko bread crumbs

1/2

cup

Parmigiano Reggiano, freshly grated

2

large

eggs

1

teaspoon

nutmeg, freshly grated

1

tablespoon

fresh sage leaves, chopped

1

bunch

fresh flat-leaf parsley, finely chopped (1/4 cup)

2

cups

dry white wine

2

cups

chicken broth
Directions
Pound the butterflied turkey breast halves to flatten them, then season with salt and pepper and refrigerate.
Preheat the oven to 400°F.
In a 12- to 14-inch sauté pan, heat 3 tablespoons of the olive oil over medium heat until smoking.
Add the turkey sausage and cook, breaking it up with a wooden spoon as it cooks, until golden brown, 7 to 9 minutes.
Drain all but 4 tablespoons of the fat from the pan and add the apples and walnut pieces.
Cook for 8 minutes, or until the apples soften.
Remove from the heat and allow to cool for 20 minutes.
Add the panko, Parmigiano, eggs, 2 tablespoons of pepper, the nutmeg and herbs and stir with your hands, as you would for meatloaf or burgers, just until it comes together.
Place the two turkey pieces on a cutting board, skin side down, and divide the stuffing between them.
Roll each of the breasts like a jelly roll and tie them firmly in several places with butcher's twine.
Place the two rolls on a rack set in a roasting pan, skin side up.
Pour 1 cup of the wine and 1 cup of the broth over them, season with salt and pepper, and roast until they are dark golden brown on the outside and a meat thermometer inserted into the fattest part of the breast registers 165°F, about 1 hour, plus or minus 10 minutes.
Remove the pan from the oven, place the turkey rolls on a cutting board, and let them rest for 15 minutes before carving.
Place the roasting pan on the stovetop over medium-high heat.
Add the remaining 1 cup wine and 1 cup broth to the pan and deglaze, scraping the bottom of the pan with a wooden spoon.
Cook for 5 minutes, then add the remaining 1/4 cup oil.
Shake the pan to emulsify the sauce and season with salt and pepper.
Carve the turkey rolls into 1/2-inch slices and drizzle with the pan sauce.
Find more turkey recipes on Food Republic: