Mario Batali's Italian Meatloaf Recipe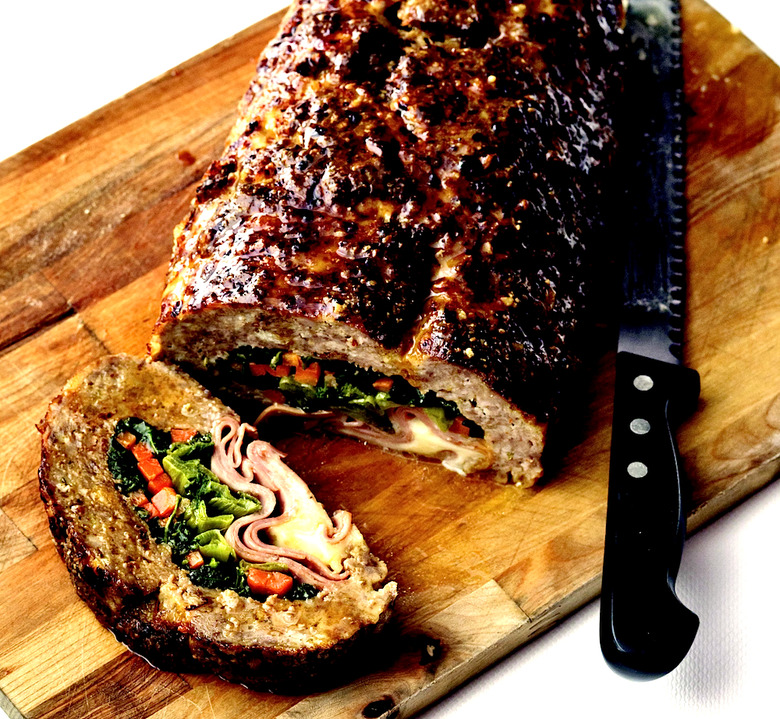 Photo: Quentin Bacon
Who wants meatloaf! Not us, unless it's Mario Batali's homestyle Italian polpettona ripiena, a far more exotic rendition of a ketchup-glazed loaf of meat. A 50/50 ratio of ground beef to sweet or spicy Italian sausage (it's entirely up to you) encases a rainbow of veggies, which keep the meat moist and adds much-needed flavor to a traditionally flavor-challenged dish. Plus polpettona's gently rolled up like a jelly roll, not smushed into a sad loaf pan with nothing but chopped onions to keep it company while it slowly dries out in the oven.
Take it from Batali, no ordinary food has to be entirely ordinary. Especially when it involves stuffing something with something else.
Mario Batali's Italian Meatloaf Recipe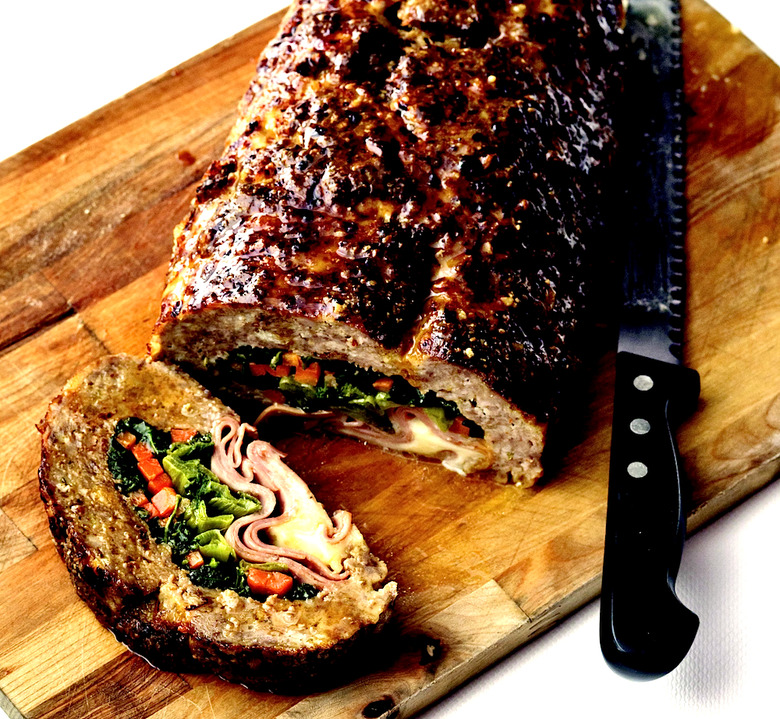 Ingredients
2 pounds Italian-style pork sausage (sweet or hot)
2 pounds lean ground beef
4 + 1/4 cups fresh breadcrumbs
2 cups Pecorino Romana
3 large eggs
1 cup whole milk
1 pound baby spinach
4 carrots
12 scallions
1/4 cup all-purpose flour
10 thin slices mortadella (about 5 ounces)
6 slices Cascio di Roma or other semi-soft sheep's milk cheese
2 springs fresh rosmary
1/2 + 1/4 cup extra virgin olive oil
Directions
Preheat the oven to 400°F. In a large bowl, combine the sausage, beef, 4 cups of the breadcrumbs, the pecorino, eggs, milk, and salt and pepper.
Mix gently but thorougly with your hands. Cover and refrigerate. 
Bring 8 quarts of water to a boil in a large pasta pot. Set up an ice bath nearby. 
Add 2 tablespoons salt to the boiling water. Dip the spinach leaves in the water just to wilt them, immediately transfer them to the ice bath, then drain them in the colander. 
Add the carrots to the boiling water and cook for 10 minutes, then remove with a spider or slotted spoon and set aside. Drop the scallions into the boiling water and cook for 1 minute.
Drain and set on a towel-lined plate. 
Combine the flour with the remaining 1/4 cup breadcrumbs, and heavily dust a wooden board or work surface with the mixture. 
 Place the spinach leaves between two plates and press them together to remove remaining water, and then lay the spinach over the meat, leaving a 1-inch border on the short sides. 
Lay the carrot pieces and then the scallions over the spinach, arranging them lengthwise down the rectangle. 
Lay the mortadella and Cacio di Roma over the scallions. 
Starting from a long side, roll the meat up like a jelly roll, making it as compact as possible; patch any holes like modeling clay. The roll should be about 16 inches long. Dust the outside with flour. 
Place the loaf (on a diagonal if necessary) on a rimmed baking sheet, and press a sprig of rosemary onto each side of the polpettona and pour 1 cup of water into the pan.
Drizzle 1/2 cup of the olive oil down the length of the loaf. Bake the polpettona for 1 hour, or until it reaches an internal temperature of 165 F.
Carefully transfer the loaf to a cutting board and allow it to rest for 15 minutes.
Strain pan juices into a saucepan and bring to a boil, season with salt and pepper to taste, add the remaining 1/4 cup oil and whisk to form a loose sauce.
Slice the meatloaf into 1 inch-thick slices, drizzle with sauce and serve.