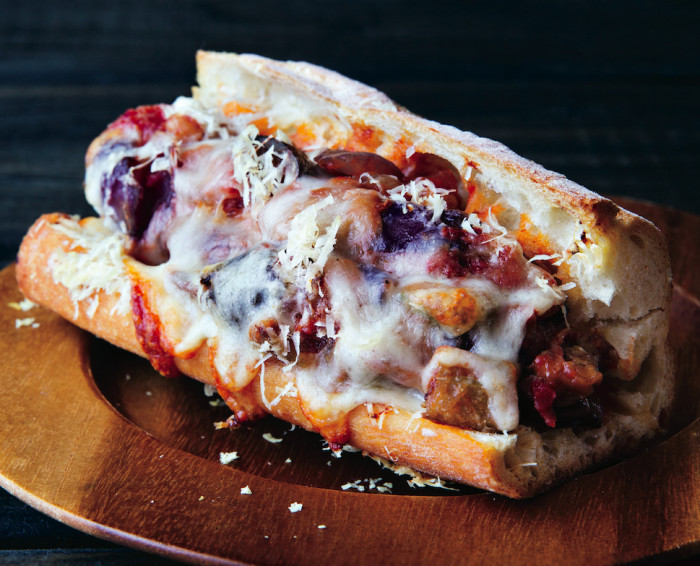 Renowned chef Mario Batali's new cookbook, America Farm To Table, is a celebration of local farmers around the country. In the book, readers travel from coast to coast with one of the nation's most beloved culinary faces to see how the master uses local fare to everyone's advantage. In this dish, Batali brings us a vegetarian sub that is both lighter, and quite possibly more flavorful, than its meatball cousin. Here's what the chef has to say: "I have eaten many eggplant Parmigiana over the years in New Jersey and in Little Italy, but this caponata variation is easier, lighter, more delicious and just plain less messy to make. Unused caponata becomes tomorrow's lunch or tonight's antipasto in a flash."
Ingredients
1/4

cup

extra virgin olive oil, plus more as needed

2

cloves

garlic, halved

1

large

Spanish onion, cut into 1/2-inch dice

2

ribs

celery, cut into thin 1/4-inch slices

2

teaspoons

fresh thyme, chopped

2

medium

eggplant, cut into 1/2-inch cubes (about 4 cups)

kosher salt

1

(6-ounce) can

tomato paste

1/4

cup

dried currants

1/4

cup

pine nuts

1

teaspoon

ground cinnamon

1

teaspoon

unsweetened cocoa powder

1

tablespoon

red pepper flakes

2

tablespoons

red wine vinegar

2

teaspoons

sugar

freshly ground black pepper

1/4

cup

water

1

baguette, cut into 4 pieces, split open to stuff

1/4

cup

Pecorino Romano, freshly grated

1/4

pound

provolone, grated
Directions
Preheat the oven to 375°F.
In a 12- to 14-inch sauté pan, heat the olive oil over medium-high heat until almost smoking.
Add the garlic, onion, celery, thyme, eggplant and a couple of pinches of salt.
Stir together, reduce the heat to medium, and cook for 5 to 6 minutes, or until the eggplant turns golden.
If it looks a little dry, add 1 tablespoon of oil.
Add the tomato paste, currants, pine nuts, cinnamon, cocoa powder and red pepper flakes and continue to cook for 3 minutes more.
Add the vinegar and allow it to evaporate.
Add the sugar, salt and pepper to taste and water and cook for 5 minutes more, then remove from the heat.
Place the baguette pieces in the oven to toast until golden.
Remove and stuff each baguette piece with about 1/2 cup of the caponata and top with Pecorino Romano and provolone.
Place the stuffed bread on a baking sheet and return it to the oven.
Bake until the cheese is nicely melted.
Remove and serve immediately.
Find more eggplant recipes on Food Republic: