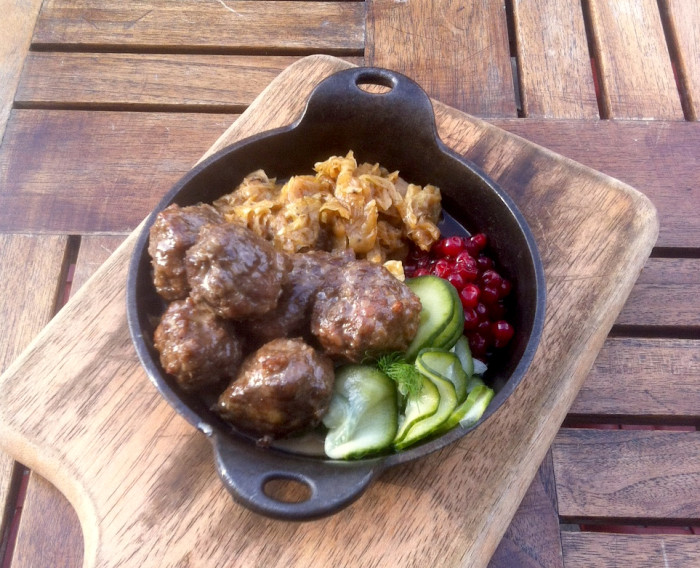 My grandmother Helga was the one who taught me how to cook — traditional Swedish meatballs before anything else. The meatballs I got for school lunch were always perfectly shaped and just the right size, but never tasted as good as her lumpy, misshapen ones. I serve them at Red Rooster, where they're the most popular dish on the menu. I've cooked all my life, but my meatballs never compared to the ones my grandmother used to make for us.
Ingredients
For the meatballs
1/2

cup

fine dry breadcrumbs

1/4

cup

heavy cream

2

tablespoons

olive oil

1

medium

red onion, finely chopped

1/3

pound

ground chuck or sirloin

1/2

pound

ground veal

1/2

pound

ground pork

2

tablespoons

honey

1

large

egg

3

tablespoons

unsalted butter
For the sauce
1

cup

chicken stock

1/2

cup

heavy cream

1/4

cup

lingonberry preserves

2

tablespoons

pickle juice
To garnish
lingonberry preserves

quick pickled cucumbers
Directions
Combine the breadcrumbs and heavy cream in a small bowl, stirring with a fork until all the crumbs are moistened. Set aside.
Heat the oil in a small skillet over medium heat. Add the onion and sauté for about five minutes, until softened. Remove from heat.
In a large bowl, combine the ground beef, veal, pork, onion, honey and egg, and mix well with your hands. Season with salt and pepper to taste.
Add the breadcrumb-cream mixture and mix well. With wet hands (to keep the mixture from sticking), shape the mixture into meatballs the size of a golf ball, placing them on a plate lightly moistened with water. You should have about 24 meatballs.
Melt the butter in a large skillet over medium-high heat. Add the meatballs, in batches if necessary, and cook, turning frequently, for about 7 minutes until browned on all sides and cooked through. Transfer the meatballs to a plate and drain off all but 1 tablespoon of fat from the skillet.
Return the skillet to the heat, whisk in the stock, cream, preserves and pickle juice, and bring to a simmer. Season to taste with salt and pepper. Add the meatballs to the sauce, reduce the heat to medium and simmer for about five minutes, until the sauce thickens slightly and the meatballs are heated through.
Serve hot with mashed potatoes and quick-pickled cucumbers.