Marc Murphy's Sloppy Dogs Recipe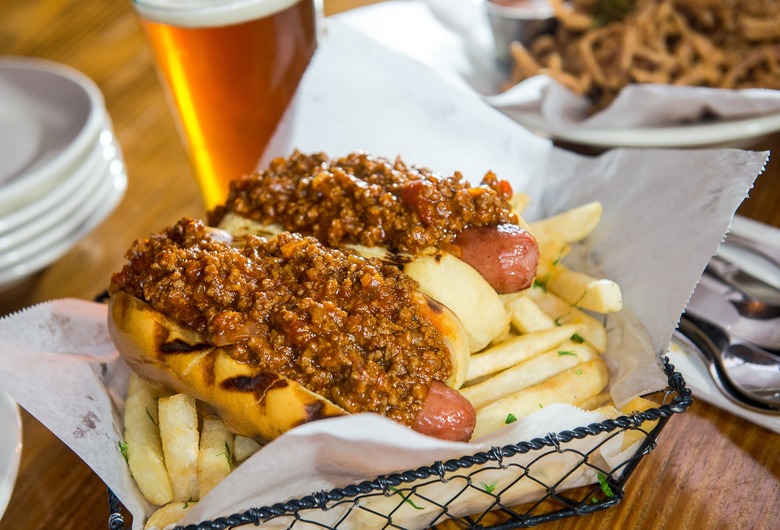 Get those napkins ready and dig in! (Photo: Gabi Porter.
"I'm not a football man, I'm a party man, so if there's a party, I'm in. If there's something where people are gathering around the TV to watch, I'll be there," says Marc Murphy, owner and executive chef at the Benchmarc restaurants in New York City. We hit up Ditch Plains, his surf-themed fish shack on Manhattan's Upper West Side, to grab some ideal tailgating recipes and found something better than a chili dog. This sloppy joe dog wishes it was a chili dog.
"When I compose dishes I like to have the right amount of protein, the right amount of sauce. Same thing with tailgating food, like these Sloppy Dogs — you've got the meat in the sauce, the hot dog and the bun. You get all three components at the same time and it's a harmonious bite. That's a good moment to me, the perfect bite."
Marc Murphy's Sloppy Dogs Recipe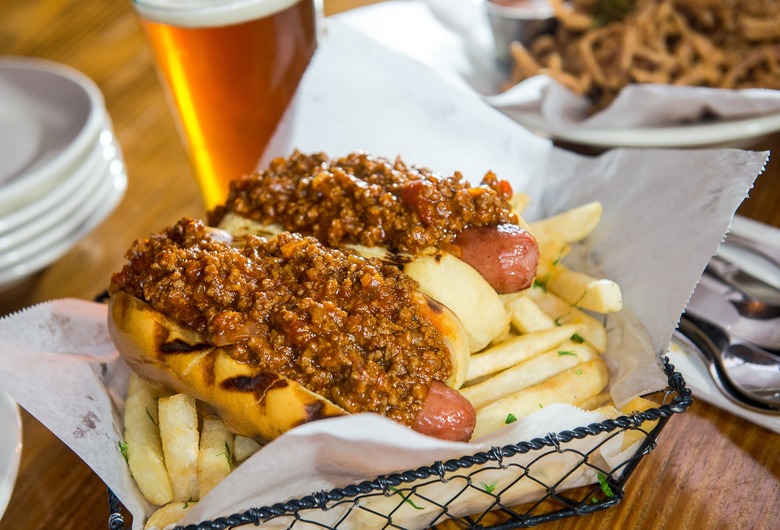 Ingredients
1 tablespoon vegetable oil
1/4 cup ground bacon
1/4 cup finely chopped onions
1 pound ground beef
kosher salt and black pepper
3/4 cup chicken stock
1 1/4 cups ketchup
1 bay leaf
1/2 teaspoon smoked paprika
1 1/2 tablespoons light brown sugar
1/2 teaspoon cayenne pepper
6 all-beef hot dogs
6 potato hot dog buns
Directions
Heat oil in a large heavy pot over moderately heat, until hot but not smoking and sauté bacon, stirring occasionally, until golden brown, about 6 to 8 minutes.
Using a slotted spoon, remove bacon from pan and set aside.
Add onions to pot and cook until soft, about 8 to 10 minutes. Using a slotted spoon, remove the onions and place with bacon. Strain all oil from pan and place back on stove.
Heat pot over medium heat and transfer onions and bacon back to pot. Add ground beef and cook, breaking up any large pieces, until meat is no longer pink, about 5 to 8 minutes. Season with salt and pepper.
Once the meat is no longer pink, remove from the pot and drain the fat. Transfer beef mixture back to pot and over medium heat add chicken stock, using a wooden spoon, scrape up any brown bits on the bottom of the pot.
Add ketchup, bay leaf, paprika, sugar and cayenne and mix thoroughly. Reduce heat to low and let simmer for 30 minutes. Season with salt and pepper.
Over medium high heat, grill hot dogs for 5 to 7 minutes. Place hot dogs on buns and top each with sloppy joe mixture.
Dude Food For Your Weekend: José Dog Recipe
Broccoli Rabe And Provolone Hot Dog Recipe
Merguez Dog With Zucchini-Mint Slaw Recipe