Marc Murphy–Style Grilled Octopus Salad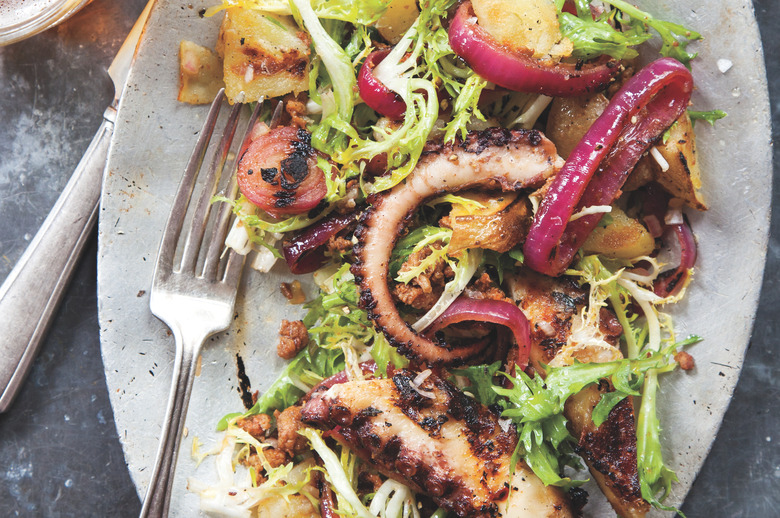 We may receive a commission on purchases made from links.
You know Marc Murphy from his regular appearances on Chopped and as a guest on Iron Chef. He's also a champion of NYC-based food nonprofits Share Our Strength and City Harvest and works on the Diplomatic Culinary Partnership with the U.S. State Department. We know him as chef-owner of a handful of our favorite restaurants, places where one might find a spectacular grilled octopus salad. By the way, have you been to Kingside? 
This salad is a celebration of the beautiful combination that is octopus and chorizo — a match made in heaven. It's important that once your octopus is cooked, you let it rest and come to room temperature before grilling. Don't think of grilling as an extra step — it takes only a few minutes and substantially enhances the taste of octopus by creating smoky, crispy bits on the outside while the inside stays tender.
Marc Murphy–Style Grilled Octopus Salad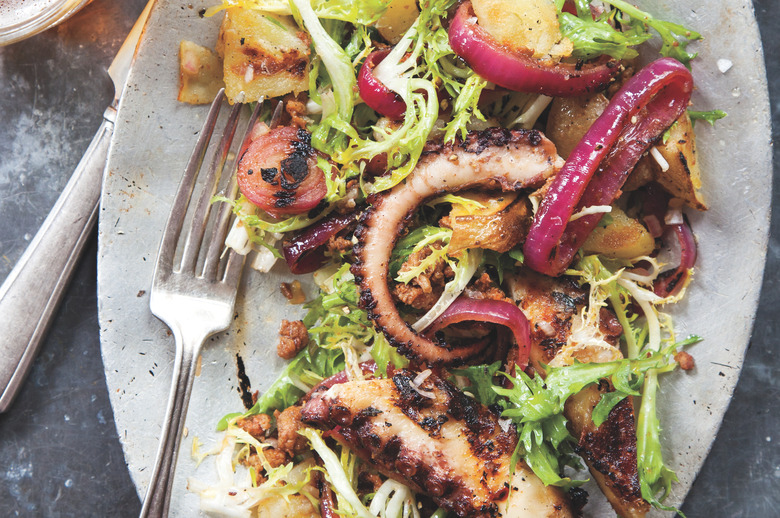 Ingredients
1 (3- to 4-pound) cleaned octopus
1 (750-ml) bottle red wine
1 fresh or dried bay leaf
1 cup plus 6 tablespoons extra-virgin olive oil
1 lemon
1/4 cup chopped fresh flat-leaf parsley
2 tablespoons chopped fresh oregano
2 g garlic cloves
2 teaspoons red pepper flakes
1 1/2 teaspoons kosher salt
1 1/2 teaspoons freshly ground black pepper
3 medium Yukon Gold potatoes (about 1 pound)
6 ounces fresh (Mexican) chorizo
3/4 cup sherry vinegar
2 medium red onions
2 heads frisee
1/2 cup vegetable oil
1/2 cup shallots
1/4 cup sherry vinegar
1/4 cup water
1 tablespoon Dijon mustard
Directions
:::vinaigrette:::
Heat a small saucepan over high heat. Add 2 tablespoons oil, and allow to get very hot.
Add shallots and cook until very brown. Add sherry vinegar and reduce by 3/4, simmering at least 10 minutes.
Remove from heat and allow shallots to cool. Carefully transfer to a blender. Add water and mustard, secure lid and blend on high until smooth.
While the machine is running, slowly pour oil through the lid plug opening in a thin stream until all is incorporated.
Season to taste with salt and pepper.
:::salad:::
Place the octopus in a large pot and add the wine, bay leaf, and 3 cups water. If, for some reason, the octopus is not completely submerged, add equal parts wine and water until it is. Place the pot over high heat and bring the liquid to a boil. Reduce the heat to low and simmer, partly covered, until tender, 1½ to 2 hours. Discard the liquid and set the octopus aside to cool. Do not peel the octopus.
In a large bowl or a large resealable plastic bag, combine 1 cup of the oil, the lemon, parsley, oregano, garlic, red pepper flakes, salt, and black pepper. Add the octopus, cover or seal, and refrigerate for at least 6 hours or preferably overnight, turning the octopus once or twice in the marinade.
Place the potatoes in a medium pot and add enough cold water to cover the potatoes by 1 inch and add enough salt so the water tastes like seawater. Bring the water to a boil over high heat and cook the potatoes until fork-tender, about 30 minutes. Drain and let cool. Cut the potatoes in half and set aside.
In a medium sauté pan, heat 2 tablespoons of the oil over medium-high heat until shimmering. Add the chorizo and cook, breaking it up until it looks like ground meat, for about 5 minutes. Add ½ cup of the vinegar and cook, stirring, until the vinegar has mostly evaporated, 5 to 6 minutes. Using a slotted spoon, transfer the chorizo to a plate and set aside.
Heat a grill or preheat a grill pan over medium-high heat.
In a large bowl, toss the boiled potatoes with 2 tablespoons of the oil and season lightly with salt. Place the potatoes on the grill and cook until well marked, about 4 minutes per side. Remove from the heat and set aside.
Lightly brush the onions with the remaining 2 tablespoons oil and season with salt and pepper. Place the onions on the grill and cook until tender and well marked, about 4 minutes per side. Transfer the onions to a large bowl, add the remaining ¼ cup vinegar, and toss to combine. Cover the bowl with plastic wrap and set in a warm place for 10 minutes so the onions steam and marinate.
Remove the octopus from the marinade, shaking off any excess and place them on the grill. Cook the octopus until well marked, about 3 minutes per side. Cut each tentacle into ¾-inch pieces (discard the body) and place them in a large bowl. Add the potatoes, onions, chorizo, frisée, and vinaigrette. Taste and adjust the seasonings, and serve immediately.
TIP: Large octopus (not the baby ones) often come frozen and need to be thawed before cooking. When we get octopus at the restaurant, and when I cook it for my family at home, I'll often thaw it in the red wine I plan to use for the braise. It helps to flavor the octopus a bit more, which is always nice.