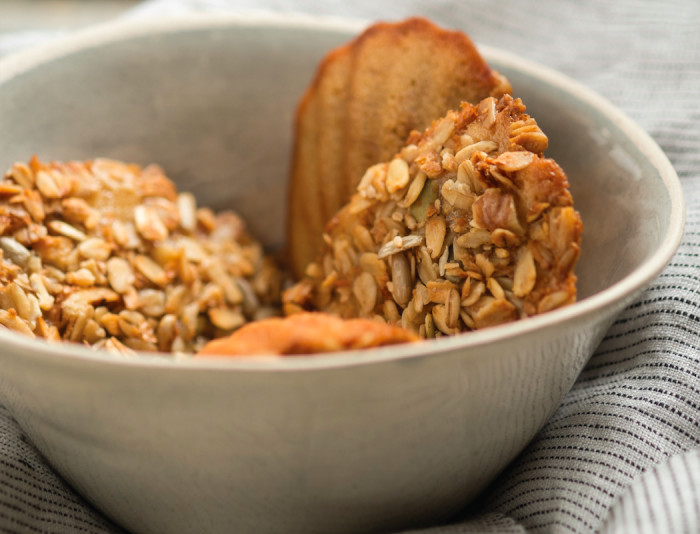 They're short, sweet and very chic — they're madeleines, a ubiquitous French pastry that's a cross between a cake, a cookie and a sea creature. Bake dozens of these shell pastries at home with author Barbara Feldman Morse's new book, Madeleines. If you were just going to pour yourself a bowl of granola, think again.
When I lived in Vermont, I loved the annual rite of passage of tapping maple trees to make syrup. A few years ago my husband, Matt, even tried it out himself. Matt's maple syrup was proof that there's no substitute for the real deal. To make these madeleines I paired maple syrup with granola, two breakfast staples. I love serving them with a small dish of vanilla or plain Greek yogurt.
Ingredients
3/4

cup

all purpose flour

3/4

teaspoon

baking powder

1/4

teaspoon

salt

6

tablespoons

unsalted butter, plus 2 tablespoons for pans (optional)

1/4

cup

granulated sugar

1/4

cup

brown sugar, either light or dark, packed

1

large

egg, room temperature

1/4

cup

real maple syrup (the darker the syrup, the stronger the maple flavor)

1

cup

of your favorite granola, either homemade or store-bought
Directions
Place a rack in the center of the oven and preheat oven to 350°F.
Coat two 12-shell pans with baking spray, or melt an additional 2 tablespoons butter and brush a little in each mold.
In a small bowl, whisk together flour, baking powder and salt.
Place butter and sugars in a 2-quart microwavable glass bowl or measuring cup.
Microwave on low for 1 to 2 minutes and then stir mixture with a whisk until smooth.
If butter is not melted, microwave for 15-second intervals, stirring after each, until smooth.
Let mixture cool for 3 to 4 minutes and then add egg, whisking well until completely blended.
Add maple syrup and flour mixture and whisk until thoroughly blended.
Using a scoop or a teaspoon, fill shell molds with batter until almost full.
Top each with a generous spoonful of granola, gently pressing it into the batter.
Bake for 10 to 12 minutes, until madeleines are slightly mounded.
Remove pan from oven and let cool on a wire rack for 2 to 3 minutes, then invert and tap madeleines onto the rack. You may also use a small offset spatula to remove each one individually.
Find more sweet breakfast on Food Republic: