Make Maple Buttermilk Fried Chicken (And Take A Photo!)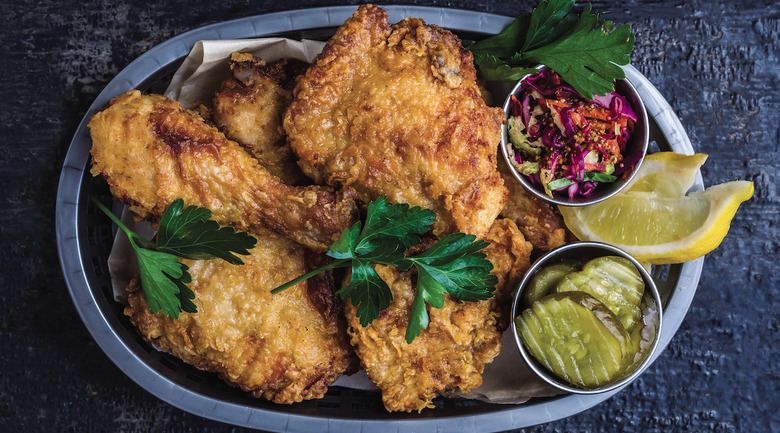 We may receive a commission on purchases made from links.
Food blogger and Instagrammer Dennis Prescott has a cookbook out that's made for breaking your own Instagram records. Dig into Prescott's recipes for comfort food from every corner of the earth. A book like this wouldn't be complete without a killer maple buttermilk fried chicken recipe. 
Let's just stop here for a minute and really, wholeheartedly thank the genius who created the masterpiece that is fried chicken — the Sistine Chapel of all comfort food dishes. As far as I'm concerned, it doesn't get any more delicious than crunchy, fried, buttermilk-soaked goodness. I ate my fair share of fried chicken growing up. It came in a big bucket with a drawing of a vintage-looking dude on the side, and for all I knew, that was a proper, legit representation of the dish. Then I moved to the blessed South and experienced the rapturous bliss that is legit, home-style, fried-to- perfection chicken. As with everything, scratch-made at home is always best, and this recipe is proof positive (just be sure to account for the overnight marinade — it will be worth it!). Spiked with a maple-buttermilk marinade and served with a killer maple-Dijon slaw, this recipe is a guaranteed hit.
Dredging is lightly coating a food, in this case chicken, in a flour or bread crumb mixture. When the food is fully coated, give it a shake or two to remove any excess before frying.
Note: If planning ahead, combine the veggies in one bowl and the dressing in another. Cover each with plastic wrap and chill in the fridge for up to 24 hours. Before serving, give the dressing a good whisk, then toss with the shredded veggies. Done and done.
Make Maple Buttermilk Fried Chicken (And Take A Photo!)
Dennis Prescott has recipes for comfort food from every corner of the earth, like this killer maple buttermilk fried chicken recipe.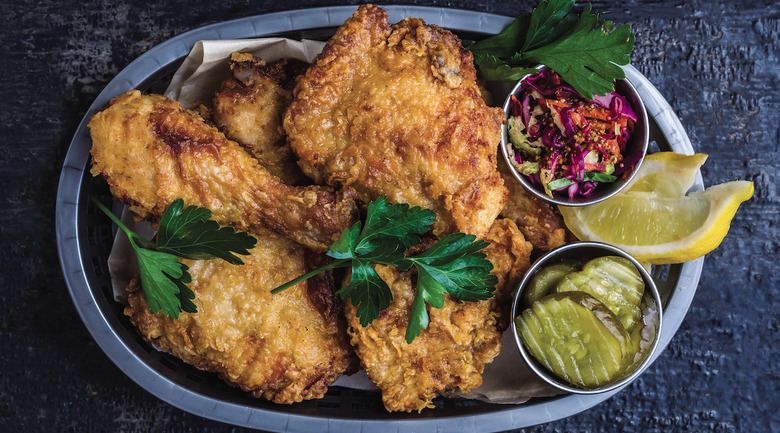 Ingredients
3 1/2 pounds chicken drumsticks and thighs
1/3 cup pure maple syrup
2 1/2 cups buttermilk
1/2 teaspoon cayenne pepper
1 teaspoon finely minced fresh thyme leaves
1 teaspoon sea salt
1/2 large red cabbage
2 large carrots
1 cup grated Brussels sprouts
1/3 cup whole-grain Dijon mustard
1/4 cup pure maple syrup
1/4 cup apple cider vinegar
2 tablespoons fresh lemon juice
1/4 cup vegetable oil
1/4 teaspoon sea salt
1/4 teaspoon freshly cracked black pepper
2 cups all-purpose flour
1 teaspoon sea salt
1/2 teaspoon garlic powder
1/2 teaspoon cayenne pepper
1/2 teaspoon smoked paprika
1/2 teaspoon chili powder
1/2 teaspoon freshly ground white pepper
1 tablespoon lemon zest
canola oil
Your favorite bread and butter pickles
Fresh lemon wedges
Directions
In a large bowl or freezer bag, combine the chicken, maple syrup, buttermilk, cayenne, thyme, and sea salt and massage together. Cover with plastic wrap and refrigerate overnight, or for a minimum of 8 hours.
Preheat the oven to 225°F. Let the chicken come to room temperature on the counter for 20 to 30 minutes prior to cooking.
Make the slaw: In a large bowl, toss the cabbage, carrots, and Brussels sprouts. In a small dish, whisk together the mustard, maple syrup, vinegar, and lemon juice. While whisking continuously, slowly stream in the vegetable oil until all the oil has worked itself into the silky-smooth dressing. Season with the salt and pepper. Pour the dressing over the veggies and give everything a mix. Cover and refrigerate (see Note).
Make the seasoned flour: In a large bowl, combine all the ingredients and toss to mix.
Fry the chicken: In a high-sided Dutch oven or stockpot, heat 3 inches of canola oil to 350°F. Set a rack over a large rimmed baking sheet.
Give the chicken pieces a gentle shake to remove any excess marinade, then dredge them in the seasoned flour, coating them well. Working in batches, fry the chicken for 15 to 18 minutes, turning the pieces a couple of times, until they are golden brown and full of happy. The internal temperature of the chicken should be 165°F on an instant-read thermometer. If so, good to go. Transfer the cooked chicken to the rack and set the baking sheet in the oven to keep warm. Continue to fry the rest of the chicken.
Serve with the slaw, some nice pickles, and fresh lemon wedges.