Maple Bacon Pancakes Recipe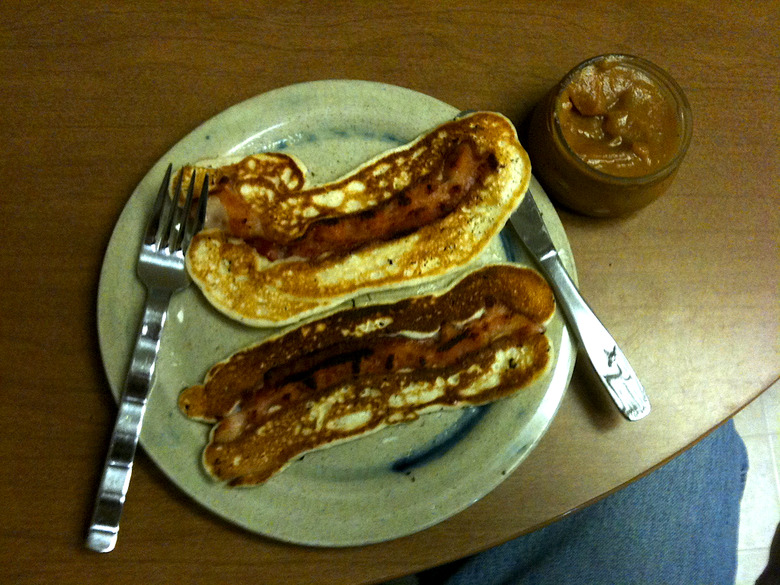 Photo: Zak Greant on Flickr
Is there an easy-to-make one-pan brunch dish on this earth that is sweet, salty, savory, crunchy, fluffy, free of artificial ingredients (meaning not frozen or processed) and best of all, cheap? Yes there is, and believe it or not, they're portable too. Behold, maple bacon pancakes: the greatest brunch food there is.
We use our basic pancake batter for this recipe, but feel free to substitute our world-famous red velvet pancake recipe if you're feelin' a little fancy. It's the weekend, you're entitled.
Maple Bacon Pancakes Recipe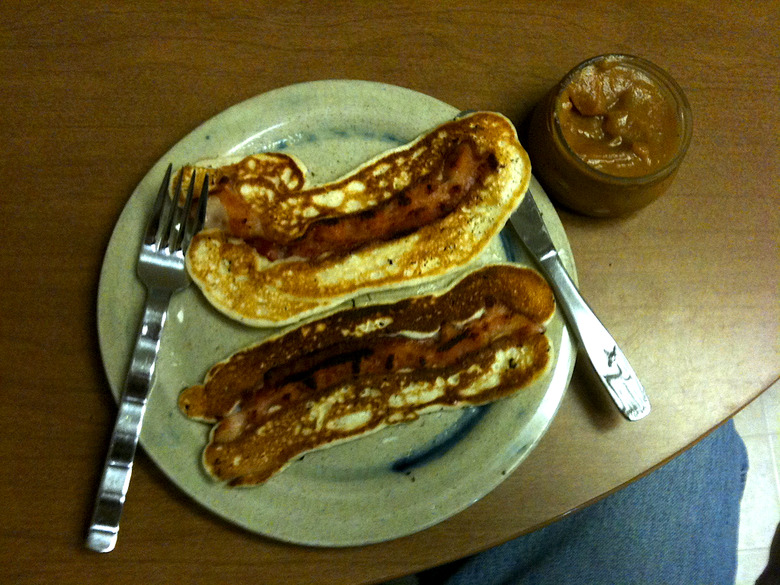 Ingredients
12 slices thick-cut bacon
1/2 cup maple syrup
2 large eggs
1 1/4 cups whole milk
4 tablespoons butter
1/4 teaspoon salt
1 3/4 cups all-purpose flour
2 teaspoons baking powder
1 tablespoon sugar
Directions
Heat a large nonstick pan over medium heat, then add bacon slices, in batches if necessary, and fry until crisp.
Drain bacon on several layers of paper towels and set aside.
When cool and drained, brush each strip with maple syrup.
Drain off bacon grease and wipe pan clean. A little clinging bacon grease never hurt anyone. 
Follow recipe directions for making perfect pancakes, paying close attention to step 6.
When batter is ready, re-heat pan, place a maple bacon strip in the middle and dispense batter over it to cover completely, leaving room between pancakes for spreading. You should be able to fit 3  in a pan at one time. 
When small bubbles form at the top, flip pancake over and cook on the other side until golden-brown, about 2 minutes. 
Transfer to a plate and serve immediately with maple syrup.