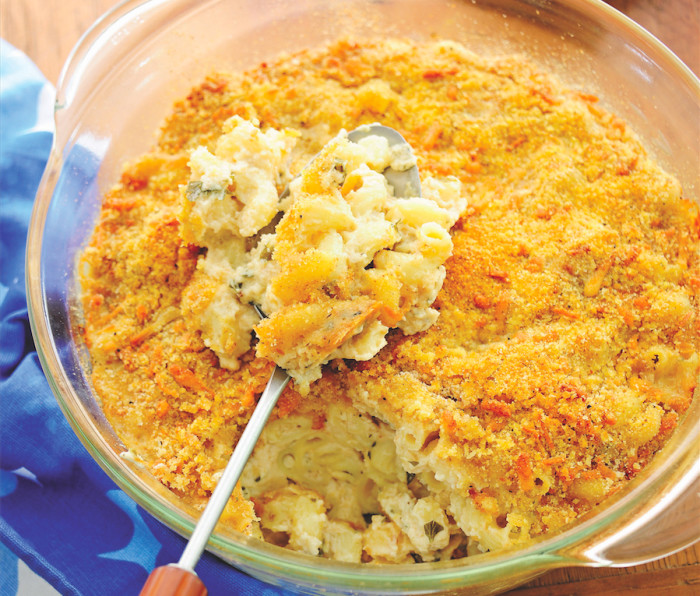 Food writer and author Nicki Pendleton Wood's new cookbook is packed to bursting with recipes, tips and secrets from some of the best dinner hosts in the nation: Southerners. Wood interviewed more than 100 people from the American South who take great pride in their dinner parties. Definitely serve mac 'n' cheese — it's a famous crowd-pleaser — but jazz it up big time with sharp Spanish Manchego and fresh thyme.
Ingredients
2

cups

sharp white cheddar cheese, shredded

1

cup

Parmigiano-Reggiano cheese, grated

1

cup

Manchego cheese, grated

1

pound

uncooked macaroni pasta

3

tablespoons

fresh parsley, minced

1

tablespoon

fresh thyme, minced

1

tablespoon

chives, minced

3 1/2

cups

whole milk

1

cup

heavy cream

1/2

cup (1 stick), plus one tablespoon

butter, divided, plus more for greasing the pan

6

tablespoons

all-purpose flour

1/4

teaspoon

cayenne pepper, or to taste

A

pinch of

freshly grated nutmeg

2

teaspoons

dry mustard

A

dash of

tabasco sauce

A

dash of

worcestershire sauce

Salt

and ground black pepper, to taste

1

cup

fresh bread crumbs
Directions
Preheat the oven to 350ºF. Lightly butter a deep 3 1/2-quart baking dish.
In a small bowl, combine the cheddar, Parmigiano-Reggiano, and Manchego cheeses.
Bring a large pot of salted water to a boil over high heat and cook the macaroni until barely al dente (it's okay if the pasta seems undercooked; it will absorb the sauce during baking). Drain and place in a large bowl. Add 3 1/2 cups of the cheese mixture, reserving 1/2 cup for topping the casserole with. Add the parsley, thyme, and chives, and mix well.
Combine the milk and heavy cream in a saucepan. Bring to a simmer over medium-high heat. Keep warm but don't boil.
Meanwhile, melt the 1/2 cup butter in a large saucepan over medium heat until foamy. Whisk in the flour and cook, stirring, for 1 to 2 minutes. Whisk in the cayenne, nutmeg, and mustard. Cook until fragrant and slightly darker in color, about 1 minute. Whisk in the hot milk mixture all at once. Add the Tabasco, Worcestershire sauce, salt, and pepper, and mix well.
Increase the heat if needed to bring the sauce to a gentle bubble. Cook, stirring, until the sauce thickens enough to coat the back of a spoon, about 3 minutes. Taste and adjust the seasonings as necessary.
Pour the sauce over the macaroni mixture and stir gently to combine. Pour into the buttered baking dish.
Combine the bread crumbs with the remaining 1 tablespoon butter and a generous amount of ground pepper. Add the reserved 1/2 cup cheese. Sprinkle the mixture over the macaroni. Bake in the middle of the oven for 30 minutes, or until the macaroni is bubbling and the crumbs are golden brown.
More of our many favorite mac and cheese recipes from Food Republic: