Mama's Seafood Gumbo Recipe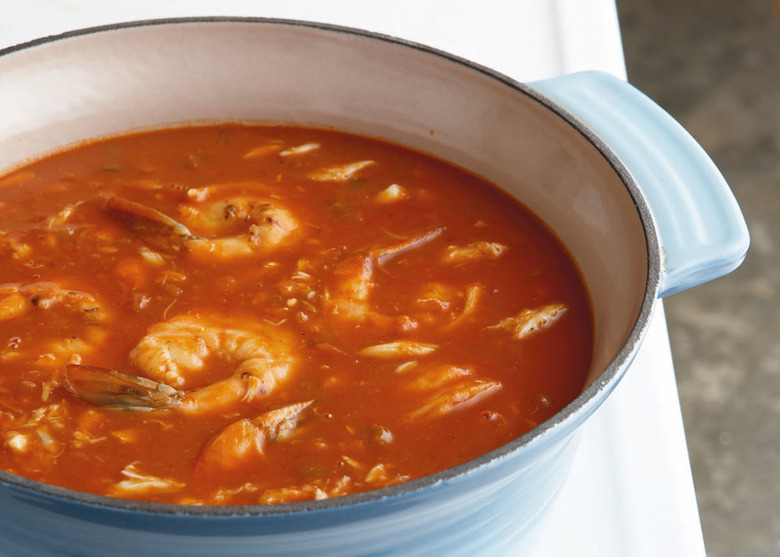 To quote the regional cookbook Louisiana Entertains, "Good gumbos are like good sunsets: no two are exactly alike, and their delight lies in their variety." All gumbos use a roux. However, in addition to a roux, some gumbos flavor and thicken with okra and others call for filé powder. Integral to Creole and Cajun cooking, filé powder is made from the dried leaves of the sassafras tree. It is used not only to thicken gumbo but also to impart its mild, lemon flavor. Filé powder should be stirred into gumbo toward the end of cooking or it will become tough and stringy.
Mama's Seafood Gumbo Recipe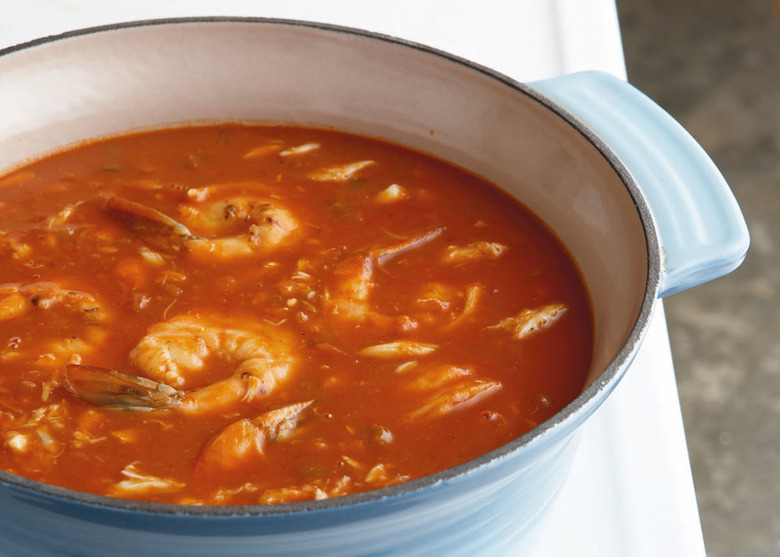 Ingredients
2 tablespoons unsalted butter
3 tablespoons all-purpose flour
1 onion
1 green bell pepper
4 cups water or shrimp stock (see below)
2 6-ounce cans tomato paste
2 pounds large shrimp (21/25 count)
1 pound jumbo lump or lump crabmeat
hot sauce
1/4 teaspoon filé powder (optional)
Directions
In a heavy-bottomed pot or Dutch oven, melt the butter over medium heat. Add the flour, stirring slowly and constantly, and cook to a medium-brown roux, about 30 minutes. 
Add the onion and bell pepper and stir to combine. Cook until the vegetables have wilted and are lightly golden, about 5 minutes. Add the water and tomato paste and stir to combine. Season with salt and pepper. Bring to a boil over high heat. Decrease the heat to low and cover. Simmer, stirring occasionally, until flavorful and thickened, 11/2 to 2 hours.
Add the shrimp and crabmeat and stir to combine. Continue cooking over very low heat until the shrimp are cooked through, an additional 10 minutes. Season with hot sauce and stir in the filé powder, if using. Taste and adjust for seasoning with salt and pepper. Serve with rice pilaf.
When you peel the shrimp, save the shells (heads also, if you are fortunate enough to have them), and rinse with cold running water.
Place the shells in a pot and add enough water to cover. Add a few fresh bay leaves, sprigs of parsley and thyme, a quartered onion, chopped carrot, and chopped celery, and bring to a boil. Decrease the heat to low and simmer until fragrant and flavorful, about 30 minutes.
Strain the stock in a strainer layered with cheesecloth, discarding the solids.
If I don't need to make shrimp stock every time I peel shrimp, I save the shells for later in a sealable plastic bag in the freezer. For fish stock, it's the same principle, but use bones instead of shells. Do not use oily or heavy fish such as mackerel, skate, mullet, or salmon; their flavor is too strong and heavy. Use approximately 4 pounds of fish bones to 10 cups of water to make 8 cups of stock.