How To Make Malaysian Chili Prawns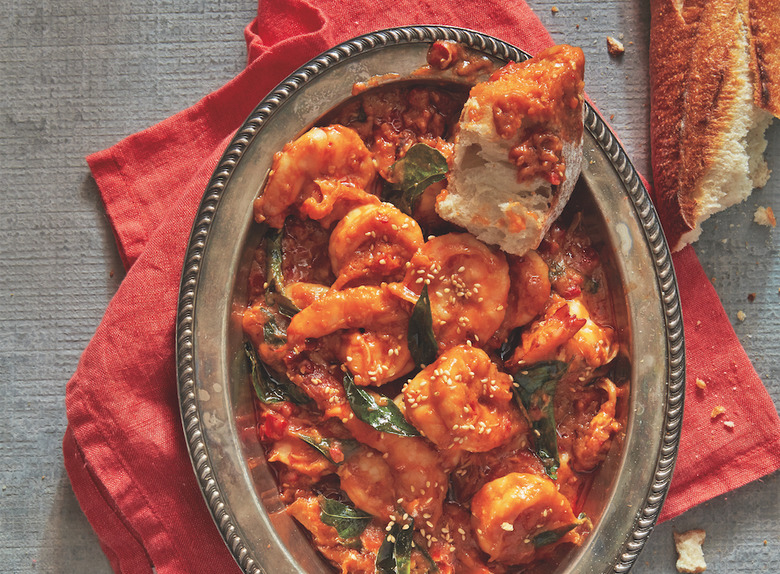 We may receive a commission on purchases made from links.
Think you can't cook Malaysian food? Too complicated? Wouldn't know where to start? Think again! This spicy, tangy, vibrant cuisine is well within reach if you have a copy of chef Christina Arokiasamy's new cookbook. She served as Malaysia's first official Food Ambassador to the U.S., so take her word for it. These Malaysian chili prawns are as addictive to crunch on as they are beautiful to look at. 
Just after sunset in Kuala Lumpur, the locals and tourists sit at curbside tables indulging in a large platter of chili prawns served right from the blazing wok. The scene is pleasantly noisy with shouted food orders, but no one seems to mind because this is one of Malaysia's most popular dishes. It is filled with layers of flavor using ingredients from the cupboards of Chinese, Indian and Malay cultures. It's best to use a wok for this recipe since the hot wok will create a marvelous caramelized crust on the surface of the prawns.
Chili prawns are traditionally served with Chinese-style steamed buns, but a French baguette is a fantastic substitute. In my home, we cannot resist dipping bread into the sauce, making a delicious mess. Instead of prawns, you could also use crabs in their shell, as they do in Singapore; whichever you choose, the key is the delightfully luscious creamy chili sauce.
How To Make Malaysian Chili Prawns
Think you can't cook Malaysian food? Too complicated? These simple Malaysian Chili Prawns are as addictive to eat as they are beautiful to behold.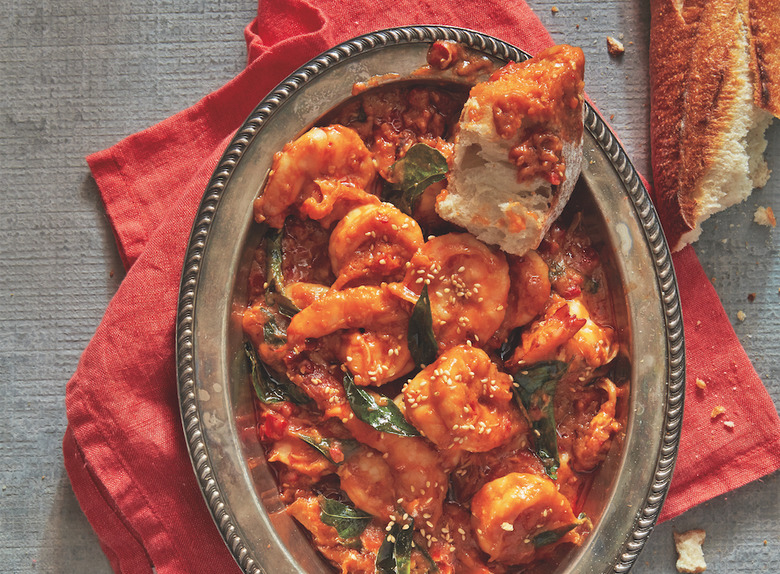 Ingredients
3 tablespoons store-bought bottled chili sauce
1/4 cup ketchup
1 1/2 tablespoons soy sauce
1 1/2 teaspoons sesame oil
5 tablespoons peanut or canola oil
4 garlic cloves
1 2-inch piece fresh ginger
3 to 4 fresh red chilies
1/2 cup (from 3 sprigs) curry leaf
1 pound tiger prawns or large shrimp
1/2 cup low-sodium chicken broth
1 egg
1 teaspoon sesame seeds
Directions
Combine the chili sauce, ketchup, soy sauce, and sesame oil in a bowl.
Heat a wok or a large deep skillet over medium heat for about 40 seconds. Add the oil, pouring it around the perimeter of the wok to coat the sides and bottom. When the surface shimmers slightly, add the garlic, ginger, chilies, and curry leaves and stir-fry until fragrant and the garlic is golden in color, about 5 minutes.
Add the sauce mixture to the wok and mix well. Allow the sauce to simmer for about 2 minutes.
Add the prawns and stir-fry over high heat, pressing the prawns against the hot wok until they are seared, about 1 minute. Pour in the broth, mix well, and allow the prawns to cook in the broth for about 2 minutes.
Add the egg. Mix and cook until the sauce thickens, about 1 minute more. Remove from the heat. Garnish with the sesame seeds and serve immediately.