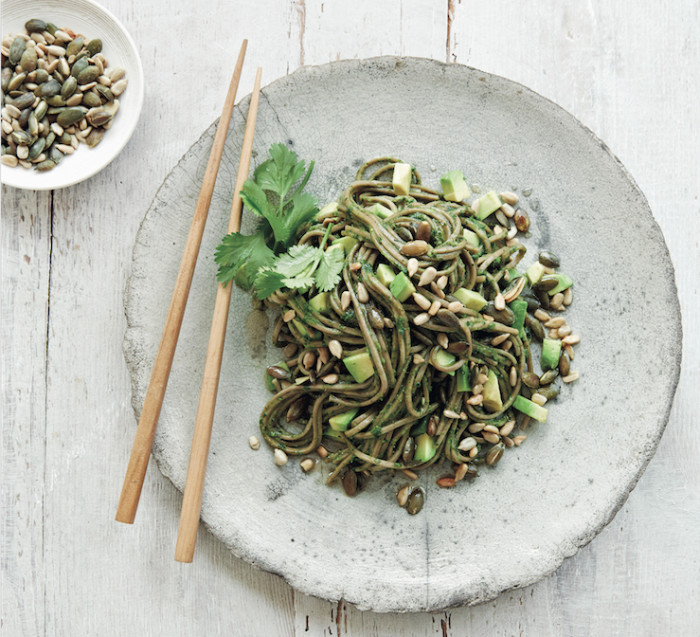 Julian Metcalfe, founder of U.K.-based fast-casual superstar Pret a Manger, has a new cookbook out featuring recipes from his new fast-Asian concept, Itsu. Think high-protein, low-carb salads, brown rice, sushi, soups and noodles — fresh food that tastes as good as it looks. Here's hoping they open Stateside, and in the meantime, try out one of their most popular dishes.
This glorious tangle of herb-coated noodles is teamed with creamy avocado and crunchy toasted seeds. You can try out different sorts of noodles here — 100 percent buckwheat (soba) or sweet potato and buckwheat for a gluten-free dish, or skinny somen noodles for some extra bite.
Ingredients
Asian pesto
Small bunch of

coriander, plus extra leaves to garnish

1

hot red chili, seeds in, roughly chopped

A

thumb-sized piece of

fresh root ginger (about 3/4 ounce), peeled

1

garlic clove, peeled

1

tablespoon

mint leaves

1

tablespoon

toasted sesame oil

1

tablespoon

soy sauce

1/4

teaspoon

salt

1

tablespoon

lemon or lime juice

1

tablespoon

agave syrup
Salad
1 1/4

cups

dried buckwheat (soba) noodles

9

cups

boiling water

1

teaspoon

salt

1

tablespoon

toasted sesame oil

2

ripe avocados

4

tablespoons

sunflower seeds

4

tablespoons

pumpkin seeds
Directions
For the pesto
Rinse the bunch of coriander under the tap, then shake it to remove most of the water. Roughly chop it, including the stalks, and put into a blender with the chili.

Grate the ginger and garlic and add to the coriander in the blender, along with the remaining pesto ingredients.

Blend to a smooth sauce, then scrape into a large bowl and set aside.
For the salad
Cook the noodles in a large saucepan of the measured boiling water with the salt added for 6 minutes. Drain and refresh under cold running water, then toss with the sesame oil in a bowl.

Cut the avocados in half, remove the stone and peel, then cut the flesh into small cubes and add to the pesto in the large bowl.

Heat a dry frying pan, add the sunflower and pumpkin seeds and toast over a medium-high heat for about 30 seconds until they start to pop and smell toasted. Tip into a bowl to cool.

Add the noodles to the pesto and avocado and toss to mix. Divide between serving plates and sprinkle over the toasted seeds, then garnish with coriander leaves before serving.