Make This Quinoa Stir-Fry With Garlic And Pineapple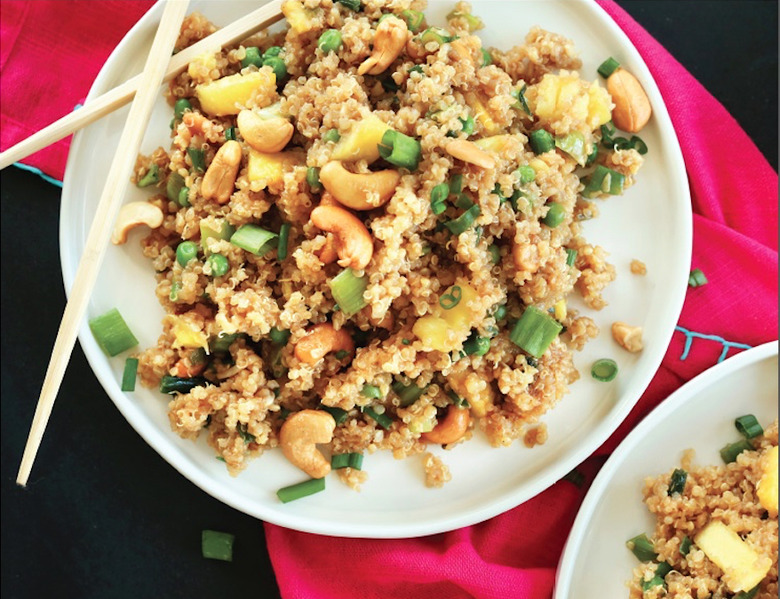 We may receive a commission on purchases made from links.
Once you start tacking dietaries onto recipes — paleo, gluten-free, vegan — the options (and flavors) tend to shrink. Avoid this entirely with a copy of Minimalist Baker's Everyday Cooking, from eponymous bloggers Dana and John Shultz. Packed with healthy, delicious spin-offs of your favorite dishes, this is one collection that will point you in the right direction.
Stir-fried rice is one of my favorite Asian dishes. However, it's not always the healthiest, so I swapped in quinoa for added protein and nutritional value. I borrowed the cashew and pineapple idea from my college roommate, who made some of the best fried rice. The five-ingredient sauce melds everything together to create a flavorful, hearty entrée or side dish.
Reprinted with permission from Minimalist Baker's Everyday Cooking
Make This Quinoa Stir-Fry With Garlic And Pineapple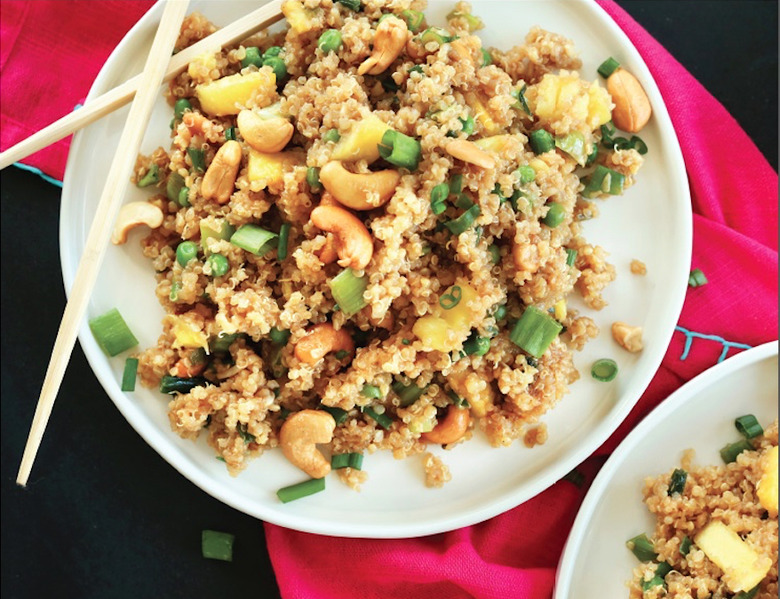 Ingredients
1 1/4 cups uncooked quinoa
2 1/2 cups water
1 tablespoon toasted sesame oil or coconut oil
1 cup green onion
3 cloves garlic
1/2 cup peas
2/3 cup roasted salted cashews
2/3 cup pineapple
1 tablespoon toasted sesame oil
1/4 cup soy sauce or tamari
4-5 tablespoons maple syrup (or sub in organic brown sugar)
3 cloves garlic
3-4 tablespoons salted natural peanut butter, cashew butter or almond butter
Directions
Add quinoa and water to a saucepan. Cook over high heat until boiling, then reduce heat to low. Cover and simmer until liquid is absorbed — about 15 minutes. Set aside.
Whisk all sauce ingredients together in mixing bowl and set aside.
Heat a large skillet over medium heat. Once hot, add sesame oil, green onion, garlic, and 1 tablespoon (15 milliliters) sauce. Sauté for 1-2 minutes, then add peas. Cook for another 2 minutes. Increase heat to medium. Add cooked quinoa and 2⁄3 of the sauce (reserving the rest for serving). Stir to thoroughly coat. Cook for 1-2 minutes.
Add cashews and pineapple. Stir to coat. Cook for another 1-2 minutes, stirring frequently.
Serve with remaining sauce on side. Chopped green onion or cilantro makes a colorful garnish. Best when fresh, though leftovers will keep covered in the refrigerator for 3-4 days.