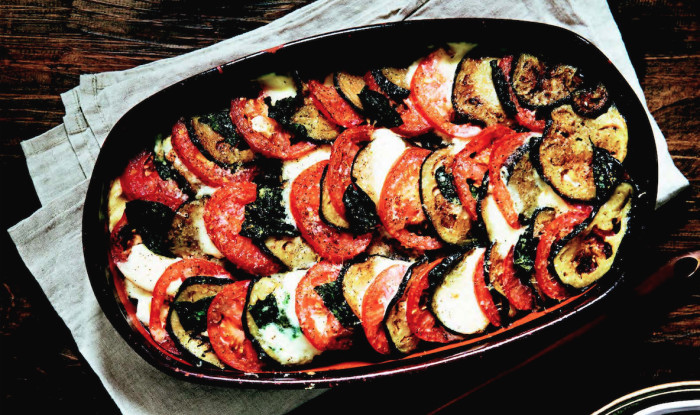 "Alimentari" is Italian for "good food and camaraderie," so what better name for Melbourne, Australia's vibrant multicultural eatery? Join Alimentari founders Linda and Paul Jones on a story-packed discovery of Italian, Middle Eastern and modern European cuisine.
This is a very popular vegetarian take on lasagne. Using really fresh ingredients makes a huge difference to the quality of this dish. Do use scamorza if you can — it's a little more expensive than fior di latte, but it's well worth it for the delicious smoky flavor.
Ingredients
3

large eggplants, cut into 1/2-inch thick rounds

olive oil, for drizzling

8

cups

tomato sauce

14

ounces

Parmesan cheese, grated

3

balls (about 13 ounces)

smoked scamorza or fior di latte (fresh mozzarella), sliced

1

bunch

basil, leaves picked

4

tomatoes, sliced
Directions
For the parmigiana
Preheat the oven to 400°F. Line two large trays with baking paper.

Spread the eggplant onto the trays, season well and drizzle with olive oil. Bake for 15 minutes, turning once, until lightly browned. Set aside.

Reduce the oven temperature to 345°F.

Heat the sauce in a medium-sized saucepan over medium heat.

Spread a layer of sugo over the bottom of a 14 x 8-inch baking dish. Top with a layer of eggplant slices, sprinkle with Parmesan and then a layer of scamorza or fior di latte. Repeat, scattering the second layer with some basil leaves. You should get three layers. When you get to the top layer, arrange the eggplant, tomato, fior de latte and basil in overlapping rows.

Bake in the oven for 20 minutes or until golden. Allow to cool for a few minutes before serving.