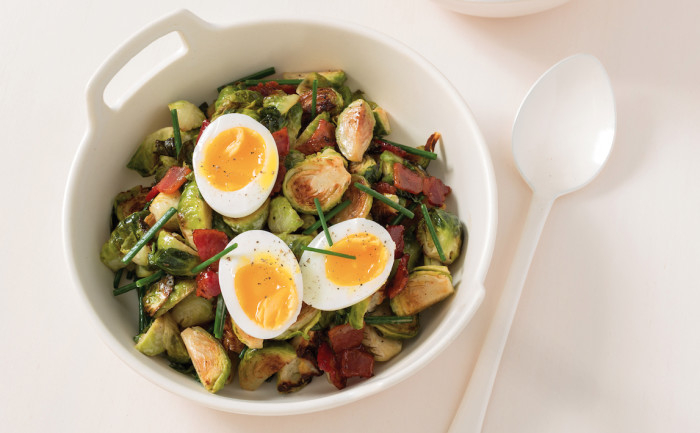 Brooklyn restaurant the Good Fork feeds diners like they're family. Chef Sohui Kim's first cookbook is a collection of favorite recipes, tales and techniques. Whether it's Korean-tinged American fare or modern spins on French and Italian classics, The Good Fork Cookbook has a dish for everyone. This Brussels sprouts Caesar salad recipe, which she writes is a favorite of her husband, Ben Schneider, is a hearty way to get your veggies and bacon all on one plate. 

This is one of Ben's favorite recipes. He loves the combination of two textures of Brussels sprouts — the roasted chunks and the blanched leaves — and also the true Caesar dressing made with salty anchovies. Plus, it has soft eggs and bacon. I love to use bacon as a cheat to make things taste better, and here I really pushed the envelope by glazing it with maple syrup. In fact, this is actually a very indulgent dish masquerading as a healthy one, because it's centered around those Brussels sprouts. That makes it a very good way to get those who don't like green vegetables (like my children and my husband) to eat them.
Ingredients
Caesar Dressing
1/2

cup

freshly grated Parmigiano-Reggiano cheese

2

egg yolks

2

anchovy fillets, rinsed and patted dry

2

cloves

garlic

1

tablespoon

white wine vinegar

1

lemon, zested and juiced

2

teaspoons

worcestershire sauce

1/4

teaspoon

kosher salt

3/4

cup

canola oil

freshly ground black pepper
Brussels sprouts salad
1 1/4

pounds

brussels sprouts

2

tablespoons

extra-virgin olive oil

Salt and freshly ground black pepper

5

strips

thick-cut bacon, cut into 3/4-inch pieces

2

tablespoons

maple syrup

2

large eggs

8

fresh chives, cut into 1-inch pieces
Directions
For the salad
Make the dressing: In a blender, combine the cheese, egg yolks, anchovies, garlic, vinegar, the lemon zest and juice, and Worcestershire sauce. Blend until smooth and season with the salt. With the blender running on high, slowly drizzle in the canola oil until it is completely emulsified. The dressing should be very thick. Gradually add up to 1/2 cup water to thin it out; it should be looser than mayonnaise, but thicker than vinaigrette.

Season with pepper and refrigerate until you prepare the salad. This will make 2 cups dressing that will keep, refrigerated, for up to 1 week.

Make the Brussels sprouts: Preheat the oven to 475°F and place a clean baking sheet in the oven to warm. Trim the bottoms of half of the Brussels sprouts and quarter them lengthwise. In a large bowl, toss them with the olive oil and season with salt and pepper. Transfer them to the hot baking sheet and roast until they're golden brown, about 15 minutes, shaking the pan halfway through cooking to flip the Brussels sprouts. Set aside to cool.

Meanwhile, bring a large pot of salted water to a boil and fill a large work bowl with salted ice water. Cut the stems off the other half of the Brussels sprouts and separate the leaves. Blanch the leaves in the boiling salted water for 1 minute, until they are bright green and barely tender, then remove them immediately to the ice water. Drain and place them on a clean dish towel to dry.

In a large skillet over medium-high heat, cook the bacon until browned, about 8 minutes. Drain off the fat and add the maple syrup to the pan. Stir to coat the bacon; remove it from the heat and set aside. When it is cool, break it into pieces.

Bring a small pot of water to boil and fill a bowl or another pot with cold water with a few ice cubes. Gently lower the eggs into the boiling water with a slotted spoon. Cook at a low boil for exactly 7 minutes. Remove the eggs to the cold water, then gently crack their shells; leave them submerged until completely cooled before peeling them and setting them aside.

Assemble the salad: In a large salad bowl, toss the roasted and blanched Brussels sprouts with 1/4 cup of the dressing. Taste for salt and pepper. Transfer them to a serving plate and sprinkle with the bacon and chives. Slice the eggs in half and arrange them on the salad.