How To Make Oven-Fried Beef Taquitos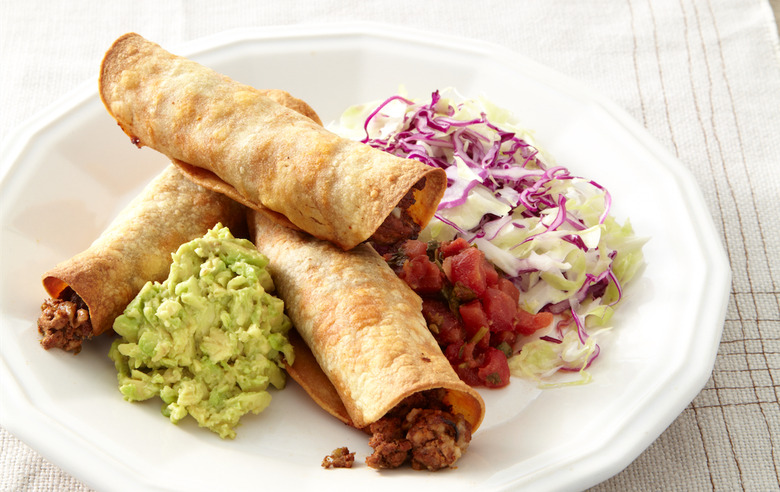 We may receive a commission on purchases made from links.
EatingWell Magazine is a longstanding ode to home-cooked, nutritious food that doesn't leave out any flavor. Their latest cookbook is a vibrant book of 45-minute meals perfect for even the busiest weekday, so everyone can be at the table together for some quality dinnertime. These oven-fried beef taquitos mean Mexican night is ON!
By baking taquitos in a hot oven, we found a way to still achieve that crispy, crave-worthy shell. A seasoned beef and zucchini filling and sharp Cheddar give this dish loads of flavor. Don't worry if some of the taquitos crack open while baking — they'll still be delicious. Serve with your favorite salsa, guacamole and sour cream.
Clean It Up
Cooking sprays contain propellants, which are hydro-carbons like butane and propane, and small quantities do make it into your food, but in amounts the FDA deems safe. These same propellants can also contribute, albeit minimally, to ground-level ozone (the main component of smog). To skip propellants, opt instead for a pump-spray bottle you fill with your own oil.
How To Make Oven-Fried Beef Taquitos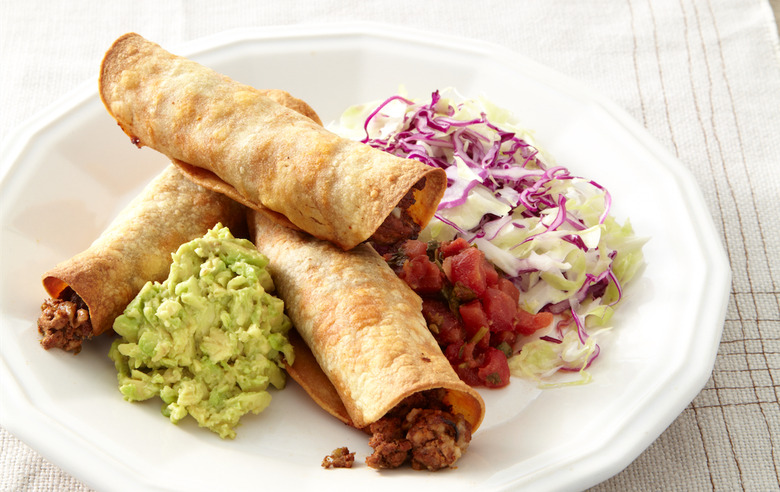 Ingredients
1 medium zucchini
2 teaspoons canola oil
1 pound extra-lean ground beef
3 tablespoons chili powder
1 tablespoon onion powder
1 teaspoon ground cumin
1/2 teaspoon salt
12 6-inch corn tortillas
Canola oil cooking spray
3/4 cup shredded sharp cheddar cheese
Directions
Preheat oven to 425°F.
Shred zucchini using the large holes of a box grater. Squeeze dry in a clean kitchen towel (you should have about 2 cups). Heat oil in a large nonstick skillet over medium-high heat. Add the zucchini, beef, chili powder, onion powder, cumin and salt. Cook, stirring, until the beef is cooked through, 5 to 7 minutes.
Spread tortillas out on a baking sheet in 2 over- lapping rows. Bake until hot, about 2 minutes. Transfer to a plate and cover.
Coat the baking sheet with cooking spray. Place 6 tortillas on a clean cutting board. Working quickly, spread a generous 1/4 cup beef mixture along the bottom third of a tortilla, sprinkle with about 1 tablespoon cheese and tightly roll into a cigar shape. Place the taquito seam-side down on the baking sheet. Repeat with the remaining tortillas, filling and cheese. Generously coat the tops and sides of the taquitos with cooking spray.
Bake the taquitos until browned and crispy, 14 to 18 minutes.