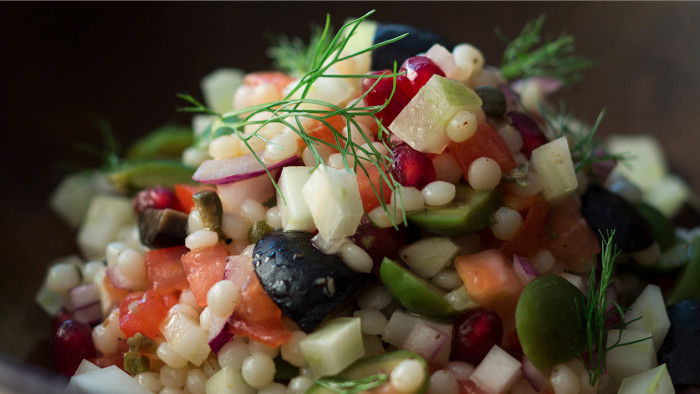 We look forward to vegetable cookbooks for months in advance, so the launch of V Is for Vegetables, from Gramercy Tavern executive chef Michael Anthony, is a big deal for us. Wave your magic wand-knife over a bounty of chef Anthony's favorite vegetables and transform produce into extraordinary dishes that will have you cooking through the colors for months. A great veggie book is worth its weight in turnips, or in this case, fennel.
This salad shows off another side of fennel: fresh, crunchy and full of anise notes. Israeli couscous isn't a grain like bulgur or farro; it's an extruded wheat pasta whose size and texture work well with the fennel dice and other chopped and tossed ingredients.
Ingredients
1

cup

Israeli couscous

salt

1/2

bulb

fennel (fronds reserved), diced

1

small tomato, diced

1/2

small red onion, minced

4

large green olives, pitted and sliced

4

large black olives, pitted and sliced

2

tablespoons

pomegranate seeds

1/2

tablespoon

capers, chopped

2

tablespoons

olive oil

2

tablespoons

fresh lime juice

pepper
Directions
For the tabbouleh
Combine the couscous, 2 cups water, and a pinch of salt in a medium saucepan. Cover and simmer until al dente, about 15 minutes. Remove from the heat and let sit for about 10 minutes, until the liquid is evaporated.

Transfer the couscous to a large bowl and add the diced fennel, tomatoes, onions, green and black olives, pomegranate seeds, capers, olive oil, and lime juice. Add salt and pepper and toss to combine. Scatter fennel fronds over the top.