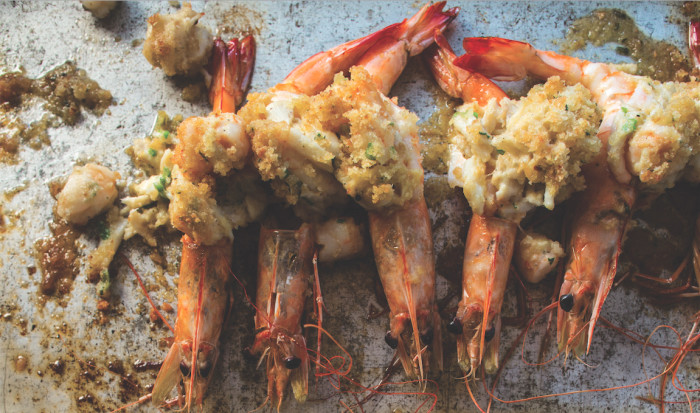 Growing up, we'd go to these little joints all around New Orleans that had great stuffed shrimp. But the dish has changed so much. Now it's all premade, pre-stuffed, and fried. I still make stuffed shrimp the way I remember them. I love the presentation: Head-on jumbo shrimp are stuffed with more shrimp and crabmeat piled as high as the shrimp will allow.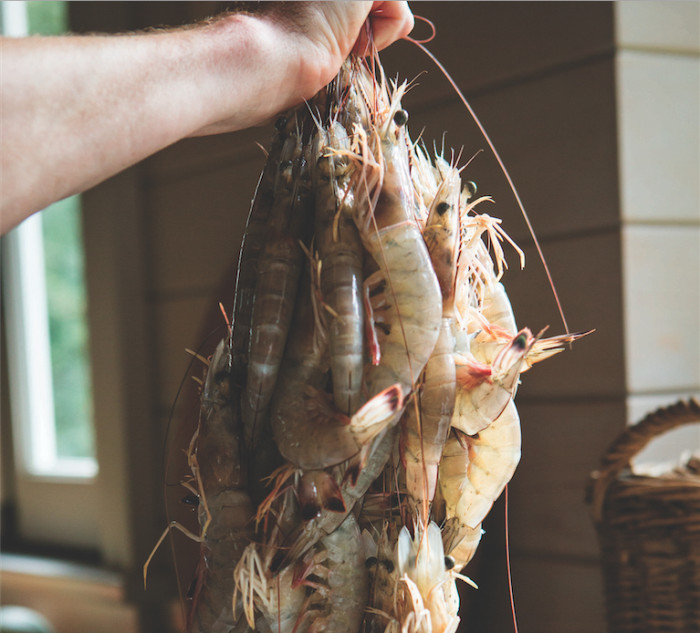 Ingredients
2

tablespoons

butter

1

shallot, minced

3

cloves

garlic, minced

1

stalk

celery, minced

2

tablespoons

flour

1/2

pound

medium wild American shrimp, peeled, deveined and chopped

1/2

pound

crabmeat

1

green onion, minced

1/2

cup

Shrimp Stock or water

1/2

cup

fresh bread crumbs

1

teaspoon

crushed red pepper flakes

Salt and pepper

1/2

cup

dried bread crumbs

1/2

cup

grated Parmesan cheese

1/2

cup

olive oil

1

teaspoon

fresh thyme

18

jumbo wild American shrimp, peeled with heads and tails on
Directions
For the shrimp
Preheat the oven to 425°. Melt the butter in a medium skillet over medium-high heat. Add the shallots, garlic, and celery and cook, stirring often, until the vegetables are soft, about 5 minutes. Sprinkle the flour into the skillet and stir until mixed into the vegetables. You're making a blond roux. Add the chopped medium shrimp, crabmeat, and green onion. Slowly add the stock, stirring until sauce thickens; remove from the heat. Add the fresh bread crumbs, pepper flakes, salt, and pepper. Set the stuffing aside.

Mix together the dried bread crumbs, Parmesan, oil, and thyme in a small bowl until the oil moistens the mixture. Set the topping aside.

With a small knife, butterfly the jumbo shrimp by making a deep incision down the back of each. Remove the vein, keeping the head and tail intact. Smear some olive oil all over the shrimp with your hands. Salt and pepper well and transfer to a baking pan, open side up.

Generously fill each jumbo shrimp with stuffing and top with the bread crumb topping. Bake until golden, 12-15 minutes.