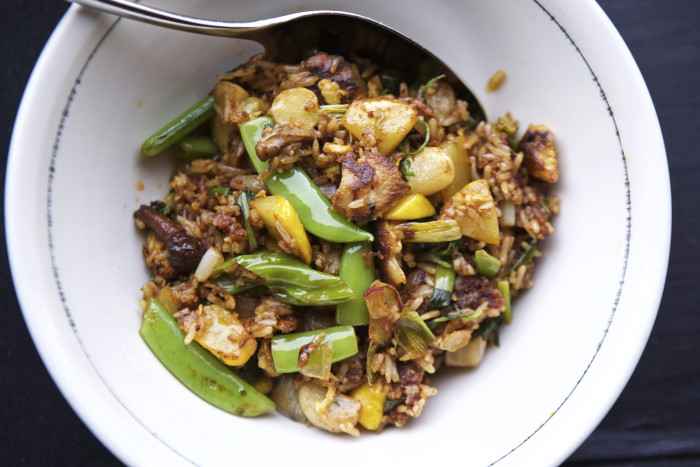 James Beard Award–winning Toro and Coppa chef Jamie Bissonnette knows his way around the vast world of preserved meat and fish. He's a master of charcuterie (coppa is Italian cured pork neck) and an avid collector of canned Spanish seafood — an enviable hobby if you've ever loved a smoked mussel or glistening sardine in your life. Equally praise-worthy: his faculty and creativity with 'nduja, a spicy, spreadable, melt-in-your-mouth fermented sausage. With roots in Italy, cousins around the globe and appearances on menus from French and Spanish to New American and even comfort food, this is one trendy ingredient that goes wherever spicy pork goes. Read all about his close relationship with this unlikely hero of the charcuterie menu here.
Now that you're totally in love with this versatile pantry staple, try your hand at one of Bissonnette's original creations: a veggie fried rice infused with 'nduja and spiked with fish sauce and sambal that will instantly ruin all other fried rice for you. Maybe forever. Will you risk it?
"Invest in a wok. They're pretty cheap. Oh, and if you don't have a gas stove, don't stir-fry," says the chef. "The biggest tip I have for stir-frying is recovery time. When you add something to the pan, you drop the temperature. Keeping everything room temperature will help, then as you add something, let the pan get hot again and don't be afraid if you see it's blackening and crisping. Let it happen."
Ingredients
3/4

cup

'nduja

2

cups

cooked white rice (I like Uncle Ben's)

2

tablespoons

garlic, minced

1

onion, chopped, cooked until browned and cooled

2

tablespoons

scallion, sliced

4

Haikuri turnips (or sub in other small turnips), sliced

1/2

cup

seasonal veggies

1

tablespoon

Thai basil, picked and roughly chopped

1

tablespoon

cilantro, picked and roughly chopped

1

tablespoon

mint, picked and roughly chopped

1

whole lime leaf

2

eggs, fried over-hard and chopped

1

tablespoon

chili sesame oil

3

tablespoons

mirin

2

tablespoons

fish sauce

2

tablespoons

palm vinegar

1

tablespoon

Sambal Olek (optional)
Directions
For the fried rice
Lay out your ingredients (this recipe goes quickly), and preheat a wok.

Add the 'nduja, and stir-fry for 1 minute. Add scallion, garlic and onion.

Add turnips. Continue to fry, stirring continually for 1-2 minutes.

Add lime leaf and rice. Shake and stir until rice is hot.

Add sesame oil. Continue to shake and stir-fry.

Add mirin, fish sauce, palm sugar and sambal (if using).

Stir and heat thru, add egg, and herbs. Cook for 1 more minute, then plate and serve.