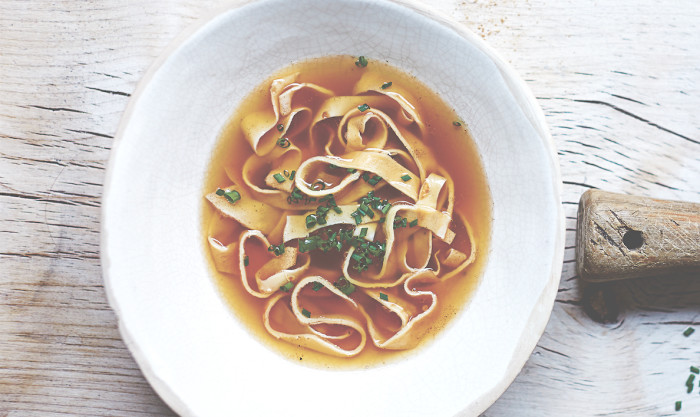 Vegetable soup is one of the most efficient and delicious ways to get lots of vital micronutrients in your system. Join blogger Kathryn Bruton and explore the world of skinny soups that are big on flavor, low in fat and beautiful to behold. Learn how to make flaedelsuppe, a German crepe soup that just might be your new favorite thing in a bowl.

When I'm not feeling well, this is how I like to have my chicken broth — adorned with one of my ultimate comfort foods, crepes. It may sound like an unusual combination, but trust me, this is the perfect soup for when you feel poorly. Delicate but wholesome chicken broth soaked up with deliciously simple yet substantial crepes, it's perfect for boosting energy and making you feel a bit more human.
Ingredients
2/3

cup

all-purpose flour

2/3

cup

1 percent milk

2

large free-range eggs, whisked

Olive or canola oil for frying

5

cups

chicken stock

Generous pinch

nutmeg

Small bunch

chives, finely chopped

Salt and pepper
Directions
For the soup
Place the flour in a medium bowl and gradually whisk in the milk and eggs until it's the consistency of half-and-half. Season generously with salt and pepper.

Heat a medium-sized skillet or frying pan and brush with a little oil. Pour in a ladle of the crepe mix, swirling so that it spreads and covers the pan. After 3 to 4 minutes and once the crepe has a little color, flip it over and cook on the other side. Repeat to make three more crepes. Bring the chicken stock to a boil and season with salt, pepper and nutmeg.

Roll up the crepes and slice into thin shreds. Divide between four bowls. Pour over the hot stock, garnish with chives and serve.