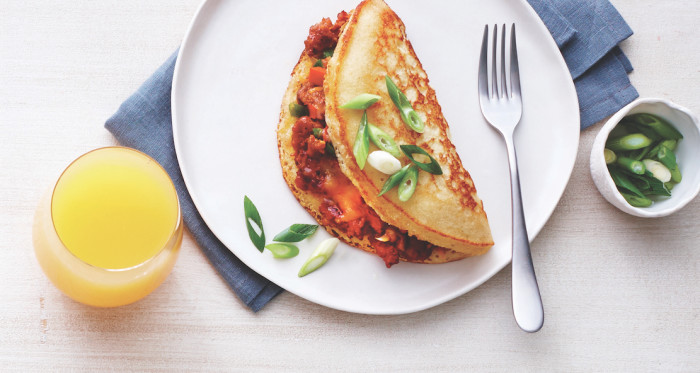 If you need triple-tested, much-beloved recipes for your favorite Southern comfort foods, turn to the experts at Southern Living magazine's test kitchen. Craving a new spin on an old favorite? The editors' new collection, Recipe Revival, is stacked and loaded with everything you need to know to churn out perfect batch after perfect batch. Today, you're going to learn how to make a cornbread omelet. 

Totally smitten with the cornbread omelets we sampled at the National Cornbread Festival in South Pittsburg, Tennessee, we returned home, omelet pans in hand, to put our own spicy chorizo spin on the festival favorite.
Ingredients
3/4

pound

chorizo sausage, casings removed (about 3 links)

6

tablespoons

butter

3

green onions, chopped

1

small red bell pepper, chopped

2

jalapeño peppers, minced

1

cup

self-rising white cornmeal mix

1/2

cup

buttermilk

1/2

cup

milk

1/4

cup

all-purpose flour

1

large egg, lightly beaten

vegetable cooking spray

1

cup

shredded Mexican cheese blend

Garnish: sliced green onions
Directions
For the omelets
Sauté the chorizo in an 8-inch nonstick omelet pan or skillet with sloped sides 7 to 10 minutes or until browned. Remove from the skillet and drain on paper towels. Wipe the skillet clean.

Melt 1 tablespoon of the butter in skillet, and sauté the green onions, bell pepper, and jalapeño peppers over medium-high heat 3 to 5 minutes or until tender. Transfer to a bowl; stir in the chorizo. Wipe the skillet clean.

Whisk together the cornmeal mix, buttermilk, milk, flour, and egg.

Coat the skillet with cooking spray; melt 1 tablespoon of the butter in skillet over medium-high, rotating pan to coat bottom evenly. Pour about 1⁄3 cup cornmeal mixture into skillet. Tilt pan so uncooked portion flows around to coat bottom of pan, cooking until almost set, bubbles form, and edges are dry (about 1 1⁄2 minutes). Gently flip with a spatula.

Sprinkle 1 side of the omelet with about 1⁄2 cup onion mixture and about 3 tablespoons cheese. Fold the omelet in half; cook 30 seconds or until cheese is melted. Transfer to a serving plate; keep warm. Repeat procedure 4 times with remaining butter, cornmeal mixture, onion mixture, and cheese. Serve immediately.