How To Make Chewy Oatmeal Cream Pies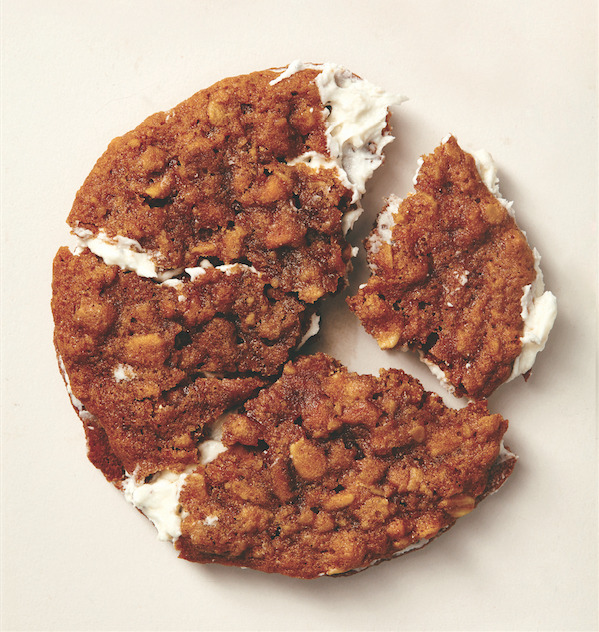 We may receive a commission on purchases made from links.
Bring out the sensual side of baking with pastry chef and food writer Malika Ameen's new cookbook. Her South Asian heritage is a key inspiration for the earthy flavors, herbs, spices and ingredients found in her award-winning recipes. Bake outside your comfort zone with Sweet Sugar, Sultry Spice. Remember oatmeal cream pies? They're back!
Ooh, those Little Debbie Creme Pies. I can still remember biting through the soft, chewy cookies and into the sugary white frosting. I just had to pay homage to this favorite childhood treat. In this grown-up rendition, black pepper, brown butter, and honey are waiting for you in the cream filling sandwiched between two oatmeal-spice cookies. As I assemble these, I can't keep my fingers out of the frosting. I didn't think I'd have to share these cookies with my kids—I was sure the spark of black pepper would scare them off — but they ate the entire first batch.
Make Ahead: You can make the dough in advance and refrig­erate it or freeze it. The frosting can be stored in a separate airtight container in the refrigerator for up to 3 days. Allow both to come to room temperature, then beat briefly in a stand mixer before using.
Store: These cookies can be stored in an airtight container at room temperature for up to 3 days.
How To Make Chewy Oatmeal Cream Pies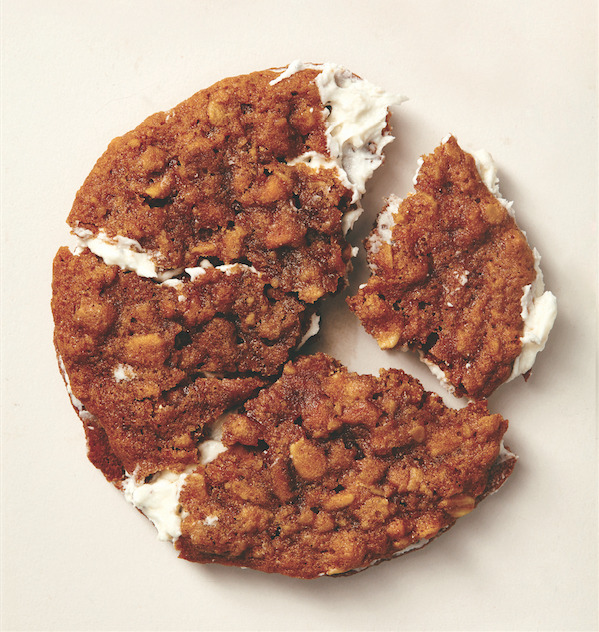 Ingredients
1/2 cup pecan halves
1 1/4 cups thick rolled oats
1/2 cup roughly chopped dried apples
1 3/4 cups all-purpose flour
1/2 teaspoon baking powder
1 1/2 teaspoons baking soda
1/4 teaspoon kosher salt
Heaping 1/4 teaspoon ground ginger
Heaping 1/4 teaspoon ground Vietnamese cinnamon
1/8 teaspoon ground mace
8 tablespoons unsalted butter
1/4 cup coconut oil, or grapeseed oil
1 cup granulated sugar
2 tablespoons unsulphured molasses
1/4 cup plus 2 tablespoons agave syrup
1 large egg
1/4 cup whole milk
12 tablespoons unsalted butter at room temperature
1 3/4 cup confectioners' sugar
1 tablespoon mild honey
2 tablespoons heavy cream
1 teaspoon vanilla extract
1/4 teaspoon kosher salt
1 3/4 teaspoons freshly ground black pepper
Directions
:::cookies:::
Preheat the oven to 325˚F. Toast the pecans on a baking tray until dark brown and fragrant, about 10 minutes. Once the pecans have cooled, roughly chop. Turn the oven up to 350˚F. Line two baking trays with nonstick baking mats or parchment paper.
In a food processor, combine ¾ cup of the oats with the dried apples. Process until the oats are finely ground and the apple pieces are no larger than ¼ inch. In a medium bowl, whisk together the ground oats and apples, the remaining ½ cup of oats, and the pecans, flour, baking powder, baking soda, salt, ginger, cinnamon, and mace until incorporated.
In the bowl of a stand mixer fitted with a paddle attach­ment, beat the butter, oil, sugar, molasses, and agave. Beat on medium speed until light and fluffy, 3 to 4 minutes. Add the egg and beat until incorporated. Add the oat and flour mixture all at once and beat on low speed until combined. Add the milk and beat well, scraping down the sides of the bowl with a rubber spatula as needed.
Use a tablespoon to drop dollops of dough onto the pre­pared baking trays, 12 cookies to a tray. Bake 8 to 9 minutes, until the cookies have puffed and colored slightly. The cen­ters of the cookies may appear to be underdone, but they will firm up as they cool. Allow to cool completely on the pan.
:::cream filling:::
In a small saucepan over medium-high heat, melt 4 tablespoons of the butter and cook, stirring frequently, until brown and nutty, 2 to 3 minutes. Transfer the browned but­ter to a small bowl, being sure to scrape all the brown bits. Chill in the freezer until cold and firm.
In the bowl of a stand mixer fitted with a paddle attach­ment, beat together the chilled brown butter, the remaining 8 tablespoons of room-temperature butter, and the confec­tioners' sugar on medium speed until creamy. Add the honey, cream, vanilla, salt, and black pepper and beat well.
Once the cookies have cooled, spoon a scant 1 tablespoon of black pepper cream filling onto the bottom of a cookie. Top with an unfilled cookie to make a sandwich with the cream filling in the center. Repeat with the remain­ing cookies and filling.