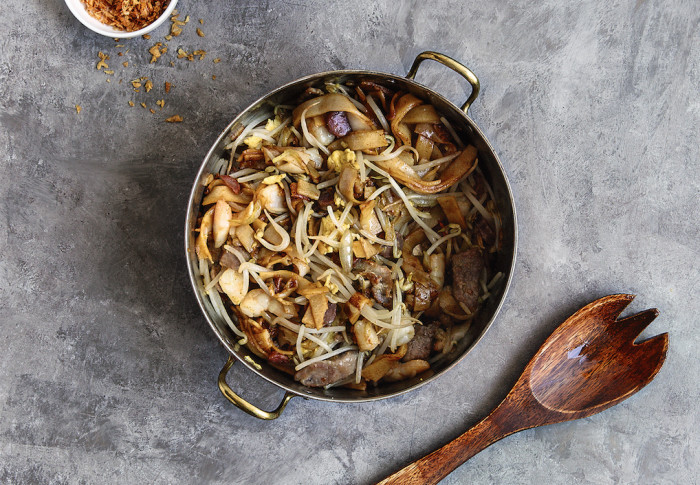 Chinese food: We're talking all provinces, all dishes, for every meal of the day. Whether you're craving sweet and savory barbecued meats, wok-crisped vegetables, steaming bowls of noodles, fluffy stuffed buns or hard-to-find specialty and holiday dishes, China: The Cookbook is exactly what you need. Tonight, we're learning how to make char kway teow.
Follow best-selling authors Kei Lum Chan and Diora Fong Chan through the cities and countryside, and pick up a few key techniques while you're at it, like this beloved stir-fried rice noodle dish that will have you using your wok way more often.
Ingredients
5

ounces

pork tenderloin, sliced

1

teaspoon

salt

Pinch

ground white pepper

1

teaspoon

cornstarch

1

pound

fresh rice noodles

2

tablespoons

light soy sauce

3

tablespoons plus 1 teaspoon

vegetable oil

1

clove

garlic, chopped

1

Chinese sausage, cut diagonally into 1/4-inch-thick slices

1

pound

uncooked shrimp (prawns), shelled and deveined

2

shallots, sliced

1

red chili, seeded and shredded

1/2

tablespoon

curry powder

1

teaspoon

granulated sugar

1

egg

1 1/2

cups

bean sprouts

1

tablespoon

crispy garlic, to serve
Directions
For the char kway teow
Combine the pork, ½ teaspoon salt, the white pepper, cornstarch (cornflour), and 1 tablespoon water in a bowl and marinate for 10 minutes.

Meanwhile, put the rice noodles into a bowl. Separate the strands of the rice noodles and stir in the soy sauce. Set aside.

Add 1 teaspoon oil to the marinated pork and mix well.

Heat 1 tablespoon oil in a wok or large skillet (frying pan) over medium-high heat, add the garlic, and stir-fry for 1 minute until fragrant. Add the pork, increase to high heat, and stir-fry for 1 minute. Add the sausage and shrimp (prawns) and stir-fry for about 2 minutes until all the ingredients are fully cooked. Transfer to a plate.

Heat 1 tablespoon oil in a clean wok over medium heat, add the shallots, chili, and curry powder, and stir-fry over low heat for 1 minute until fragrant.

Stir in ¼ cup water and increase to high heat. Add the rice noodles, sugar, and remaining ½ teaspoon salt and toss to mix well.

Push the noodles to the sides of the wok, leaving an opening in the center. Add the remaining 1 tablespoon oil, then crack the egg into it. Stir for 2-3 minutes until the egg is cooked and mixed with the rice noodles.

Add the bean sprouts, pork, sausage, and shrimp. Mix well, then transfer to a serving plate, top with the crispy garlic, and serve.