Italian-American Tonight: Make Mafaldini Scampi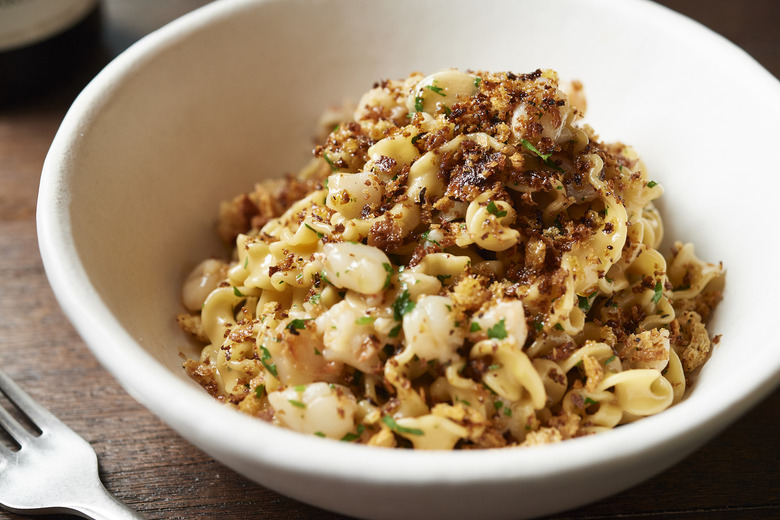 "The malfadini scampi is my reimagined take on the classic iteration of the Italian dish," says PJ Calapa, chef/owner of NYC's Scampi. Calapa's mastery of the dish left us speechless, and eager for more.
"I like to keep it simple, using malfadini pasta instead of the traditional linguine, and tossing it with white wine, garlic, crustacean stock and chili flakes," adds the chef. "I then add in some fresh shrimp to cook in butter along with the pasta, and finish it by seasoning with freshly chopped parsley, lemon juice and salt to taste. Top it off with a little toasted bread crumbs for added texture and voila, you have a simple yet flavorful scampi dish."
Try it at home — it might just become your new standby pasta dish.
Italian-American Tonight: Make Mafaldini Scampi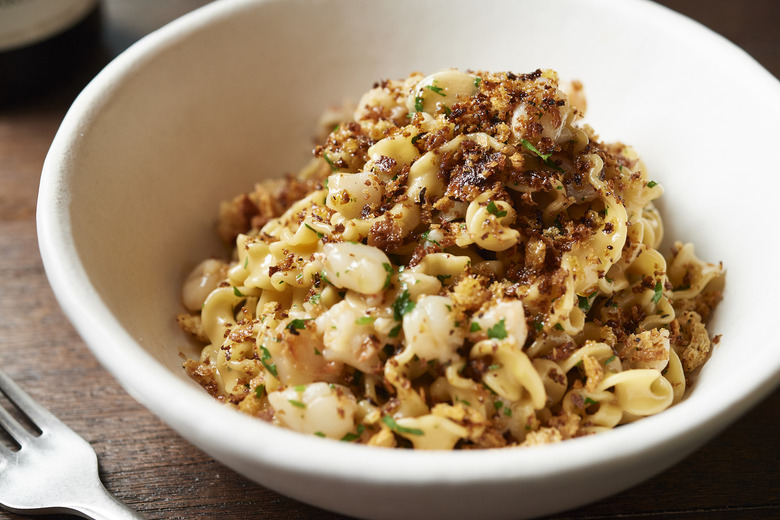 Ingredients
1/2 pound dry mafaldini pasta
1 tablespoon shaved garlic
1/4 teaspoon chili flakes
1/2 cup chopped gulf shrimp
3 tablespoons white wine
1/2 cup crustacean stock
1 tablespoon lemon juice
4 tablespoons butter
4 tablespoons extra virgin olive oil
2 tablespoons chopped parsley
2 tablespoons toasted panko breadcrumbs
Directions
Bring a large pot to a boil, heavily salt the water. Add dry pasta and cook according to package instructions.
In a large saute pan, toast garlic and chili flakes in 2 tablespoons of extra virgin olive oil. Once garlic is about to be golden brown, deglaze the pan, off the heat with white wine. Add crustacean stock and bring to a boil.
Add pasta to pan and start to toss in the stock, the starch from the pasta will thicken the stock and coat the pasta.
Add your chopped shrimp and continue to toss pasta in the pan, once shrimp begins to start to cook, add your butter and stream in 2 tablespoons, of olive oil.
Finish the pasta with chopped parsley, lemon juice and salt to taste.
Plate the pasta up individually or on a large platter and top with toasted bread crumbs.