Mad Men Recipes: Crab And Avocado Mimosa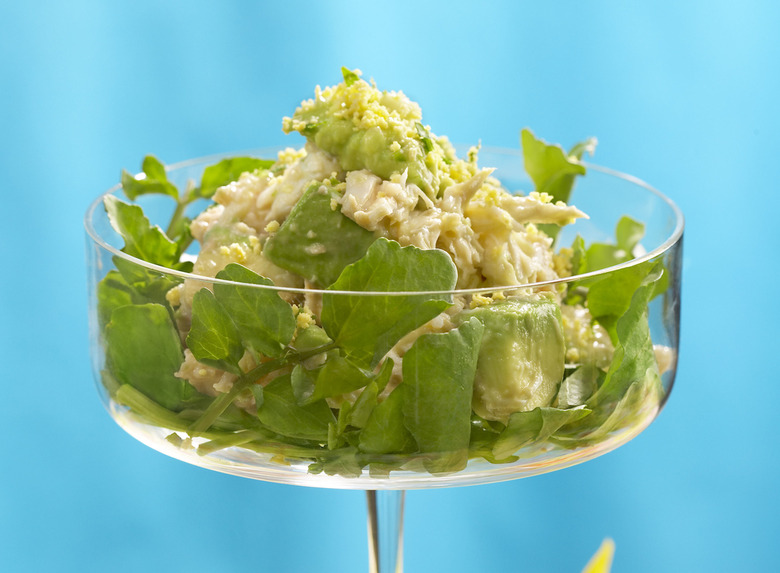 Photo: Nina Gallant
In the summer of 1961, several months before her televised tour of the White House, Jackie Kennedy had planned a state dinner in honor of Pakistan's president, Ayub Kahn, and his wife, and chose to hold it at Mt. Vernon, George Washington's home.
Before the main course came an appetizer Betty would have died for, and may have been thinking about when she ordered room service at the Savoy on Valentine's Day: Avocado and Crabmeat Mimosa. (In French cooking, the word mimosa indicates egg garnish).
This refreshing appetizer is adapted from In the Kennedy Style: Magical Evenings in the Kennedy White House, by Letitia Baldridge, Mrs. Kennedy's social secretary, with menues and recipes by White House chef René Verson.
Mad Men Recipes: Crab And Avocado Mimosa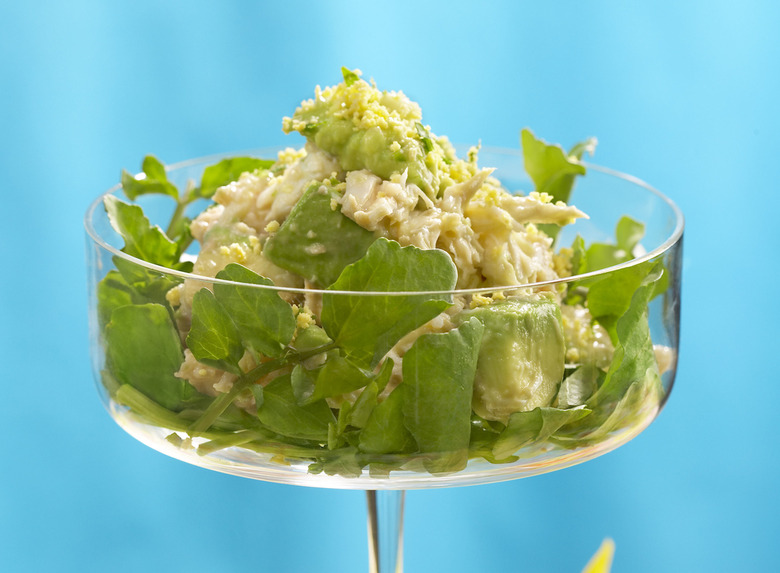 Ingredients
2 ripe avocados
1 scallion
2 teaspoons lemon juice
1/4 teaspoon salt
dash of hot pepper sauce
3 tablespoons mayonnaise
2 tablespoons chili sauce
1 tablespoon prepared horseradish
1/2 teaspoon worcestershire sauce
ground white pepper
8 ounces cooked fresh crabmeat
2 cups watercress
2 hard-cooked egg yolks
1 tablespoon fresh parsley
Directions
Peel half of one avocado. In a small bowl, mash avocado half. Add scallion, 1 teaspoon of lemon juice, 1/4 teaspoon of salt and hot pepper sauce. Stir until well combined. Reserve.
In a separate bowl, stir together mayonnaise, chili sauce, horseradish, Worcestershire sauce and remaining teaspoon of lemon juice. Season to taste with salt and white pepper. Reserve.
Peel remaining 1 1/2 avocados, cut into half-inch cubes and place in a large bowl. Squeeze excess moisture from crabmeat. Add to cubed avocado and gently combine. Fold in mayonnaise mixture until crab and avocado are evenly coated.
Line bottoms of 6 chilled champagne glasses or small glass serving dishes with watercress. Divide crab mixture evenly among glasses. Top each with a dollop of mashed avocado mixture. 
Press egg yolks through fine mesh sieve; combine with parsley in a small bowl. Sprinkle yolk/parsley mixture evenly over each portion. Mimosas can be covered and refrigerated for up to 3 hours.