Mad Men Recipes: Classic Shrimp Cocktail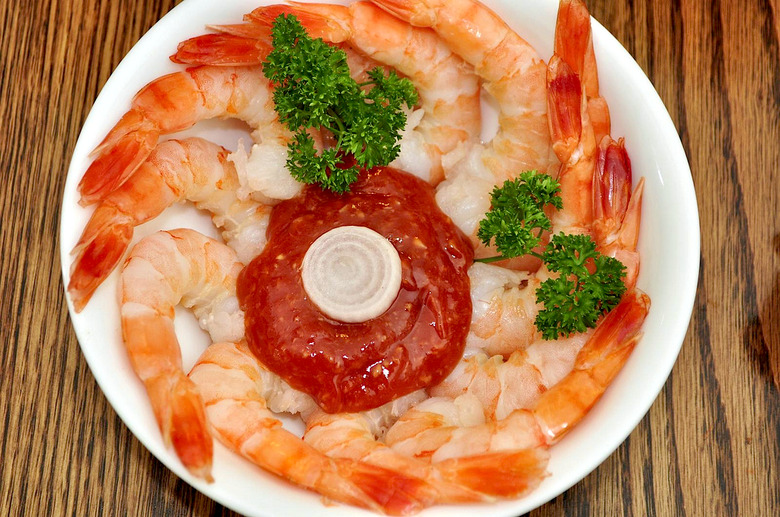 Photo: jeffreyw on Flickr
One evening Trudy and Pete Campbell join Trudy's well-to-do parents, Tom and Jeannie Vogel, at a Manhattan restaurant for dinner. They begin with appetizers. When Trudy, every ounce Daddy's little girl, announces she has "great news," her mother, delightfully surprised, answers, "Already?" It's not what she thinks. Trudy isn't pregnant; she and Pete have found an apartment they can't afford on 83rd Street. When Tom offers to help with the rent, Pete thanks him but, contrary to Trudy's wishes, says they'd rather wait.
"For what?" barks Tom. "Start your life already. You're gonna be a rich bastard on your own someday and waiting is a bunch of bullshit."
Good advice, especially when you're staring, as Trudy is, at the shrimp cocktail she's ordered.
Appetizers made with shellfish topped with or dipped in a spicy tomato-based sauce and served in small cups were popular in the United States beginning in the late 19th and early 20th centuries. We owe the cocktail in shrimp cocktail to Prohibition in the 1920s. If you couldn't drink a cocktail — not legally, anyway — you could at least eat one and make good use of your stemware in the process.
Mad Men Recipes: Classic Shrimp Cocktail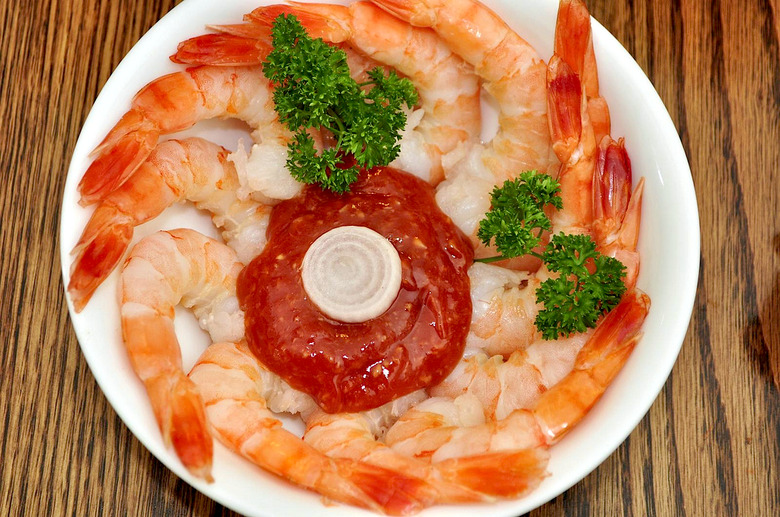 Ingredients
36 medium-large raw shrimp
1 thick slice lemon
3 sprigs parsley
1 onion peeled
3 peppercorns
1 teaspoon salt
3/4 cup chili sauce
2-3 tablespoons horseradish
2-3 tablespoons lemon juice
1 teaspoon worcestershire sauce
1 teaspoon onion
1/4 teaspoon salt
few drops of tabasco sauce
celery
lettuce
Directions
Prepare the shrimp: shrimp may be shelled and cleaned before or after cooking by peeling off the shell, rinsing off any grit and removing the black vein down the back. Leave the shrimp tails intact.
Pour enough water to cover the shrimp in a saucepan. Add lemon, parsley, onion, peppercorns and salt. Bring to a boil and add the shrimp.
Simmer for 3-5 minutes, depending on the size, until shrimp are pink and cooked through. Do not overcook. Drain and chill shrimp until ready to serve.
Make cocktail sauce: combine all cocktail sauce ingredients in a small bowl. Mix and refrigerate.
To serve as individual appetizers, mix shrimp with finely chopped celery (if desired) and serve in lettuce-lined sherbet glasses. For a party snack, fill a large bowl with crushed ice and center with a small bowl of cocktail sauce; arrange shrimp over ice. Top with finely chopped celery (if desired). 
Serve with wooden picks for dipping shrimp into sauce.