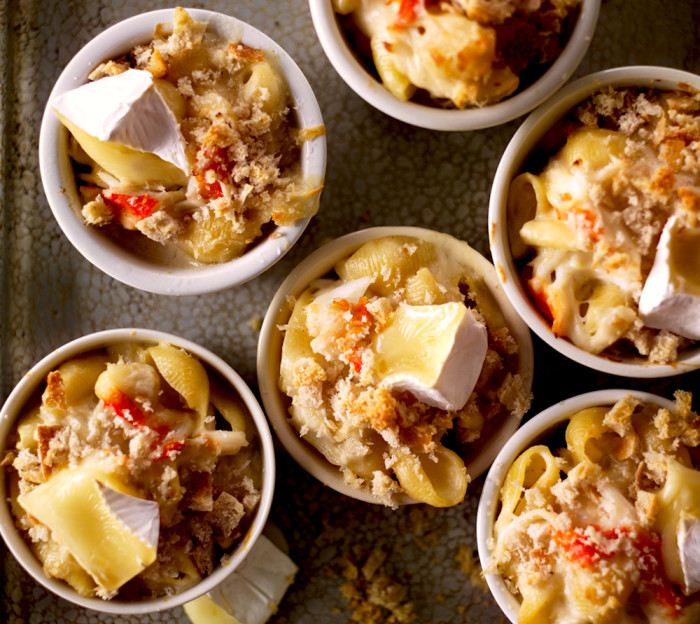 Normally we cringe at the idea of a casserole, but any kind of macaroni and cheese is right up our alley. Better Homes and Gardens, famous for…well, better homes and gardens than yours, has a casserole book (aptly named The Ultimate Casseroles Book) with some impressive offerings. Brie cheese and lump crabmeat make this casserole and rich dish for special occasions. Condensed cream of mushroom and canned breadcrumbs aren't invited. Sorry, guys.
Ingredients
nonstick cooking spray

1

pound

medium shell pasta

5

tablespoons

butter

1

medium

sweet onion (such as Vidalia or Maui), halved and thinly sliced

1/3

cup

all-purpose flour

3/4

teaspoon

salt

1/2

teaspoon

3

cups

condensed milk

1

pound

Brie cheese, trimmed, cut into small wedges, and chopped (reserve 8 small wedges for topping)

12

ounces

fresh cooked crabmeat or canned lump crabmeat, drained, flaked, and cartilage removed

3

slices

stale or toasted white bread, torn apart into pieces
Directions
Preheat the oven to 350°F. Lightly coat eight 4- to 6-ounce individual baking dishes with cooking spray; set aside.
In a Dutch oven, cook pasta according to the package directions; drain. Return pasta to Dutch oven.
Meanwhile, in a large skillet, melt butter over medium-low heat. Add onion and cook about 15 minutes or until tender and golden brown, stirring occasionally.
Add flour, salt, and pepper; cook and stir about 1 minute or unitl combined.
Add milk all at once. Cook and stir until slightly thickened and bubbly.
Gradually add the chopped Brie cheese; cook and stir over medium-low heat until cheese is melted.
Stir cheese mixture into cooked pasta.
Fold in crab. Transfer to prepared baking dish.
Place bread pieces in a food processor; cover and process until in coarse crumbs. Sprinkle crumbs over pasta mixture.
Bake, uncovered, for 20 to 25 minutes or until heated through and crumbs are golden brown.
For the last 5 minutes of baking, top each dish with one of the reserved small Brie wedges.
Let stand for 5 minutes before serving.