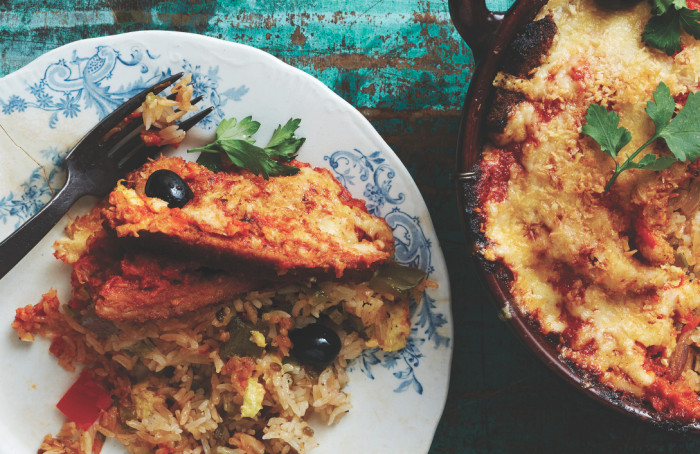 Join Chicago chefs Abraham Conlon and Adrienne Lo on a journey to discover the vibrant culinary culture of Macau. Their Chicago-based Macanese restaurant, Fat Rice, draws a crowd that craves this particular style of Portuguese-influenced Asian cuisine, like this Macanese baked pork chop rice, and with their new cookbook, you can try it at home.
This dish seems so wrong and dirty in the most delicious way possible: a cookie-crusted, deep-fried pork chop over fried rice, covered in a rich sauce and melted cheese. It's a product of cha chaan teng (diner-like and tea restaurants) that were meant to appeal to the taste of visiting Westerners, offering Chinese-ified Western food (as opposed to the Americanized Chinese food found in the United States today).
Ingredients
2

tablespoons

peanut oil, plus more for deep-frying

2

eggs, beaten

1/4

cup

diced red bell pepper

1/4

cup

diced green bell pepper

1/4

cup

diced red onion

2

cloves

garlic, minced

1

tablespoon

preserved mustard green stems

1/2

teaspoon

sambal oelek or your favorite chili garlic sambal

1 1/2

cups

day-old rice

1/4

cup

fisheye-cut green onion, whites parts only

1

teaspoon

soy sauce

1

teaspoon

toasted sesame oil

1

teaspoon

sugar

1

Pork Chop in Brine

3/4

cup

Po Bolacho Breading

3/4

cup

Portuguese-style Tomato Sauce or "Portuguese" Curry Sauce, gently warmed

1/2

cup

grated cheese

2

tablespoons

coconut powder

10

leaves

flat-leaf parsley, tossed with a splash of extra-virgin olive oil and a pinch of salt

5

Portuguese olives, black or green, unpitted
Pork Chop in Brine (makes 2 pork chops)
2

7-ounce

bone-in pork chops, cut 1/2-inch thick

3/4

cup

cold water

2

teaspoons

sugar

1 1/2

tablespoons

fish sauce

1/2

teaspoon

baking soda

3

cloves

garlic, crushed

1

bay leaf
Po Bolacho Breading (makes 2 cups)
1/4

sleeve

Maria cookies

1

cup

panko bread crumbs
Directions
For the chops
Tenderize both sides of the pork chops with the blunt side of a meat cleaver. Make four 1-inch-deep cuts, 1 inch apart in each chop across from the bone. Whisk together the cold water, sugar, fish sauce, baking soda, garlic and bay leaf in a bowl and power over the pork chops in the bag. Remove as much air as possible from the bag, seal it, then place in a bowl and refrigerate for at least 4 hours, or up to 12 hours.
For the breading
Place the cookies and bread crumbs in a food processor and process until fine. Store in an airtight container at room temperature for up to 1 week.
For the rice
Preheat the oven to 425°F.

Heat 1 tablespoon of the peanut oil in a prepared wok over medium heat, add the egg, and carefully swirl roughly 3 inches up the sides of the wok, letting the egg set, about 30 seconds. Give the egg a scramble with the edge of your wok ladle and cook until almost finished, but still a touch runny, another 30 to 60 seconds. Remove to a plate and set aside.

Prepare your wok again, then heat the remaining 1 tablespoon peanut oil over high heat. Just as the oil begins to smoke, add the peppers, onions, and mushrooms. Stir-fry for approximately 20 seconds. Add the garlic, preserved mustard greens, and sambal oelek and stir-fry for another 20 seconds, then sprinkle the fried rice rice into the wok so that the grains stay as individual as possible. Stir-fry again to incorporate and let sit for approximately 10 seconds before stirring again. Repeat this process until the rice is hot and moist, about 3 minutes. Add the green onion and reserved egg; season with the soy, sesame oil, and sugar and stir to incorporate all ingredients. Taste and adjust the seasoning as needed. Place in a baking dish.

Remove the pork chop from the brine and pat dry with paper towels. Coat liberally with the breading, pressing firmly to adhere the breading to the chop. To prepare for deep-frying, fi the wok with about 2 inches of peanut oil and heat the oil to 375°F.

Carefully add the breaded pork chop to the oil and fry for 20 to 35 seconds, until golden brown and nearly cooked through (it will finish cooking in the oven). Remove to a paper towel–lined plate, pat to remove excess oil, and let cool slightly. Using a cleaver, cut along the bone to separate the meat from the bone, then slice the meat into 3⁄4-inch strips (6 to 8 strips) and place on top of the fried rice — throw in the bone section too, or gnaw on it while you finish the dish!

Smother the pork chop and rice with the sauce, cheese, and coconut powder and place in the oven for approximately 10 minutes.

Place on a parchment paper–lined sheet pan in case of any bubble-overs.

Remove from the oven and top with the parsley and olives. Serve immediately.