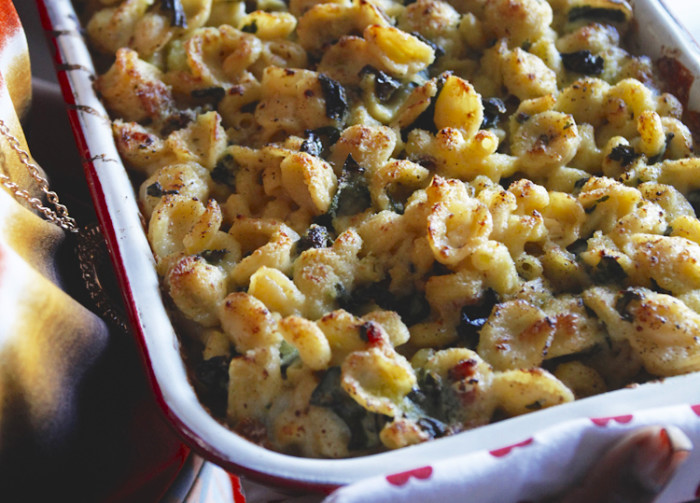 We're fans of ace chef and Food Republic co-founder Marcus Samuelsson's new book, Marcus Off Duty. Filled with favorites from his Harlem and West Village restaurants, family favorites and contributions from his list of awesome friends, this cookbook has a little bit of everything. Don't miss the mac and cheese and greens at Red Rooster Harlem.
Mats Carestam is my oldest friend, and his mother was especially modern — she made American dishes that few Swedish mothers did. I lived for the days when I was invited to dinner at Mats's house and his mother would plop a giant plate of creamy mac and cheese in front of me. I still love pasta covered with cheese. In this version, I've added collard greens — that soul-food influence again — but I cook the greens in coconut milk and flavor them with soy and mustard to add more layers of flavor to what's become a familiar casserole. No matter how many times my friends have had this, they smile like kids when I serve it.
Ingredients
Collard Greens
1/2

cup

coconut milk

2

tablespoons

soy sauce

1

tablespoon

grainy mustard

6

slices

bacon, cooked, drained and crumbled

3

tablespoons

olive oil

1

tablespoon

unsalted butter

4

cloves

garlic, peeled and halved

4

cups

well-washed collard greens, chopped
Mac And Cheese
8

tablespoons (1 stick)

unsalted butter

1/2

cup

shallots, thinly sliced

2

cloves

garlic, minced

2

tablespoons

all purpose flour

3

cups

heavy cream

1

cup

whole milk

1

cup

cheddar cheese, grated

1/2

cup

gruyere cheese, grated

1/2

cup

Parmesan cheese, freshly grated

1/2

cup

creme fraiche

1

teaspoon

nutmeg, freshly grated

1

teaspoon

mustard powder

Kosher salt and freshly ground white pepper

1

pound

orecchiette or other small, sturdy pasta, cooked until just tender
Topping
1/3

cup

bread crumbs, toasted

1/4

cup

fresh parsley, chopped

2

tablespoons

fresh basil, chopped

2

tablespoons

Parmesan cheese, freshly grated

1

tablespoon

gruyere cheese, grated

1/4

teaspoon

kosher salt

1/8

teaspoon

freshly ground black pepper
Directions
For the collard greens:
Bring the coconut milk and soy sauce to a boil in a small saucepan.
Remove from the heat and stir in the mustard and crumbled bacon.
Heat the olive oil and butter in a large pot over low heat.
Add the garlic and slowly toast to flavor the fats, about 5 minutes, then discard.
Add the collard greens to the pot and cook, stirring frequently, until the greens start to wilt.
Stir in the coconut milk mixture and cook, partly covered, until the greens are tender and the sauce has thickened, about 20 minutes.
For the mac and cheese:
Preheat the broiler.
Oil a 9-x-13-inch baking dish.
Melt the butter in a large pot over medium-low heat.
Add the shallots and cook until they're tender and golden brown, 8 to 10 minutes.
Add the minced garlic and flour and cook, stirring, for 1 minute.
Slowly whisk in the heavy cream and milk, making sure there are no lumps.
Bring to a boil.
Reduce the heat to low, then add all the cheeses and the crème fraîche. Whisk until the cheeses are melted and fully incorporated into the sauce.
Mix in the nutmeg, mustard and salt and white pepper to taste.
Add the cooked pasta and collard greens to the sauce and toss to combine. Transfer to the baking dish.
For the topping and assembly:
Put all the ingredients in a food processor and process until the herbs are minced.
Sprinkle the topping over the pasta.
Broil until the topping is golden brown, 5 to 8 minutes. Serve immediately.
Find more mac and cheese on Food Republic: