Ludo Lefebvre's Rack Of Lamb With Baby Vegetables And Caraway Seeds Recipe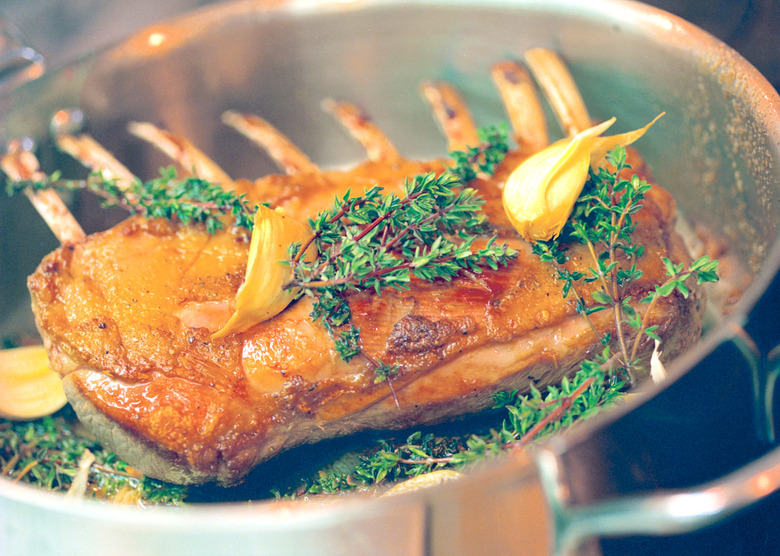 We may receive a commission on purchases made from links.
Save for Tony Parker and the Michelin Man, Ludo Lefebvre might just be the most famous Frenchman in America today. As a judge/mentor on ABC's cooking competition show The Taste, he's known for challenging upstart cooks with a razor-sharp palate — and for his thick-as-matelote-stew Bourgogne accent. But in food-world circles he's best known for running two successful Los Angeles restaurants, the impossible-to-book Trois Mec and the new, walk-in-only Petit Trois. Here, a recipe from his first book, Crave, which has recently been reprinted.
A favorite classic of French country cooking is navarin, a hearty (and heavy) mutton stew with small onions, potatoes, peas and carrots. I thought it would be fun to refine a rustic staple, and while this is a stylized version of the original, it's quite satisfying. Instead of the traditional, heavily floured sauce, I've substituted lamb broth, a much less aggressive stand-in that still reinforces the flavor of lamb without making it too strong.
Ludo Lefebvre's Rack Of Lamb With Baby Vegetables And Caraway Seeds Recipe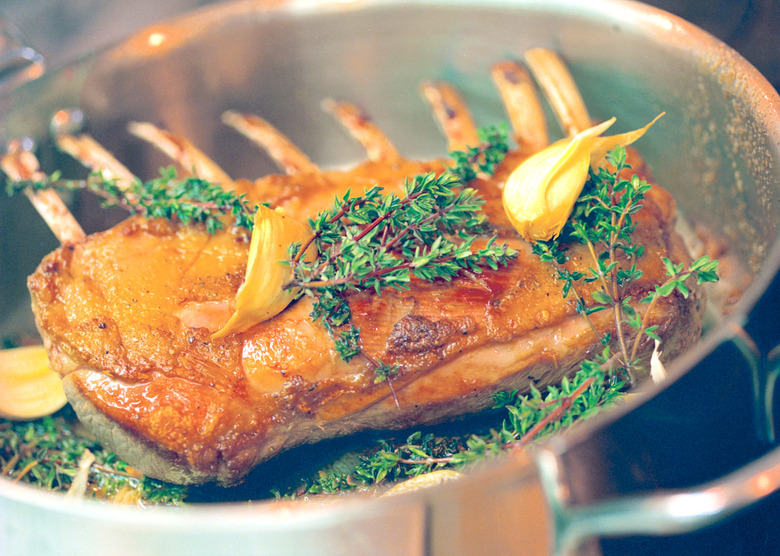 Ingredients
1/4 cup plus 2 tablespoons canola oil
4 pounds lamb bones
2 ripe tomatoes
1 leek
1 carrot
1 onion
3 shallots
1 whole bulb garlic
2 tablespoons tomato paste
1 whole onion
5 quarts cold water
3 sprigs fresh thyme
2 fresh bay leaves
2 large sprigs fresh flat-leaf parsley
3 cups lamb stock (recipe below)
2 large ripe tomatoes
4 shallots
4 cloves garlic
2 tablespoons tomato paste
4 sprigs fresh thyme
Fleur de sel and freshly ground pepper
8 fingerling potatoes
8 baby turnips
16 snow peas
1/4 cup fresh English peas
4 baby or pearl onions
2 (1 1/2- to 2-pound) racks of lamb (about 8 ribs per rack)
1 tablespoon extra virgin olive oil
1 teaspoon coarsely ground caraway seeds
Directions
Preheat the oven to 450°F.
Pour 1/4 cup oil into a heavy large roasting pan; place the pan in the oven until the oil and pan are very hot, about 3 minutes.
Add the lamb bones to the pan, turning to coat with the oil. Return the pan to the oven and roast until the bones are a rich dark brown color, turning the bones occasionally, about 45 minutes.
Add the tomatoes, leek, carrot, chopped onion, shallots, garlic and tomato paste. Stir to mix well. Return the pan to the oven and roast until the vegetables are a rich brown color, about 30 minutes. Meanwhile, line a heavy medium sauté pan with aluminum foil.
Heat the remaining 2 tablespoons of oil in the pan over high heat. Place the onion halves, cut-side down, in the pan. Cook until the onions are black on the bottom, about 8 minutes. Set aside. (This will lend a depth of color and flavor to the finished stock.)
Transfer the roasting pan to the stove. Add the cold water, scraping up any browned bits from the bottom of the pan. Add the thyme, bay leaves and parsley and bring to a simmer over 2 burners on medium-high heat.
Add the blackened onions and reduce the heat to medium-low and simmer for 3 to 4 hours, skimming the stock every 15 minutes to remove the fat and foam that accumulate at the top.
Strain the stock through a fine-mesh strainer, cool in the refrigerator and remove the fat from atop the stock. Cover and refrigerate for 2 days before using.
Combine the first 6 ingredients in a heavy medium saucepan and bring to a boil over high heat. Reduce the heat to medium-low and simmer until the liquid is reduced to 1 cup, stirring occasionally to break up the tomatoes, shallots and garlic, about 30 minutes.
Strain the broth into a 2-cup glass measuring cup, pressing on the solids to extract as much liquid as possible, then return the broth to the saucepan. Season the broth to taste with fleur de sel and pepper.
Meanwhile, cook the vegetables separately in a large saucepan of boiling salted water until they are crisp-tender, about 7 minutes for the potatoes, 2 minutes for the turnips, 30 seconds for the snow peas and English peas and 20 seconds for the onions.
Place the vegetables in a large bowl of ice water to cool. Drain again, and pat dry with paper towels.
Cut the potatoes crosswise into 1/2-inch thick slices. Peel the onions, then slice them crosswise into thin rings.
Preheat the oven to 425°F. Sprinkle the lamb with fleur de sel and pepper.
Heat the oil in a heavy large sauté pan over high heat. Working in batches, cook the lamb in the pan until brown, about 4 minutes per side.
Arrange the lamb, meat-side up, on a large rimmed baking sheet and roast until an instant-read thermometer inserted into the center of the lamb registers 135°F for medium-rare, about 18 minutes.
Transfer the lamb to a work surface, tent loosely with foil and let stand 5 minutes.
Cut each lamb rack between the bones into 4 double-chops.
Add all the vegetables to the broth and bring to a simmer.
Using a slotted spoon, divide the vegetables equally among 4 wide shallow soup plates. Arrange 2 double chops atop the vegetables in each bowl. Ladle the broth over the lamb and vegetables, sprinkle with the ground caraway seeds and serve immediately.
Roast Rack Of Lamb With Pistachios Recipe
Coriander, Fennel & Mint Marinated Lamb Recipe
Crown Roast Of Lamb With Fresh Herbs Recipe