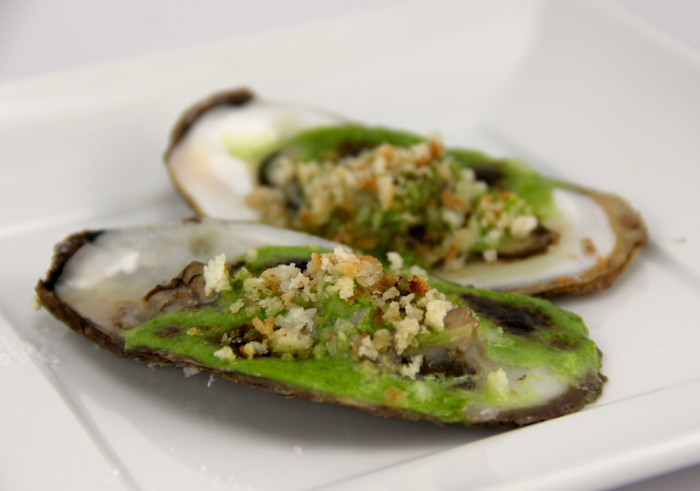 Just because Oysters Rockefeller were born and raised in the great oyster-consuming city of New Orleans doesn't mean the great New York-adjacent region of Long Island can't borrow the love. Besides, the dish was named for one of the most famous New Yorkers of all time, John D. Rockefeller. Why? In honor of the extremely rich sauce, of course. And if you've been to the Hamptons lately, Long Islanders borrowing this "simple pleasure" doesn't seem so far off.
Using panko instead of regular breadcrumbs will ensure that the topping stays crisp and doesn't get soggy. That kind of behavior isn't tolerated in these circles of society.
Ingredients
8

Long Island

oysters

4

cloves

garlic, peeled

2

cups

heavy cream

1

bunch

parsley

1/4

cup

panko bread crumbs

2

tablespoons

butter
Directions
For the sauce: (there will be extra)
Bring 3 small pots of water to a boil (you can use one pot, but make 3 consecutive fresh boiling pots).
Blanch the garlic in each pot for 2 minutes.
In a separate pot, heat the cream on medium high heat and reduce by half (until 1 cup remains).
Remove the parsley leaves from their stems and blanch the leaves in boiling water, then shock in ice water for 2 min.
Wring out any excess water in the parsley and blend the parsley with the cream and garlic until smooth and a nice dark green.
Season with a touch of salt and refrigerate immediately.
For the panko:
Melt the butter in a pan on medium heat.
Add the panko and cook slowly, moving constantly until panko is toasted to golden brown.
To finish:
Shuck the oysters and leave them in the half shell.
Spoon 1 teaspoon of the sauce onto each oyster.
Place the oysters in the broiler for 2 minutes.
Remove the oysters, sprinkle 1 teaspoon of the panko on each and serve.