Lobster Pot Pie Recipe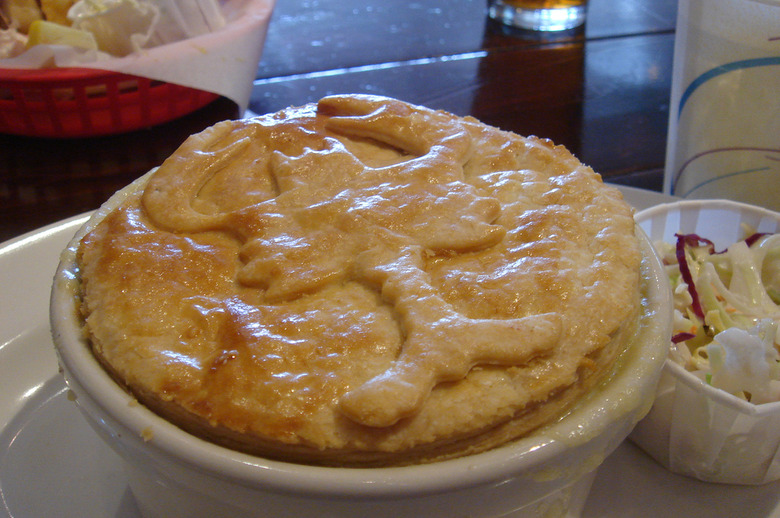 photo: snekse on Flickr
We realize it's a rare occasion when you're faced with more lobster meat than you know what with. You could do what we do and have yourself a little private VIP party with some clarified butter, no sharesies. Or you could invite a few people over for lobster pot pie, one of the most impressive-sounding homemade meals in their recent memory. Creating a lighter sauce than you would for chicken pot pie keeps the lobster in charge of the dish.
The obvious time-consumer in this recipe is getting the meat out of the lobster. Take it from Food Republic, this is good practice. You want to be the person who knows how to take apart a lobster (and knows to put a layer of newspaper down first, hint). It goes faster as you go along. When you're done, rub a cut lemon all over your hands so the neighborhood cats don't follow you around while you're trying to host a classy dinner party.
Lobster Pot Pie Recipe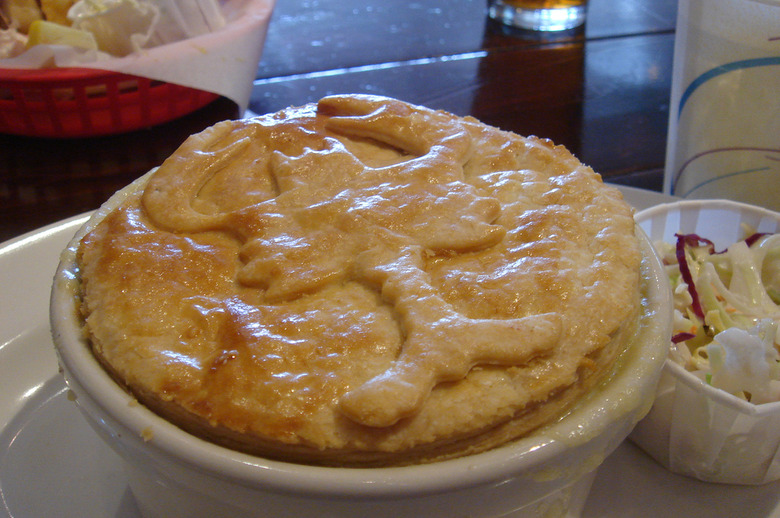 Ingredients
4 tablespoons butter
1 1/2 cups baby portobello mushrooms
2 shallots
1/4 cup cognac
2 tablespoons all-purpose flour
1 1/2 cups vegetable stock
1 cup milk
1 cup heavy cream
1/2 teaspoon freshly grated nutmeg
1/4 teaspoon cayenne pepper
3 sprigs fresh thyme
1/2 cup frozen peas
1 tablespoon fresh tarragon
1 pound lobster meat
1 sheet puff pastry
1 egg
Directions
In a large, heavy-bottomed saucepan, melt the butter over medium-high heat. Add the mushrooms and cook until they begin to release moisture, about 3 minutes. 
Add the shallots and cook until soft, about 5 minutes, then add the cognac and cook until the alcohol has evaporated off. Evenly distribute the flour over the mixture and stir in until mushrooms and shallots are coated completely.
Cook until light brown, about 5 minutes, then add the stock and milk and cook for another 5 minutes or until mixture thickens, stirring frequently to break up any lumps of flour.
Lower heat, add nutmeg, cayenne, thyme and peas and cook for another 10 minutes.
Remove from heat, add lobster meat and tarragon, stir well to combine, then preheat the oven to 400 degrees.
Transfer mixture to a 9 x 12-inch baking dish or casserole.
Roll out thawed puff pastry on a lightly floured surface until large enough to cover the top of the baking dish with an inch hanging over the sides.
Lay the puff pastry over the surface of the pie, pressing down on the edges to form a tight seal. Trim away the excess, crimp around the rim with a fork if you like, brush lightly with the beaten egg mixture and cut several slits in the top to vent steam.
Bake for 20 minutes or until crust is golden brown.