The Spicy Sea: How To Make Lobster Fra Diavolo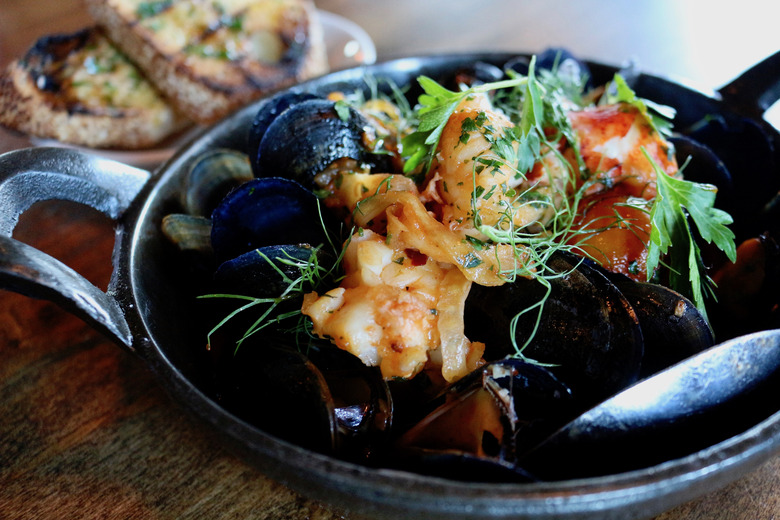 Antonia Lofaso is chef/owner of Los Angeles' Black Market Liquor Bar and Scopa Italian Roots. Her lobster fra diavolo is the perfect way to warm up during these lingering cold months, and pays homage to her native Long Island's abundant seafood.
"I used to go crabbing in Long Island every year with my family, and we would make crab fra diavolo with all the crabs we caught," says Lofaso. "This dish is one of my favorites and includes a lot of my family's flavors, so I thought it was only natural to include this on the menu." Lofaso served as culinary director for the exclusive Master's Club at equestrian athletics event Longines Masters of New York this coming spring, and loaned us the recipe to recreate at home.
The mix of seafood with colorful veggies such as artichokes, sunchokes and carrots will brighten up any dinner table, and a hint of chili flakes will give your taste buds a nice kick. Try it over pasta or polenta.
The Spicy Sea: How To Make Lobster Fra Diavolo
Antonia Lofaso's lobster fra diavolo is the perfect way to warm up during these lingering cold months, and pays homage to her native Long Island.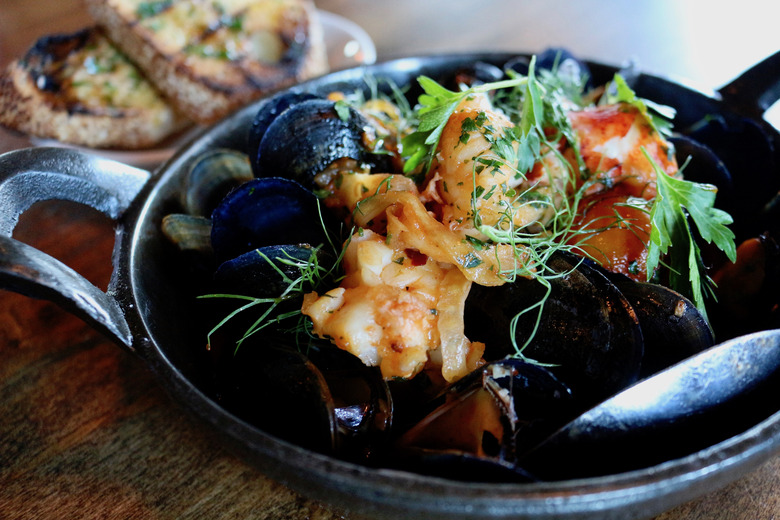 Ingredients
30 pieces PEI Cockles (if not cockles, clams)
1 pound fresh Maine lobster
3 ounces black cod
4 cups seafood broth
1 1/2 cups sunchoke puree
8 baby artichokes
3 tablespoons picked fennel fronds
3 tablespoons picked flat parsley leaves
4 tablespoons sugar
1 teaspoon chopped garlic
2 sprigs tarragon
1 cup fry oil
1 1/2 cups butter
1 tablespoon chili flakes
2 tablespoons cooking oil
salt
1 pound lobster shells
1/2 pound shrimp shells
1/4 cup cooking oil
1/2 onion
1/2 carrot
1 celery stalk
1/4 fennel bulb
1 garlic clove
1/4 sprig rosemary
1 sprig thyme
1 sprig tarragon
1 sprig parsley
1 small bay leaf
3/4 teaspoon chili flakes
1/2 cup plus 1 tablespoon tomato paste
1/2 cup bourbon
2 1/2 quarts chicken stock
1 quart water
2 cups sunchokes
2 cups cream
2 teaspoons kosher salt
Directions
:::broth:::
Remove top shell off of lobster bodies, pull out any guts and remove gills. Rinse bodies in cold water.
Put all lobster shells and shrimp shells on a large sheet tray. Drizzle some cooking oil over shells and roast at 400 F for 30 minutes.
In a large pot, heat oil. Add onions, carrots, celery, fennel and garlic.  Season lightly.  Sweat and caramelize veggies while shells are roasting. Add roasted shells to the pot and stir/crush bodies into the vegetables.
Add rosemary, thyme, tarragon, parsley, bay leaf, and chile flake. Bloom aromatics for a minute or two then add tomato paste. Stir tomato paste to cook and bloom for 3-4 minutes. Add bourbon and stir, add white wine. Stir and let reduce for 5-10 minutes until alcohol is cooked off.
Add chicken stock and water, bring to a simmer. Stir occasionally and crush the shells/bodies to extract as much flavor as possible.  Let simmer for 1 ½-2 hours. Strain through a chinois, pressing on solids to get all liquid/flavor. Discard the solids, strain liquid once more and reserve.
:::sunchoke puree:::
Bring water to simmer and add in chopped sunchokes. Allow sunchokes to simmer until soft, about 15 minutes.
In a separate pot, warm cream through, but do not allow to bubble. Strain sunchokes and place in food processor or blender. Gradually add reserved cream until desired consistency is reached.
:::fra diavolo:::
Heat fry oil in sauce pot to 325 degrees.
Gently drop in quartered artichokes to prevent oil from splashing. Crisp baby artichokes until gold brown (approximately 2 minutes). Pull from fry oil. Salt to taste. Set aside and reserve for later.
In a sautée pan, heat 2 tablespoons of butter, add chopped garlic and simmer. Make sure not to overcook the garlic, as there should be no color. Add tarragon and chili flakes to pan. Allow to bloom, and add in 4 cups of seafood broth and allow to simmer. Add in cockles (or clams), and allow to open.
After cockles or clams have opened, add sugar and butter (reserving 2 tablespoons of butter for the cod) and stir until desired consistency is reached; liquid should coat back of spoon when ready. Add in lobster to warm through. Keep warm on low heat.
In a separate sauté pan, heat on 2 tablespoons of cooking oil on high. Season cod with salt and pepper on both sides, then sear cod presentation side down. Add remaining 2 tablespoons of butter; allow to brown. Baste fish with melted butter for 2 minutes, or until cooked through.