Lobster Cocktail With Oven-Dried Cherry Tomatoes Recipe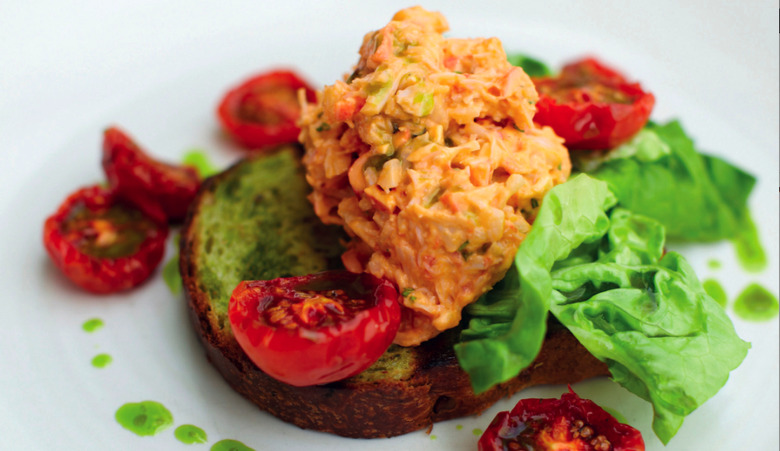 Photo: David Loftus
We may receive a commission on purchases made from links.
Two Michelin-starred Chef Nathan Outlaw is one of England's most celebrated chefs. His recent release, Modern Seafood, is a culinary homage to sustainable fish. Ready to discover your favorite new lobster recipe? It's everything you love about lobster rolls and shrimp cocktail, with no bun to distract you.
If you are having a dinner party and you want to impress, this unique combination will fit the bill. The brioche has a great flavor and marries so well with the fresh lobster and sweet acidity of the cherry tomatoes. Taking classics to a new level is one of my favorite ways of creating new dishes, and this is one of them.
Related: How To Store Live Lobsters Before The Delicious End
Lobster Cocktail With Oven-Dried Cherry Tomatoes Recipe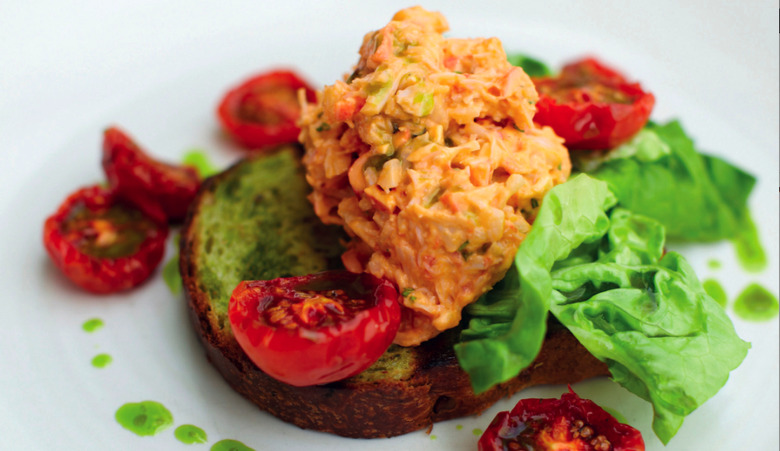 Ingredients
2 live lobsters
2 tablespoons mayonnaise
1 tablespoon tomato ketchup
2 teaspoons chopped tarragon
2 Boston lettuces
sea salt and freshly ground black pepper
16 cherry tomatoes
olive oil to drizzle
1 shallot
1 garlic clove
2 teaspoons red wine vinegar
good-quality brioche
Directions
Bring a pan of salted water to a boil over high heat. Once the water is boiling, quickly take the lobsters from the freezer, place on a board and firmly insert the tip of your knife into the cross on the head to kill each one instantly.
Plunge the lobsters straight into the boiling water and cook them for 11 minutes. Remove from the water and place on a tray to cool down. When cool enough to handle, carefully extract the meat. Cover and refrigerate for 1 hour.
Preheat the oven for 325 degrees. Halve the cherry tomatoes.
Line a shallow roasting tray with foil, drizzle with basil or olive oil and sprinkle with salt and pepper. Arrange the cherry tomatoes, cut side up, in a single layer on the tray and sprinkle with the shallot and garlic.
Drizzle with the wine vinegar and a little more oil. Place in the oven for 30 minutes until the tomatoes are lightly roasted and slightly dried. Set aside to cool.
Chop the lobster meat into 1/2-inch pieces. Put the mayonnaise, tomato ketchup and chopped tarragon into a bowl and mix well. Add the lobster pieces and mix carefully. Season with salt and pepper to taste.
Put the lettuce leaves and roasted tomatoes into a bowl and dress with the juices and oil from the tomatoes' roasting tray.
Preheat a griddle, if you have one, or the broiler, and toast the brioche on both sides.
Drizzle with a little olive oil and place a slice of toast on each serving plate.
Pile the lobster cocktail on top. Arrange the lettuce and tomatoes on the plates and serve.
Simple Grilled Whole Lobster Recipe
Lobster ME's Lobster Grilled Cheese
Lobster Guacamole Recipe